Following its debut at the ABB FIA Formula E race in Ad Diriyah, Jaguar I-PACE eTROPHY tested at cold weather Arctic Circle in Arjeplog, Sweden.
The racecar was put through rigorous cold weather testing at Jaguar Land Rover's facility at the edge of the Arctic Circle, at -40°C in the harsh winter environment demonstrated its performance and durability.
Jaguar Land Rover Ice Academy has the most Northerly ABB high power DC charging infrastructure in Europe.
Panasonic Jaguar Racing's Formula E driver, Nelson Piquet Jr, took the Jaguar I-PACE eTROPHY to one of the many frozen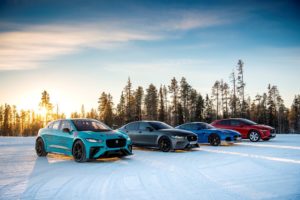 lakes in the region to unleash the full potential of the 195km/h electric racecar on the ice. Temperatures exceeded -40°C, some 10°C lower than most conventional electric vehicles can operate at.
The Jaguar I-PACE eTROPHY took to the ice for the first time, alongside the production Jaguar I-PACE, to prove the effectiveness of its battery's state-of-the-art thermal management system. This enabled it to deliver outstanding performance, efficiency and durability in the sub-zero conditions.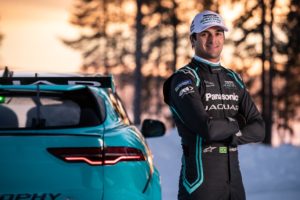 Nelson Piquet Jr said:
We took the the I-PACE eTROPHY out of its comfort zone today and into sub-zero temperatures. It took the challenge head on and excelled itself. Driving it on the frozen lakes and feeling the performance in such extreme conditions was something I won't forget for a while.
The Jaguar I-PACE eTROPHY and the Jaguar I-PACE are powered by the same 90kWh Lithium ion battery. Using the Terra 53 ABB static DC chargers at the Ice Academy, the vehicles can be charged in 90 minutes. Using
ABB's 100Kw DC high power chargers the Jaguar I-PACE eTROPHY can go from 0-80% in just 40 minutes.
Chris Crump, Southern Europe Operations Team Leader said:
The ABB chargers at the Ice Academy are the most Northerly of all DC charging infrastructure across Europe, and is one of the most remote and coldest instillations on the planet. The stations have been designed to perform in extreme conditions from -35 degrees to plus 55 degrees Celsius. Jaguar Land Rover, are the only automotive manufacturer with the capability to charge at 350kW DC using Terra350 chargers
One of sixty Experience centres globally, The Jaguar Land Rover Ice Academy allows guests to develop their driving skills across 80 Km of tracks as they experience first-hand the thrill and excitement of driving on the ice in the latest Jaguar and Land Rover vehicles.
Source: Jaguar Land Rover