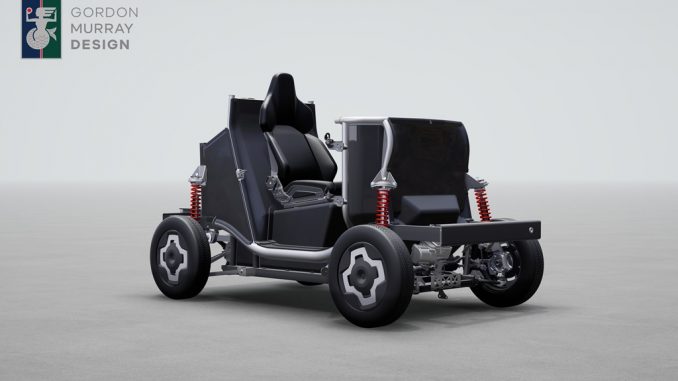 At the 2021 Cenex-LCV show in Millbrook, UK has been unveiled the new iStream by Gordon Murray Design, that can transform range, weight, and cost of electric vehicles.
Broadened innovative iStream portfolio can now be applied to a wide range of vehicles and other forms of mobility, including some segments of electrified aviation.
iStream's innovative systems can be applied to a broad portfolio of vehicles, with every form of powertrain, from an electric quadricycle, a mid-engined sportscar, to a petrol-powered large luxury SUV or light commercial vehicle. But iStream's comprehensive and revolutionary design and manufacturing process is a cost-effective way to develop lightweight vehicles, making it especially applicable to EVs where battery size, cost and weight mean that keeping overall vehicle weight to a minimum is essential to optimise performance and range.
Using iStream's manufacturing processes can reduce the overall weight of a typical family car by over 20%. It reduces the number of components needed to make up body panels by over 50%, while delivering more rigidity which has benefits for safety, refinement and chassis dynamics, and outstanding durability. The use of recycled fibre composite panels can reduce weight further. As importantly, the low energy – manufacturing and driving – requirements enabled by iStream deliver a substantial cradle-to-grave CO2 footprint reduction.
The electric Motiv autonomous-ready personal mobility vehicle, has been designed to show the flexibility of the iStream concept. Developed in conjunction with Innovate UK, it weighs less than 400kg and is officially classed as a Quadricycle. However, it's been designed and built to comply with crash regulations for mainstream passenger cars and houses a battery pack that is twice as large as similar vehicles. It is also equipped with features more familiar on larger cars such as anti-lock brakes, climate control, large-screen infotainment system and powered, upward swinging doors.
Gordon Murray Design's stand also unveiled a bonded metal-composite platform for a similar vehicle. This iStream eQuadricycle rolling platform, is just 2.5m in length, weighs less than 400kg and has a range of 140 miles, which is ideal for errands and commutes, and able to charge its battery from 10% to 80% capacity in only 40 minutes. It would also require far less investment and have a lower environmental impact than a similar car designed and manufactured using conventional methods.
Source: Gordon Murray Design Limited