Caterpillar Ventures (Caterpillar division) making a strategic investment in Fisker, marking interest in Fisker's patent-pending Solid-State Battery technology.
Investment aimed at Fisker Inc.'s future solid-state battery technology with applications in construction, energy storage, transportation and mining industries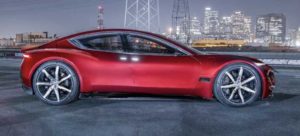 The e-mobility and technology company Fisker Inc. that developing electric vehicles and proprietary solid-state battery technologies, has announced a strategic investment from Caterpillar Venture Capital Inc., a wholly owned subsidiary of Caterpillar Inc., the world's leading manufacturer of construction and mining equipment, diesel and natural gas engines, industrial gas turbines and diesel-electric locomotives.
Fisker Inc.'s solid-state batteries present the next generation post lithium-ion era of future battery technologies, that offer bulk electrodes with high energy densities, enhanced safety, faster charge times and lower costs.
Caterpillar Ventures' investment in Fisker illustrates a mutually recognized importance that electrification solutions will represent to multiple business segments in the future. While Caterpillar and Fisker serve fundamentally different industries, advancements in electrification technologies pose increasing importance and offer the potential to positively impact customer value for the right products.