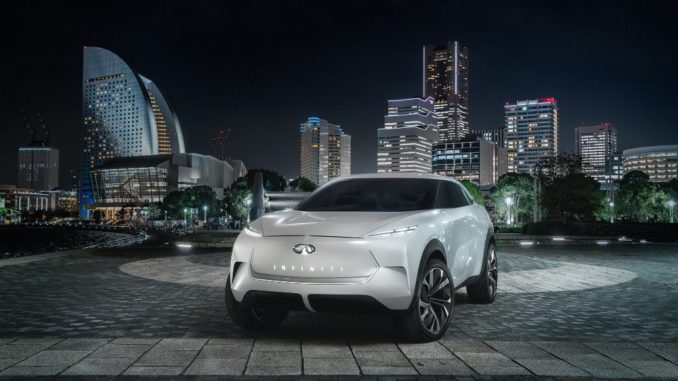 The Infiniti QX Inspiration Concept that will reveals at Detroit Auto Show proposes new powertrain, autonomous drive technology and human-centric interior.
Representing the next step in Infiniti design, the exterior of the QX Inspiration Concept features clear and concise lines with dynamic and confident proportions. It is the first manifestation of Infiniti's new form language for an era of advanced powertrains. The concept eschews classical sedan forms with its coupe-like appearance and elongated silhouette, presenting Infiniti's design vision for vehicles in this segment.
The cabin follows a minimalist approach, with a concise and clean interior design enveloping the driver and passengers in a serene and comfortable environment. The intelligently-packaged four-cylinder VC-Turbo has liberated Infiniti's designers from the constraints of powertrain architecture to realize a spacious interior. Modern technology and craftsmanship merge inside the cabin, presented in a way that enables, rather than distracts, the driver.
Powered by Infiniti's revolutionary VC-Turbo technology, the Q Inspiration boasts a powertrain combining turbocharged gasoline power with the torque and efficiency of a hybrid or diesel engine. VC-Turbo continually transforms, adjusting its compression ratio to optimize power and fuel efficiency, resulting in the smart application of power for greater driver control. As a mid-size sedan concept, the QX Inspiration previews other near-future applications for Infiniti's variable compression ratio VC-Turbo engine technology.
New ProPILOT functionality liberates the driver from mundane and stressful driving situations. Realizing the next stage in vehicle autonomy for Infiniti, ProPILOT enables drivers to delegate more stressful driving tasks to the car, and enjoy an enhanced ability to respond to hazards. With the system acting as a 'co-pilot', the driver always retains ultimate control.
The premium sedan segment has become rather conservative. The Infiniti QX Inspiration previews something that could appeal to a younger audience, who seek modern design and new technologies to inspire and empower them – said Christian Meunier, Infiniti Global Division Vice President.