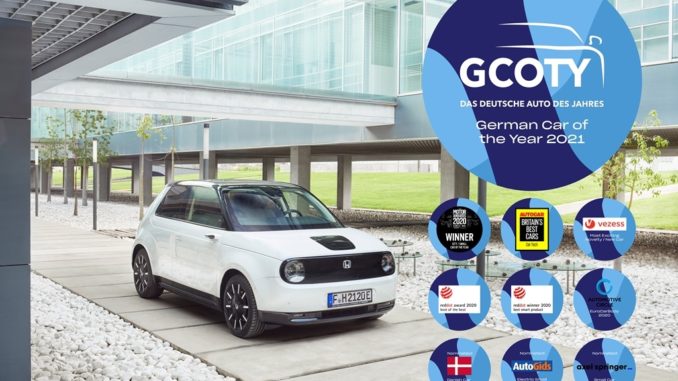 E' arrivato un nuovo riconoscimento per la Honda e, che è diventata la prima auto giapponese a vincere il premio "Auto dell'anno in Germania".
Questo riconoscimento è soltanto l'ultimo in ordine di tempo di una lunga lista dove figurano i Red Dot Design Awards, il premio Autocar Magazine (nel Regno Unito) e News International (sempre nel Regno Unito).
La compatta 100% elettrica di Honda è in lizza anche come Auto dell'anno 2021 in Ungheria e Danimarca e questi premi sono la conferma dell'impegno di Honda nel progettare modelli unici all'insegna di una tecnologia all'avanguardia e di un design iconico.
Honda e, la prima auto full electric sviluppata da Honda ad hoc per l'Europa, è stata nominata "German Car of the Year 2021" in occasione del prestigioso concorso Auto dell'anno, e si è anche affermata al primo posto anche nella categoria "New Energy".
I premi "Auto dell'anno in Germania" sono decisi da una giuria di affermati giornalisti automotive tedeschi. Il panel sottopone i modelli a severi test ed esamina soltanto le auto più recenti, classificandole in base a criteri quali: fruibilità, caratteristiche di guida, rilevanza del mercato e livello di innovazione. Le vincitrici delle cinque categorie – Compact, Premium, Luxury, New Energy and Performance – vengono poi messe a confronto per decidere quale sarà la vincitrice assoluta.
Per Honda e, essere la prima auto giapponese a ricevere il premio di Auto dell'anno in Germania è un grande onore, di cui siamo incredibilmente fieri – ha aggiunto Katsuhisa Okuda, CO & Presidente di Honda Motor Europe. La risposta dei media e dei clienti al lancio di questo modello è stato, sin da subito, straordinariamente positivo. Honda e rappresenta l'esempio perfetto di un prodotto dal design unico, dotato di tecnologie all'avanguardia e con una connettività intelligente unica in grado di far rimanere chi la guida sempre connesso al proprio mondo e alle cose che più ama. Siamo estremamente grati per questo importante riconoscimento.

Honda e segna un nuovo tipo di mobilità, in cui l'auto gioca un ruolo centrale nel connettere le diverse esperienze della vita quotidiana – ha commentato Tomofumi Ichinose, Large Project Leader di Honda e.

Honda e è stata creata per essere non solo la migliore auto compatta possibile, ma anche quella più sostenibile, in particolar modo nelle odierne metropoli europee. Sviluppare Honda e è stata una grande sfida ma, allo stesso tempo, anche stimolante, perché ci ha permesso di immaginare il futuro che vorremmo con al centro un'auto radicalmente nuova. Io e la squadra siamo lieti di ricevere questo premio: riconosce il valore della visione che questo modello rappresenta.
In Germania, Honda e ha vinto anche il premio EuroCarBody 2020 organizzato da Automotive Circle pochi mesi dopo aver conquistato due prestigiosi Red Dot Awards per il suo straordinario design, oltre alla Menzione d'onore "Best of the Best 2020". Grazie a questi successi, oggi un esemplare di Honda e è in mostra presso l'iconico Red Dot Design Museum di Essen, in Germania.
In Belgio, la compatta elettrica della Casa è stata nominata nella categoria "Electric Small" del premio Autogid Magazine; inoltre, dopo aver ricevuto l'anno scorso la nomina a "Nuova auto/Novità più entusiasmante" da Vezess.hu, è attualmente in lizza per il premio "Auto dell'anno in Ungheria". Sempre in Europa, Honda e è stata nominata nella categoria "Small Cars" del premio spagnolo Axel Springer Motor, mentre in Italia è tra le finaliste del premio "Auto dell'anno" organizzato dal magazine Quattroruote. Infine, è entrata nella rosa dei candidati per il premio Auto dell'anno 2021 in Danimarca.
Honda e, lanciata nella primavera del 2020, rappresenta una tappa importante dell'impegno di Honda nell'elettrificazione dei principali modelli della gamma europea entro il 2022. Progettata senza compromessi, con un focus particolare rivolto alla definizione di forme compatte e agili, definisce un nuovo standard di riferimento in termini di design e di mobilità sostenibile. Il suo elegante look contemporaneo si abbina a tecnologie di ultima generazione e ad una connettività integrata con cui restare sempre connessi alla propria vita, anche in auto, segnando un'esperienza di guida completamente nuova rispetto al passato.
Fonte: Honda Italia