With the official opening of the first HiPhi Hub in Europe, based in Munich, the Lux Tech EV brand signs a significant milestone in its European expansion plans.
Inspired by the HiPhi Hub concept rolled out in more than 100 locations in China, the HiPhi Hub Munich – which is located within the airport – delivers a serene space for discovery and co-creation. Visitors can experience the world's first evolvable supercar SUV – HiPhi X, the groundbreaking Digital GT – HiPhi Z, and the new HiPhi Y LuxTech SUV.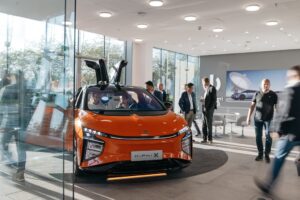 Within the HiPhi Hub, users can find a relaxing environment to explore the personalization options available to them, from paints and interior options to the addition of a HiPhi-designed wallbox charger for their home. The interior echoes the personality of the LuxTech HiPhi range, which combines world-first technologies with cutting-edge design.
HiPhi will deliver a bespoke after-sales experience to its customers in Germany, working with an experienced service partner to ensure the very best in servicing, maintenance and repair.
The opening of the HiPhi Hub in Munich will be followed by an all-new HiPhi Hub in Oslo, Norway and further destinations throughout Europe. Both HiPhi X and HiPhi Z are already available to order in Germany and Norway, with HiPhi Y going on sale before the end of 2023.
Source: HiPhi