Hans-Peter Kleebinder, former Head of MINI Germany and CMO Audi Germany, joined the Micro Advisory Board, after be the first Microlino 1.0 test driver in Germany.
With his many years of experience in the automotive industry, he will support the market launch of Microlino 2.0.
Hi Hans-Peter, can you tell us more about your background?
Back in 1995, I had the opportunity to interview more than 250 opinion leaders and experts on the future of mobility in Europe for a research project at the University of St. Gallen. Even then 25 years ago, it was clear that we needed a mobility revolution. After that, I gained practical experience at MINI and BMW for 16 years and then at Audi until 2 years ago. Today, I combine these two worlds of industry and science as an independent expert for future mobility and study director of the CAS Smart Mobility Management program at the University of St. Gallen.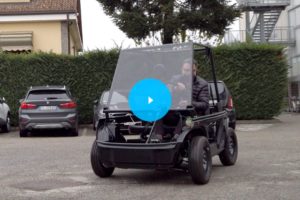 When did you first hear about the Microlino and how did the first contact come about?
That was love at first sight. At the premiere at the Geneva Motor Show in spring 2016, and as a fan of MINI and the Fiat 500, my first car. Since June 2020, I have been a proud Microlino test driver and was able to personally convince myself of Micro's mission and products.
You were with the BMW Group for 16 years and, as CMO at Mini, managed the market launch of various models. What parallels do you see for the launch of the Microlino?
The approach and mission of Wim with Micro in 1999 and Sir Alec Issigonis with MINI in 1959 are indeed very similar: to "Creative Use of Space" we now add "Clever and Sustainable Use of Space". For me, the Microlino is the contemporary answer to securing our individual future mobility needs in cities. With environmentally friendly, intelligent and space-saving mobility that is fun.
You are the director of studies for the education program "Smart Mobility Management driven by Smart Cities & Smart Data" at the University of St. Gallen. What trends are influencing mobility needs?
Sustainability is becoming the most important topic – the currency for this is our personal ecological mobility footprint. Our desire for individual mobility remains but we will meet it in more ways: With four and two wheels, but also increasingly by train, public transport and on foot. In the future, autonomous and electric vehicles will also come in play, in both the air and underground. The networking and interlinking of all means of transportation will become a standard. For 95% of our routes, micromobility is already the cheaper, more practical and more environmentally friendly option.
What convinced you to join the Advisory Board at Microlino and what do you think are the biggest challenges?
First my very positive experience as a Microlino test driver. Since June, I have been on the road almost daily in my hometown – over 2,500 km with many thumbs up and very positive reactions to my Microlino 1.0. I am looking forward to contributing my experience to the team and leading the legitimate successor and modern interpretation of the 50ies bubble car to success. For me, this is one of the most exciting challenges in the emerging mobility industry.

A major challenge is to get the benefits of micromobility into the minds and decisions of our politicians. I would like to convey our credo "less is more" and the unique Microlino driving experience to our future customers.
You are a member of the Global New Mobility Coalition of the World Economic Forum and a member of the advisory board of the federal association of electric mobility in Germany. How do we achieve the transition away from combustion engines to electric mobility?
The shift away from the combustion engine is finally in full swing. Electric mobility is clearly the better alternative to the combustion engine. Battery technology will continue to develop rapidly. New, more customer-friendly charging options such as "battery-as-a-service" and inductive charging will come. Important: The powertrain is only one driver of the necessary mobility revolution. We need a holistic mobility revolution – hand-in-hand with a comprehensive energy revolution and a transformation and redesign of our cities and infrastructure between our cities and the rural areas.
Last question in your role as study director of the new Smart Mobility Management fitness program: What do you think the future of mobility will look like in 10 years?
More diverse, more conscious and more joyful than today. The HOW and not the WHAT will be in the foreground. Away from possessions and status and towards the best solution for myself as a user. Depending on the situation, life phase and personal preference. I see a very positive future for micromobility and an important role in ensuring individual mobility in our cities in the future and improving our quality of life.
Source: Micro AG
v