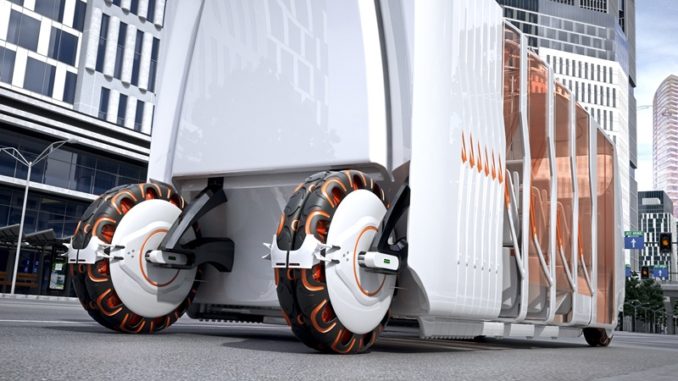 All'IAA 2017 di Francoforte sul Meno, il produttore di pneumatici premium Hankook ha presentato gli innovativi pneumatici ispirati dalla mobilità del futuro.
I cinque penumatici di concezione futuristica Magfloat, Flexup, i-Play, Shiftrac e Autobine sono stati ideati dagli studenti dell'università di Cincinnati.
Fonte: Hankook Tire Europe
Neu-Isenburg, Germania, 14 settembre 2017. Il produttore di pneumatici Hankook ha presentato i suoi pneumatici di concezione futuristica all'IAA 2017 di Francoforte sul Meno. Ognuno dei cinque pneumatici rispecchia la filosofia di design di Hankook, volta a sviluppare tecnologie innovative in grado di influenzare il futuro della guida.
Gli pneumatici sono stati sviluppati ispirandosi al tema "Connect to the Connected World", con il quale l'azienda intende delineare il cambiamento della mobilità nelle città del futuro e presenta le possibili tecnologie innovative per gli pneumatici. Di queste fanno parte concetti di mobilità come il car sharing, la guida autonoma e i veicoli connessi in rete.
Nel quadro del progetto "Design Innovation 2016", un programma di sostegno dell'azienda per le università leader nel design di tutto il mondo, è nata una collaborazione con l'università di Cincinnati volta allo sviluppo dei cinque pneumatici di concezione futuristica. Il risultato è rappresentato da "Magfloat", un mezzo di locomozione basato
sull'estensione dei campi magneti, da "Flexup", in grado di salire le scale, e da "iPlay", un veicolo a due ruote con una costruzione sospesa flessibile. "Shiftrac" offre delle eccezionali caratteristiche in curva, mentre "Autobine" prevede che i pneumatici possano essere aggiunti o tolti automaticamente a seconda del numero di passeggeri.
"L'IAA è la sede ideale per la presentazione dei nostri innovativi pneumatici, in quanto è il luogo di ritrovo dell'intero settore automobilistico", dice Seung Hwa Suh, vicepresidente e AD di Hankook Tire, che aggiunge: "Siamo felicissimi di poter svelare i nostri pneumatici di concezione futuristica. Hankook Tire continuerà a fare il suo meglio per guidare l'industria dei pneumatici con le sue tecnologie all'avanguardia".
I pneumatici futuristici di Hankook sono già stati premiati più volte per il loro design straordinario con rinomati premi di design globali. Nel 2015 e 2016, i pneumatici futuristici "Boostrac", "HyBlade" e "Alpike" sono stati premiati con i premi di design Red Dot Luminary, iF Gold e IDEA Awards, mentre "Flexup" (bronzo) e "Shiftrac" (finalista) sono stati premiati in occasione degli IDEA Awards 2017.
no images were found