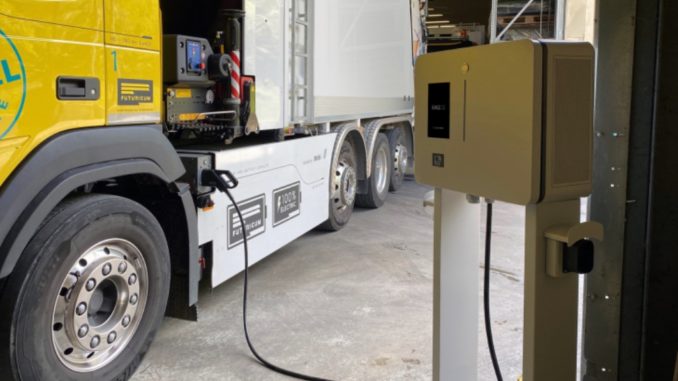 Swiss company Green Motion unveiled the compact, bidirectional vehicle to grid high DC charging speed 22 kW DC Range XT22.
New battery charge has 96% efficiency, reducing overall operating costs by half and allowing savings of up to 222CHF per car.*
*for a car travelling 36km/day compared to a charger with 93% efficiency.
Range XT22 is particularly suited to public or private parking and can be used by single family and also by multi residential or multi-family homes; by company employee and visitors' parking; can be on service at hotel / restaurants or other public venues and in a national road gas stations.
Most importante features of the Range XT22 is the compact form that fits any site with indoor or outdoor installation, wall mounted or stand-mounted; it's a unit will adapt to suit any situation.
The multichannel payment system allow to paid by SMS, iOS or Android apps, credit, Scan & charge and more.
Green Motion can build it tailored to your needs, integrating CCS and/ or CHAdeMO plugs; DC power of 22kW.
When the charger is not in use, the system can save energy through the low standby consumption.
The 10" color display allows you to put your own branding on its large color screen for the best charging experience with integrated cable and plugs. Easy to use: plug, charge & drive.
Costs of wasted energy per year with the use of any other less efficient DC Wallbox.
Highly efficient : Waste less and save more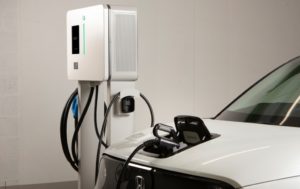 Range XT22 has the highest efficiency on the market: over 96%. It allows low conversion losses, less waste and more savings as you reduce your charging stations' operational costs. Your energy savings will increase exponentially over the years with growing market demand for electric cars.
A compact yet powerful DC fast charger with integrated cables and plugs that can fit any site.
The Range XT platform is a masterpiece of Swiss engineering designed to last.
Engineered by Green Motion, they feature ultra-high power density (1.13 kg/kW), optimized sound power levels and air-cooled technology.
Track your charging using an iOS or Android application, accessing many features such as remotely starting or stopping charging, viewing the charging status in real time or recharging users' accounts at any time.
Range XT technology powers all kinds and sizes of electric vehicles, from two-wheelers to cars and heavy-duty electric trucks.
Technical specifications
Power input
DC RANGE XT EV CHARGER
Input voltage: 3 x 400 VAC 50 Hz
Input current: 3 x 32 Arms (22 kW)
Power factor: > 0.99
Standy-consuption: < 50 W
Power output
Output power: 22 kW
Output voltage: 22kW
55 ADC
Output type: CCS cable and CHAdeMO cable
Efficiency: > 96%
Simultaneous charging: 1
User interface & control
User interface: Button, charging status indicator, 10 inch touchscreen display
Mobile phone app: iOS and Android
Access control: RFID, app, SMS
Network interface: Ethernet cable; 4G/5G
Remote management: Software management system (eMOBILITY COCKPIT)
Environmental
Operating temperature: -25°C to 45°C
Altitude: Up to 2,000m (6,500 ft.)
Setting: Wall; column; indoor or outdoor
Humidity: < 95% relative humidity
Mechanical
Dimensions: 615 x 475 x 222 mm
Weight: 53kg
Housing material: Stainless steel
Cooling: Fan cooling
Cable length: 5 meters (16.5 ft.)
Regulation
Conformity: IEC 61851-1
Protection rating: IP54
Communication protocol: OCPP 1.6J
Bidirectional: V2G (Available Q1 2021)
Protection: Over current, under voltage, over voltage, insulation monitoring device (IMD), surge protection, short circuit, over temperature, ground fault, galvanically insulated
Source: Green Motion