At CES 2020 Green Motion unveiled Residenza, the first charging station resulting from the partnership with Pininfarina with new functionalities.
The charging station Residenza redefine the aesthetic standards in the residential segment and was conceived to appeal the high-end international market, featuring the innovative design of Pininfarina together with Green Motion engineering competences.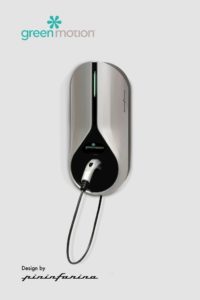 An object developed to deliver a unique rewarding experience presenting voice control system and automatic cable management to simplify life and create a seamless interaction with the user.
Sustainability is the main value shared by Green Motion and Pininfarina. An element reflected on the history of the two companies: Green Motion, pioneer provider of breakthrough technologies of charging infrastructure, and Pininfarina, innovative design, user experience and engineering company, boasting a long tradition in the development of electric cars. A value intrinsic to charging stations, here further emphasized by the decision to select organic and recycled components for the realization of Residenza.
Pininfarina accompanied Green Motion throughout all the phases of the project, from the user experience definition to the design, until the realization of a physical prototype and the product launch. Residenza represents the rise of a new partnership that looks at the future with the objective of making strong social impact for future generations.
Source: Green Motion