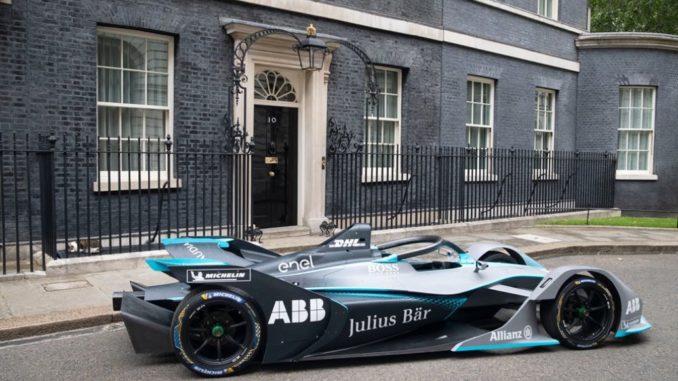 The UK government has made public its intentions to reach "net zero" emissions by 2050, backed by preparations for the upcoming return of the London E-Prix in 2020.
The English capital featured on the ABB Formula E calendar in the first two seasons of the all-electric championship, deciding both titles in those years as Nelson Piquet Jr triumphed in season one to become the inaugural champion before Lucas di Grassi and Sebastien Buemi battled in a tense fastest lap showdown in season two, the latter going on to claim the crown.
With the recent news of London's return at a new track at the ExCel Centre, Prime Minster Theresa May is fully behind the efforts for a greener environment and believes the country has a "moral duty to leave the world in a better place".
"It's crucial for our future and the future of the planet that we end the UK's contribution to climate change by 2050. If we work together we can do it." – PM @Theresa_May at @ImperialCollege #NetZero pic.twitter.com/bgjNfae5KY

— UK Prime Minister (@10DowningStreet) June 13, 2019
The plans will include efforts reduce, avoid and offset emissions from transport, homes, farming and industry, with intentions already set for all new road-going cars to be full-electric by 2040, although there is pressure on the government to bring this forward to 2032.
With the Gen2 demo car on display outside of 10 Downing Street, Formula E co-founder and Deputy CEO Alberto Longo affirmed the series' standpoint on improving pollution, describing the car as the "weapon against climate change and emissions".
Yesterday we spoke to @LongoFE about Formula E, the future of electric vehicles and getting to #netzero emissions by 2050.#ABBFormulaE 🏎️ pic.twitter.com/5fRJAwkG5F

— UK Prime Minister (@10DowningStreet) June 13, 2019
The London E-Prix is set to take place on July 25 & 26 2020 in a double header for the final event of season six.
#Topher Smith #TheEMNTeam
Photo: FIA Formula E Media