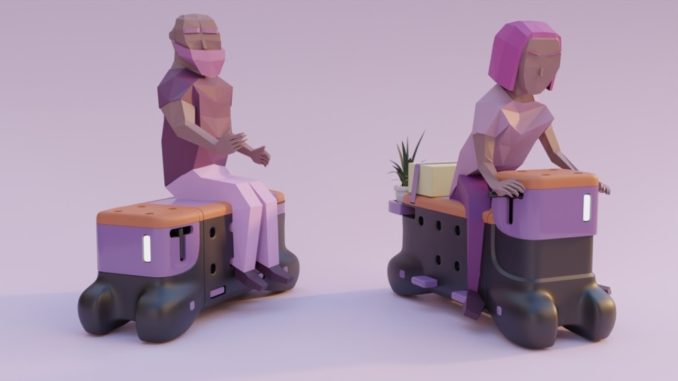 Interessante idea dagli studenti di design Corentin Janel e Guillaume Innocenti, che hanno disegnato una panchina motorizzata chiamata "TOD" (talk or drive).
Con questo concept "chiacchiera o viaggia" (talk or drive appunto), gli autori hanno vinto il premio Ford Fund Smart Mobility Challenge e riceveranno per trasformare in realtà questo progetto 12.500 sterline (14.600 euro).
Gli studenti che hanno partecipato al concorso, organizzato nel Regno Unito da Ford Fund (la fondazione filantropica dell'Ovale Blu) in collaborazione con il Royal College of Art, hanno proposto soluzioni per una mobilità urbana sostenibile che potessero rappresentare un vantaggio anche per la comunità.
La panchina motorizzata è un ottimo esempio di come il design possa contribuire a cambiare il tessuto cittadino: è divertente, comoda e multifunzione – ha dichiarato Amko Leenarts, Director of Design, Ford Europe. È un'idea intelligente per integrare la mobilità nel contesto urbano, che incoraggia le persone a interagire tra loro e consente di vivere la città in un modo completamente nuovo.
"TOD" è un sistema adattabile che prevede una modalità statica e una modalità mobile. Nella modalità statica è una panchina estensibile a tre posti. È, inoltre, possibile aggiungere facilmente accessori come sedie e sedute angolari, utilizzando una serie di kit ad aggancio rapido, nonché collegare due panchine con un piano quadrato per creare un tavolo da picnic.
Nella modalità mobile, l'ibrido tra scooter e panchina è in grado di accogliere due persone, permettendo loro di spostarsi a una velocità massima di 20 km/h. Un vano chiuso posto al centro della panchina può essere utilizzato per riporre eventuali bagagli, mentre le bande elastiche ai lati consentono di trasportare oggetti lunghi o corti. Gli utenti possono individuare e prenotare la panchina-scooter utilizzando un'apposita app.
Abbiamo voluto creare un servizio pubblico in grado di adattarsi alle esigenze degli utenti che vivono i contesti urbani. Dopo la vittoria al concorso, abbiamo ancora più fiducia nel nostro progetto e potremo costruire un prototipo per trasformare la nostra idea in realtà. Lavorando su un prototipo in scala 1:1 potremo comprendere appieno le caratteristiche del progetto e allo stesso tempo riflettere sui materiali, il processo di fabbricazione e l'esperienza degli utenti – hanno affermato i progettisti Janel e Innocenti.
Ford Fund ha, inoltre, assegnato un premio da 5.000 sterline (5.840 euro) a "Cardiac Patrol", una potenziale soluzione per dotare i veicoli privati di defibrillatore esterno di emergenza, e a "Communi-T", un veicolo interattivo che potrebbe aiutare i senzatetto e altre persone indigenti.
Gli studenti europei rispondono alla sfida
Altri contest Ford Fund Smart Mobility Challenge sono stati lanciati in tutta Europa: all'università di Scienze Applicate TH Köln di Colonia (Germania), alla Loughborough University (Regno Unito) e all'Universitat de València (Spagna).
Germania:
"Energetic Exchange", un progetto per trasformare la carica delle batterie dei veicoli privati in una fonte di valuta che gli utenti possono scambiare per beni e servizi, oltre a usarla per pagare per il tratto successivo del viaggio, ha vinto 11.500 euro
"Rhein Sharing", una stazione per servizi di mobilità che utilizza risorse energetiche rinnovabili per ricaricare biciclette e scooter elettrici, ha vinto 4.000 euro
"MobilityHUB", un magazzino che racchiude in un unico luogo accessibile diverse forme di micro-mobilità, ha vinto 4.000 euro
Spagna:
"MyWay", un'app progettata per radunare tutte le opzioni di mobilità sostenibile in un unico punto di riferimento a cui accedere più facilmente per programmare viaggi con diversi mezzi, ha vinto 12.500 euro
"NetCare", un'app che consente alle famiglie di monitorare e accudire i membri più anziani non più indipendenti, ha vinto 5.000 euro
"EVLocker", un progetto relativo a stazioni urbane per il parcheggio e la ricarica dei veicoli elettrici, ha vinto 5.000 euro
Regno Unito:
"Spectrum", una proposta per la creazione di casse inclusive adatte alle persone autistiche nei supermercati, posizionate in aree senza musica e dotate di lettori silenziosi per ridurre la possibilità di sovraccarico sensoriale, ha vinto 10.000 sterline (11.680 euro)
"CareMiles", un'associazione di beneficenza che fornisce servizi di trasporto personale con attenzione all'aspetto umano ai pazienti che devono recarsi a visite mediche, ha vinto 5.000 £ (5.840 euro)
"HomeACTive", un servizio che incentiva le persone che lavorano da remoto a mantenersi più attive integrando le faccende di casa e le attività lavorative, ha vinto 5.000 sterline (5.840 euro)
Dal lancio del primo contest nel 2018, Ford Fund, in collaborazione con la partner internazionale GlobalGiving attiva nell'ambito dei finanziamenti, ha distribuito sovvenzioni per un totale di 199.000 euro a progetti presentati da studenti, tra i quali i vincitori di quest'anno.
I progetti e i team che hanno vinto
The Royal College of Art:
TOD, Corentin Janel e Guillaume Innocenti
Cardiac Patrol, Cheng Qian e Mingwei Lui
Communi-T, Domenico Perna e Pavan Kumar Sirigineedi
Loughborough University:
Spectrum, Indira Patel, Kim Huijsmans, Kyle Struthers e Wu Tsz Ting
Care Miles, Aiziel Nazario, Benedict Blyth, Haidar Darr, James Hoare, Maria Chanduvi e Tara James
HomeACTive, Huiyu Chang, Sophia Bird, Ticha Hongsongkiat e Yongnan Hu
Università di Scienze Applicate TH Köln di Colonia:
Energetic Exchange, Dzenana Canic, Nico Schmidt, Niklas Noel Krach, Oleksii Ponomarenko, Rea Hajredinaj e Younes Charif
Rhein Sharing, Anna Schmitz, Felix Roder, Marcel Heilich, Mariana Prado, Meryem Gencel, Rahma Guentepe e Zher Hassan
MobilityHUB, Ammar Hesam-Zadeh, Dominik Baumann, Eva Maria Thuemling, Philip Ulrichsen, Pia Schog e Sandra Knoebel
Universitat de València:
MyWay, Adrià Aquado Lorente, Alejandro Domínguez Fuster, Alex Segarra Pérez, Àngel Troncoso Guill e Vicente Verdeguer Chirivella
NetCare, Alberto Castillo Moya, Celia Fuentes Latorre, Clara Gisbert López e Pablo Miguel Argudo
EVLocker, Rafael Rodríguez Gago e Vicente Torrejón Rickard
Fonte: Ford Italia