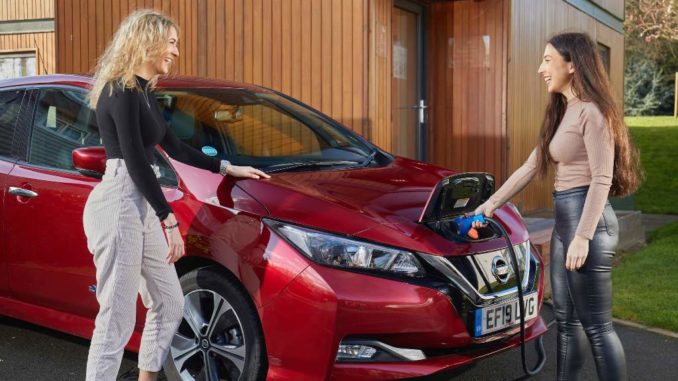 New phase of Electric Nation launched by Western Power Distribution (WPD), in partnership with CrowdCharge, of new Vehicle to Grid (V2G) trial.
The electric vehicle trial is opening up recruitment for domestic V2G users by offering the free installation of smart chargers worth £5,500 to Nissan electric vehicle (EV) drivers who live in the three regions.
The rapid growth in the numbers of electric vehicles on the roads will mean more demand on local electricity networks if EVs are all plugged in at the same time, such as during the peak between 5pm and 7pm in the evening. Smart charging, which allows management of the time when EV charging occurs – as trialled by the original Electric Nation project – will help to avoid this situation.
However, V2G charging will be more effective than smart charging. This is due to the ability to link EVs together and put significant levels of energy back into the grid at peak times, like a huge decentralised power station. This will help to reduce the grid's need for additional energy generation, either through fossil fuels or renewable energy, at peak times. V2G charging will help to transform EVs from being seen as a challenge in relation to grid capacity issues to being a solution as an additional source of energy.
To undertake the Electric Nation Vehicle to Grid project, CrowdCharge is recruiting 100 people to trial state-of-the-art domestic V2G smart charging to help Distribution Network Operators (DNOs) and others to understand how V2G charging could work with their electricity networks.
Although the application process for the Electric Nation Vehicle to Grid project is now open, the timescale for charger installations is subject to confirmation based on government advice in relation to COVID-19.
Electric Nation is different to other V2G projects because it is using up to five different energy suppliers instead of just one. This means that the trial is a more realistic simulation of a future world in which many streets will have a number of EVs using V2G chargers operated by different energy suppliers.
In the Electric Nation trial each supplier will use their chargers to test their various energy services utilising CrowdCharge's demand management charger platform, which provides optimised charging sessions.
The V2G trial follows the first Electric Nation trial from 2018/19 which at the time was the world's largest EV smart charging trial, providing real life insight into people's habits when charging their vehicle. The trial provided data from more than two million hours of car charging, revealing the user habits on timings of charge, where and for how long, as well as the impact of different tariffs.
By plugging in at specified times and putting energy back into the grid, active participants of the Electric Nation Vehicle to Grid project are expected to earn a minimum reward up to the monetary value of £120, available over the one-year trial period from March 2021 to March 2022. Recruitment will take place from June 2020.
Trial applicants:
Must be resident in the Western Power Distribution (WPD) licence area (Midlands, South West and South Wales)
Must have a Nissan EV with a battery capacity of at least 30kWh or more
Need to have the vehicle until the end of the trial (March 2022)
Need to have off-road parking
Will use the CrowdCharge mobile app to manage charging
May need to switch to a new energy tariff if required by their assigned project energy supplier
May need to have a new smart meter put in/updated as part of the project participation.
Source: Electric Nation