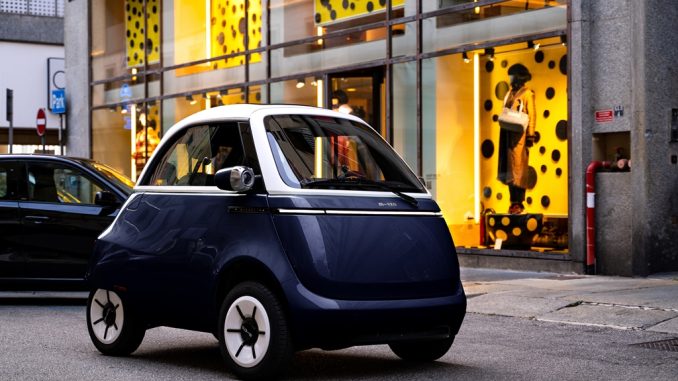 The Swiss company Micro has launched its highly anticipated Microlino configurator, with which more than 30,000 reservation holders will be able to configure the vehicle.
The Microlino marks a new product category between motorbike and a car, aimed to be a more eco-friendly and space-saving alternative to cars. With 12.5kW nominal power, 230l of trunk volume and up to 230km of range the Microlino is best in class in the European L7e and L6e vehicle categories. It also is the only vehicle in this category to have a unibody chassis, that improves quality, longevity and safety compared to conventional tubular frames normally used in the L7e class.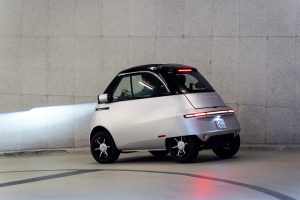 But not just its design and the features are unique: due to the light weight that enables the use of a smaller battery, the Microlino has only about one third of the carbon footprint of a conventional electric car. In addition, the Microlino is produced in Italy and 90% of its parts are produced in Europe, making its supply chain more sustainable.
This is why the Microlino is probably the most sustainable weather-protected vehicle in existence – says founder Oliver Ouboter.
Along with the configurator, Micro is releasing the official list prices for the Microlino in Switzerland. Prices will start at 14'990 CHF including VAT. In Europe, prices will start from approximately 12'500 EUR excluding VAT. The exact list prices including VAT will be communicated closer to the official launch in every contry.
Despite the challenges in the worldwide supply chain and a multiplication in prices of certain raw materials and doubling in battery prices, we are satisfied to launch a premium and unique light electric vehicle at an affordable price – says Co-Founder Merlin Ouboter.
The launch edition is called "Pioneer Series" and is limited to 999 vehicles as an homage to Micro being founded in 1999, with the invention the first Kickscooter.
It is available in two colors only available in the Pioneer Series called Torino Aluminium and Atlantis Blue.
All Pioneer Series will be equipped with the medium 10.5kWh battery pack with a range of up to 177km, the sunroof for the ultimate Summer feeling, Infinity-LED Lightbars with integrated blinkers front and rear, premium vegan leather and alcantara interior, portable bluetooth speakers, the storage pack and will each have a unique number visible on the inside. In addition, they will all come with an original Micro Kickscooter in the trunk to cover the last mile. The Pioneer Series will have a price of 20'990 CHF including VAT or roughly 18'500 EUR excluding VAT in European countries.
The Pioneer Series is for the true Pioneers that want to help making mobility more eco-friendly and space-saving. Because let's face it: we have to make mobility not only electric, but also lighter and smaller – says Wim Ouboter, who founded Micro in 1999.
Swiss customers are asked to make a deposit of 500 CHF to secure their spot in the waiting list. Next, they will be selected based on their location, configuration and reservation date to make their final order. Micro plans to do a series of testdrive events to make sure that as many customers as possible can testdrive the Microlino. The exact dates and locations of these events will be announced end of June. By then, Micro will also give all details about the service and sales net in Switzerland. The first deliveries will take place from Micro's own brand center near Zurich this Summer.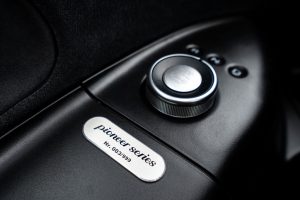 Customers outside of Switzerland can for now use the configurator and make a reservation without a deposit. Once deliveries in a market near, these customers too have to make a deposit to secure their spot in the waiting line. The next markets that will be launched are Germany and Italy. First deliveries for these two markets are expected within the end of 2022.
The company targets to produce up to 1500 vehicles this year in a factory that it is operating in Turin, Italy, together with its partner CECOMP. Eventually, the company will be able to produce up to 10'000 vehicles in this factory per year.
The demand that we see is huge and we are considering increasing our capacity even further in the future. For this year, we focus on quality, not quantity – says Oliver Ouboter.
The first customer deliveries in Switzerland will take place this summer, German and Italian deliveries will start towards the end of 2022.
Technical Specifications
Max. Speed 90 km/h
Acceleration (0-50km/h) 5 s
Nominal Power 12.5 kW
Peak Power 19 kW
Torque 89 Nm
Range 91/177/230 km*
Batteries 6 kWh, 10.5 kWh, 14 kWh**
Charging Time 0-80% 4h (6 kWh Battery)
3h (10.5 kWh battery)
4h (14 kWh battery)
Battery chemistry Lithium-Ion (NMC/NCA)
Curb weight 435 kg (excl. battery)
Seats 2
Trunk volume (l) 230 l
*Preliminary data
**Available Q1/23
Source: Microlino AG