Nel settembre Citroën spiccano l'ammiraglia C5 X, il concept The Urban Collëctif, Ami-100% ëlectric in carsharing a Mantova e la Nuova C3.
La gamma italiana di Nuova Citroën C5 X
Ordinabile in Italia Nuova Citroën C5 X, l'ammiraglia della Marca dal design audace, perfetta sintesi tra una berlina, una Station Wagon e un SUV. In arrivo sul nostro mercato all'inizio del 2022 con prezzi a partire da 33.250 Euro, è proposta in tre motorizzazioni: due PureTech benzina da 130 e 180 cavalli associati al cambio automatico EAT8 e una variante Plug-In Hybrid da 225 cavalli che associa il motore benzina PureTech 180 S&S con motore elettrico da 81,2 kW, cambio automatico elettrificato e batteria agli ioni di Litio da 12,4 kWh. Offre un comfort estremo, che comprende le Sospensioni Attive Citroën Advanced Comfort, i sedili Advanced Comfort e un abitacolo in stile lounge. Tecnologie all'avanguardia con l'Extended Head Up Display o il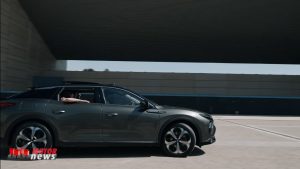 nuovissimo sistema di infotainment dotato di touchpad da 12" con Natural Voice Recognition. Nuova Citroën C5 X sarà disponibile in tre versioni, Feel Pack, Shine e Shine Pack. Sei le tinte per la carrozzeria, tutte perlate o metallizzate, che possono essere abbinate al tetto a contrasto in tinta Nero Black, mentre per gli interni sono disponibili 4 ambienti, per soddisfare tutte le esigenze dei clienti.
The Urban Collëctif
Dall'unione tra Citroën, Accor e JCDecaux nasce The Urban Collëctif, partnership nata per ottimizzare la mobilità urbana e migliorare la qualità della vita in città. Un'ambizione basata su un concept denominato Citroën Autonomous Mobility Vision, che associa una piattaforma di mobilità high-tech e universale, The Citroën Skate, a tre Pod dedicati a offrire servizi inediti: Sofitel En Voyage, un'esclusiva esperienza di mobilità urbana all'insegna di un comfort eccezionale, Pullman Power Fitness, un nuovo modo di praticare sport mentre si è in viaggio e JCDecaux City Provider, un innovativo servizio di mobilità urbana on-demand. Basandosi su tecnologia Citroën autonoma, elettrica e agile, questo concept rivoluzionario di mobilità urbana open-source è in grado di fornire una risposta alle crescenti esigenze in termini di spostamenti, servizi, sicurezza e benessere in città.
Citroën Ami-100% ëlectric in carsharing a Mantova
Oggetto di mobilità rivoluzionario e anticonformista, Citroën Ami – 100% ëlectric è protagonista del servizio di carsharing attivato a Mantova l'8 settembre, in occasione della 25esima edizione del Festival della Letteratura. A disposizione di cittadini, turisti e visitatori, una flotta di Ami – 100% ëlectric, personalizzate appositamente, per spostarsi agilmente, senza rumore e senza emissioni, per le strade e le piazze della città. A supporto del servizio di carsharing, la campagna di comunicazione "AMI Mantova", giocata sul nome delle piccole Citroën e l'"amore" che ogni cittadino e turista dovrebbe avere per la splendida città lombarda che si distingue per la sua storia, il suo territorio e la sua cultura.
Nuova Citroën C3 per India e Sud America
Citroën presenta Nuova C3, berlina moderna e robusta, che permetterà alla Marca di espandersi in India e di consolidare la sua presenza in Sud America. Sviluppata e prodotta in India e in Sud America, Nuova C3 nasce per soddisfare le esigenze di questi due mercati, con un'altezza da terra maggiorata, ruote di grandi dimensioni, il cofano rialzato e linee scolpite che richiamano al mondo dei SUV, pur rimanendo fedele al linguaggio stilistico della Marca. Lunga 3,98 m, è agile, maneggevole e adatta a tutti i tipi di strada. Può ospitare comodamente fino a 5 persone, in un ambiente confortevole e spazioso. Connessa e pensata per gli utilizzatori dello smartphone, dispone di Touchscreen capacitivo da 10 pollici con funzione Mirror Screen e tantissimi vani portaoggetti. Come da tradizione Citroën, anche Nuova C3 potrà essere personalizzata cambiando le tinte della carrozzeria e i toni bicolore: sono 13 le possibili combinazioni per il Sud America e 11 per l'India.
Ecco i video…
Fonte: Citroën Italia