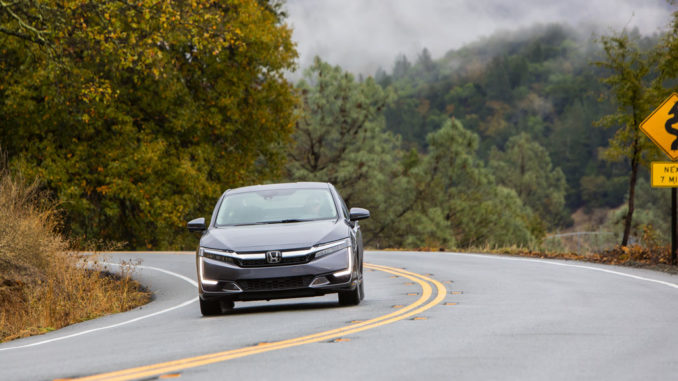 The new 2018 Clarity Plug-in Hybrid is the hybrid variant that completes Honda's first electrified powertrain series, alongside Clarity Fuel Cell and Clarity Electric. A sophisticated, spacious and complete 5-seater sedan that represents the flagship product in the United States of the Clarity series. With the aim, for the Japanese company, to cover with the sales of electric cars two thirds of the total sales by 2030.
The Clarity Plug-in Hybrid 2018 is cutting edge in driving range, performance and comfort, to satisfy a wide range of consumers and different styles and driving needs, with three possible driving modes and a fluid and instantaneous transition from one mode to another, in order to optimize efficiency.
The 2018 model of the Clarity Plug-in Hybrid is unique in its class in terms of performance, based on EPA standards (miles per gallon MPG / miles per gallon equivalent MPGe / range). The EPA values for the 2018 model are certainly of the highest level, although they must always be considered in absolute terms and compared with the real driving conditions and modes, with the lyfe-cycle and conditions of the lithium-ion battery and other factors.
The Clarity Plug-In Hybrid runs primarily on its electric motor, using its Atkinson-cycle engine and starter/generator motor to generate electricity that is either supplied directly to the traction motor or used to recharge the 17 kWh lithium-ion battery pack. An electric-servo brake system is deployed for regenerative braking, further improving efficiency by using the energy from deceleration and braking to generate additional electricity. It all adds up to an all-electric 110 MPGe (miles per gallon equivalent) combined (city & highway)1 EPA rating.
Unique exterior design elements that set the Clarity Plug-in Hybrid apart from other Clarity models include a model-exclusive Forest Blue Pearl exterior color, a distinctive chrome bar above the front grille, a chrome deck lid garnish and a unique color-coordinated 18-inch alloy wheel design.
Futuristic and functional, distinctive and efficient, the new 2018 Clarity Plug-In Hybrid is dimensionally similar to the all-new 2018 Accord sedan. Expressive, aerodynamic and advanced, the Clarity Plug-In Hybrid exterior design establishes a new standard for plug-in hybrid vehicles.
Please download here Honda's 2018 Clarity Plug in Hybrid press kit.