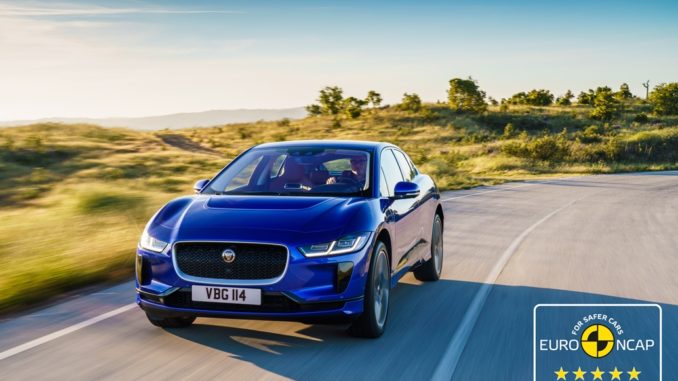 Il SUV elettrico Jaguar I-PACE a trazione elettrica ha ottenuto il massimo punteggio di cinque stelle nei test Euro NCAP, confermandosi uno dei veicoli stradali più sicuri in assoluto.
Il primo SUV elettrico ad alte prestazioni di Jaguar ha fatto registrare un punteggio del 91% nella protezione degli occupanti adulti, dell'81% nella protezione degli occupanti bambini e dell'81% nella sicurezza assistita. L'I-PACE ha ottenuto il massimo punteggio sia nell'impatto laterale contro una barriera che nel tanto temuto impatto laterale contro un palo, mostrando un'ottima protezione in tutte le zone critiche del corpo vettura.
Grazie a questo risultato, ora tutti e tre i SUV della famiglia PACE, ovvero E-PACE, F-PACE e I-PACE, hanno raggiunto il massimo punteggio delle cinque stelle nei test Euro NCAP, a dimostrazione dell'impegno di Jaguar nella costruzione di veicoli sicuri e affidabili. La I-PACE è il decimo modello Jaguar Land Rover, il più grande Costruttore Britannico di automobili, a ricevere le cinque stelle Euro NCAP.
Simon Black, Senior Project Leader Body Engineering di Jaguar Land Rover, ha dichiarato:
Grazie al suo design, alle sue prestazioni e alle sue capacità di guida, la Jaguar I-PACE ha già ricevuto numerosi premi in tutto il mondo. I risultati ottenuti durante i test Euro NCAP confermano i suoi eccezionali standard di sicurezza. Questo SUV è stato sapientemente progettato con una leggera struttura in alluminio e un pacco batterie integrato, per offrire la massima protezione a tutti gli occupanti. Per noi la sicurezza ha una priorità assoluta ed è fantastico vedere che i test Euro NCAP confermano questo nostro obiettivo.
La leggera struttura del corpo vettura della I-PACE offre dei livelli di rigidità intrinsecamente elevati e, in abbinamento con il pacco batterie integrato protetto da un telaio strutturale in alluminio, offre la più elevata rigidità torsionale di qualsiasi altro modello Jaguar, con 36 kNm per grado.
I principali elementi strutturali della sua carrozzeria prevedono l'utilizzo di forgiati in alluminio, una novità assoluta nell'industria automobilistica e le prime applicazioni del trattamento termico post-normalizzazione, per aumentare la resistenza delle leghe di alluminio nelle zone più critiche.
La I-PACE dispone inoltre di avanzate tecnologie di sicurezza per la protezione dei pedoni e degli utenti della strada. Queste tecnologie comprendono un cofano deformabile e l'Autonomous Emergency Braking con il Pedestrian and Cyclist Detection. Per il suo primo veicolo elettrico, Jaguar ha anche progettato l'esclusivo sistema AVAS (Audible Vehicle Alert System) che avvisa gli utenti della strada quando il veicolo è in avvicinamento. Il suono è udibile fino ad una velocità di 20 km/h e supera il limite minimo dei 56 dB (A) previsto dalla prossima normativa Europea. Il sistema è stato testato in collaborazione con il Guide Dogs for the Blind, la più grande associazione di beneficienza del Regno Unito per persone ipovedenti e affette da cecità.
Oltre alle tecnologie per la sicurezza, la prestazionale I-PACE offre una suite completa di avanzati sistemi di assistenza alla guida come l'Adaptive Cruise Control con Steering Assist, il Blind Spot Assist e il Parking Aid a 360°.