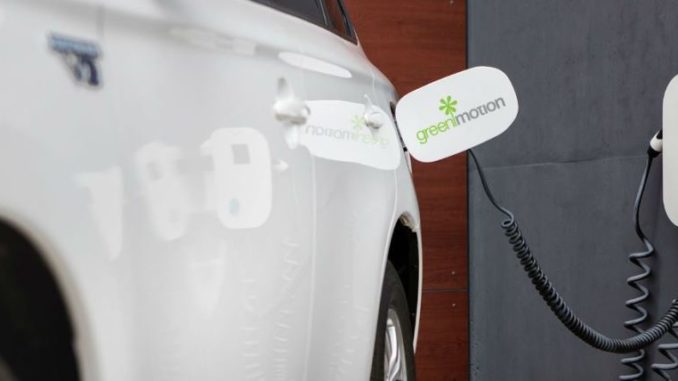 Green Motion, the first company of its kind in the world to be granted dual certification ISO 9001 and ISO 14001
Source: Green Motion
Le Mont-sur-Lausanne, Switzerland. 2nd November 2017. Already ISO 9001 certified by SGS, as of today the Vaud company Green Motion enjoys a second certification from the International Standardization Organization, the ISO 14001 standard, which aims at promoting and regulating environmental management procedures. Green Motion is the only company designing and producing charging solutions for electric vehicles to have this dual certification.
It was back in 2013 that Green Motion received the ISO 9001 certification for its work in the development, production, distribution and after-sales service of charging systems for electric vehicles. It was a first in this field. Today SGS, the world leader in certification audits, has awarded it the 14001 standard, which recognises the quality of companies that have put in place in-house production, management and operational systems integrated in an environmental impact control policy.
"What is the point of selling charging stations to cut down on CO2 if we behave badly in terms of the environment in our offices and working methods?" says François Randin, CEO and founder of Green Motion.
It is upon this premise that the leading Swiss company offering charging stations for electric vehicles, based in Mont-sur-Lausanne, took the requisite measures that were audited then certified by SGS. Within the company, in essence this means optimising every energy-consuming system, the various means of production and transport, and waste management.
This new certification has been issued to the young company from Lausanne at a key moment in its history.
Green Motion is actually in a very strong growth phase, from now on with industrial production of charging stations, and with a workforce that does not stop growing. In addition, the new head office, labelled Minergie, into which the company moved last February, is to be expanded again by 250m2 to take its surface area to 1,250m2.
By receiving the ISO 14001:2015 certification, Green Motion once more confirms its social and environmental commitment and sees its sustainable development strategy rewarded. The 3 main focuses of this strategy are:
Local design and production,
Job creation in Switzerland,
Opening up the world of work to disabled people by subcontracting the assembly of all its stations to Fondation Polyval.
no images were found