Michael Lohscheller, CEO Opel, ha ritirato il premio International Van of The Year 2021 per il nuovo van elettrico Opel Vivaro-e.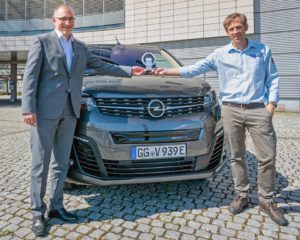 Il trofeo è stato consegnato da Johannes Reichel per conto della giuria internazionale IVOTY presso la sede Opel di Rüsselsheim. Nella stessa occasione Andreas Marx, responsabile Opel in Germania, ha ritirato il premio per la Germania.
Il nuovo Opel Vivaro-e dimostra ciò che può fare un veicolo commerciale leggero elettrico a batteria – ha dichiarato Lohscheller in occasione della consegna del trofeo, che si è svolta nel più rigoroso rispetto delle norme sanitarie. Opel Vivaro-e offre la stessa capacità di carico delle altre versioni di questo modello, ma a emissioni zero. Tutto ciò viene confermato da un ambito premio come lo 'International Van of The Year'. Siamo felici di aver ricevuto questo riconoscimento e ringraziamo gli esperti della giuria per il loro voto.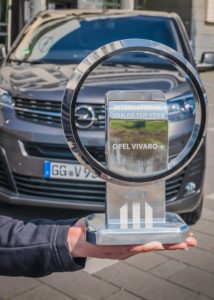 Opel offre Vivaro-e in tre lunghezze – 4,6 metri (S), 4,95 m (M) e 5,30 m (L) – e in numerosi allestimenti, tra cui furgone e Life 9 posti. In base alla versione e al modello, Opel Vivaro-e può arrivare a un volume di carico di ben 6,6 metri cubi, con una portata di 1.200 chilogrammi.
I clienti possono scegliere tra batterie agli ioni di litio di due dimensioni, in base alle loro necessità: da 75 kWh per un'autonomia fino a 330 km oppure, per chi utilizza quotidianamente il veicolo in modo meno intenso, da 50 kWh con un'autonomia fino a 230 chilometri, entrambe nel ciclo WLTP1. Indipendentemente dalle dimensioni della batteria, Opel Vivaro-e permette ai professionisti di spostarsi senza compromessi ben oltre il famigerato "ultimo miglio".
Opel Vivaro-e vanta un'ampia gamma di sistemi di assistenza e di tecnologie avanzate, tra cui lo Head-Up Display, il Sistema per il mantenimento della corsia di marcia, il Sistema di rilevamento della stanchezza, l'Allarme incidente, l'Assistenza alla frenata di emergenza e la Retrocamera panoramica con visione a 180 gradi.
Con il nuovo Opel Vivaro-e la casa tedesca continua a prevalere nel premio IVOTY. Il titolo del 2019 fu infatti conquistato da Opel Combo Cargo. Questo van compatto, insieme alla prossima generazione di Opel Movano, di dimensioni superiori, completerà presto la gamma Opel di veicoli commerciali leggeri elettrici.
[
1
] L'autonomia è stata calcolata secondo la procedura di test WLTP (R (CE) 715/2007, R (UE) 2017/1151). I valori registrati nell'uso quotidiano possono risultare differenti e dipendono da numerosi fattori, tra cui lo stile di guida personale, le caratteristiche del percorso, la temperatura esterna, il riscaldamento/climatizzazione e l'eventuale precondizionamento.
Fonte: Opel Italia