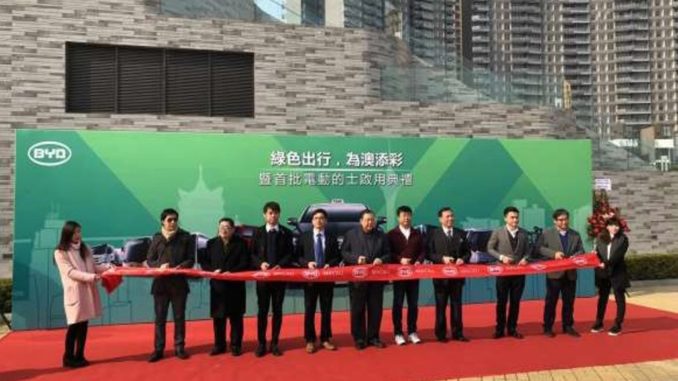 BYD delivered Macao's first fleet of electric taxis to local operator Synertec Management Co. Ltd, taking the special administrative region a step forward towards fulfilling its requirement of environmental protection. This is part of BYD's "Public Transportation Electrification" project in Macao after an earlier announcement to supply 20 pure electric coaches to two Macao tourism enterprises last August.
The first 16 units of electric taxis are the BYD e6, the company's most successful electric passenger vehicle.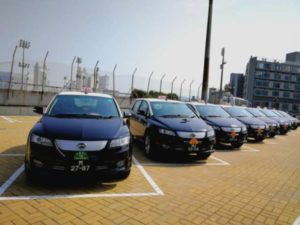 Using BYD's proprietary iron-phosphate battery, this zero-emissions vehicle can travel up to 400 kilometers on a single charge, satisfying the daily operation of a taxi.
Without doubt, the BYD e6 is the best option for taxis. That is why cities within the Chinese mainland have chosen this model over the past eight years – said Ho Chan Leong, Executive Director of Synertec Management Co. Ltd. Today is just the beginning of our grand project. We will introduce more BYD electric taxis to Macao in future while providing the best service to our passengers.

What BYD provides is a comprehensive transportation solution. We are bringing an entire range of electric vehicle into Macao. It won't be long before its residents see BYD electric vehicles' present in all aspects of their lives – said Liu Xueliang, General Manager of BYD Asia Pacific Auto Sales Division.
To deal with the noise and air pollution problem, the Macao Special Administration Region (SAR) government has announced a series of initiatives to promote electric vehicles including the construction of charging stations and electric vehicle trial operations. According to figures released by the Macao SAR government, electric buses produce 56 percent less carbon dioxide and 60 percent less nitrogen oxide for every hundred kilometers travelled, compared to diesel buses.
BYD's expansion into Macao began in 2013 when it successfully tested its pure electric bus. A year later the Shenzhen-based company delivered its first passenger vehicle to a customer in Macao. In November 2016, BYD won the first pure electric coach order in Macao at the China (Macao) International Automobile Exposition.
The company's 11-ton pure electric truck has also received encouraging feedback from local customers.
BYD sold around 130,000 units of new energy vehicles in 2017, ranking number one in global new energy vehicle sales for the third consecutive year. BYD's electric vehicles have a footprint in more than 200 cities across 50 countries and regions.