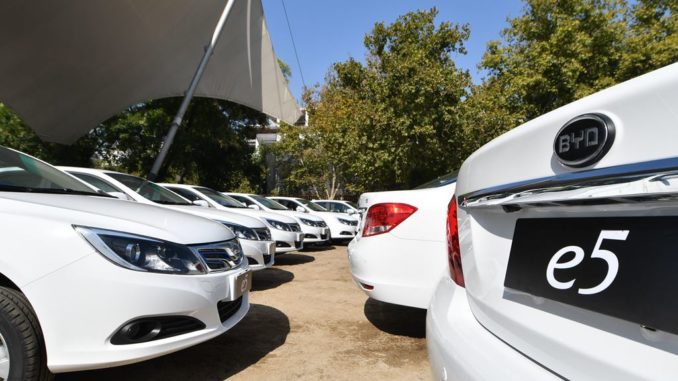 Chilenian government launched a new program to promote electromobility in the taxi field, co-financing the adoption of pure electric BYD taxis.
The Minister of Energy and Mining, Juan Carlos Jobet, and the Minister of Transportation and Telecommunications Gloria Hutt, accelerates the introduction of electric vehicles in Chile with "My Electric Taxi Program" provides co-financing of up to $ 11,000 to owners of current conventional taxis to renew their vehicle technology for pure electric BYD taxis.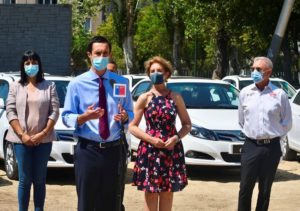 Mr. Juan Carlos Jobet, the Minister of Energy and Mining, said:
Today there are significant barriers for taxi drivers to access electric vehicles, mainly in terms of initial investment, technology knowledge, and load management. That is why we launched this Program to bring the benefits of electromobility to taxi drivers and users.
The Minister of Transportation and Telecommunications, Mrs. Gloria Hutt, pointed out that:
our priority in terms of electromobility is public transportation and to promote the inclusion of vehicles such as taxis and buses. Initiatives like this, plus others that we boost from the Ministry of Transportation, are accelerating more sustainable fleets with significantly lower operational costs. Besides, the new vehicles have improvements in comfort for users, mainly due to smoother and quieter travels.
This initiative-that also includes the purchase and installation of a home electric charger and the new vehicles' operation monitoring for one year – is implemented by the Energy Sustainability Agency, who will also advise operators on their applications.
Ignacio Santelices, Executive Director of the Agency, pointed out that operating an electric taxi means about 70% of cost savings compared to a gasoline vehicle.
Furthermore – an electric vehicle has cheaper maintenance than conventional vehicles. Therefore, it is economically and environmentally convenient – he said.
Currently, in Chile, there are 1,769 electric vehicles, including buses, light vehicles, and trucks. These 50 BYD taxis will be the largest taxi fleet in the Latin American country.
Being awarded this tender demonstrates our commitment to Chile and electromobility and how BYD has positioned as a mature and solid brand globally. This is one more step on the road to zero-emissions transportation. With our contribution, we hope to spread the use of electric vehicles in various segments – said Tamara Berríos, Country Manager of BYD Chile. Today, we start with the largest fleet of electric taxis in the country, and we hope to accompany the operators in this experience. In addition to being sustainable, these vehicles generate great savings in operation and maintenance. At BYD, we are proud to continue to lead the market and expand the electromobility revolution – she noted.
BYD e5 is currently the electric car with the longest range in the Chilean market. Its battery allows traveling up to 400km on a single charge. It also features regenerative braking technology, which helps regain electricity while driving, braking, and decelerating.
This zero-emission model is configured especially for fleets because of the comfort of its seats, the spaciousness of the luggage rack, and most importantly, the savings it generates in operation and maintenance.
Source: BYD