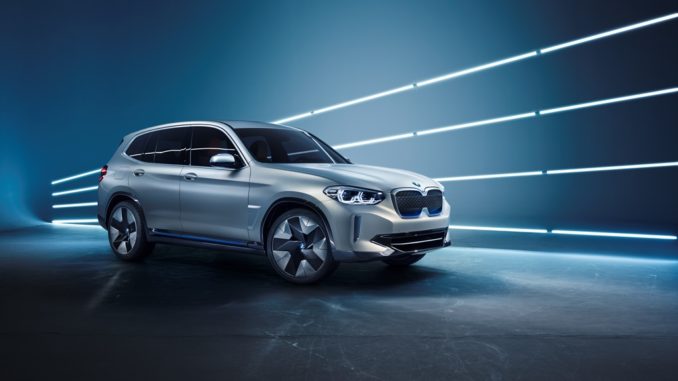 The BMW Concept iX3 represents another milestone on the road to locally emission-free driving under the BMW Group's electrification strategy. And so a Sports Activity Vehicle (SAV) once again blazes a trail for a new and groudbreaking form of BMW's fabled driving pleasure.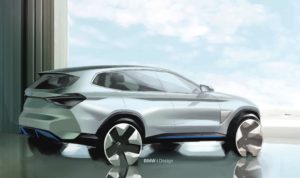 The current BMW X5 xDrive40e iPerformance made its debut in 2015 as the BMW core brand's first plug-in hybrid model. And the BMW ActiveHybrid X6 presented in 2009 was the world's first Sports Activity Coupe with a full-hybrid drive system.
The BMW Concept iX3 previews the fusion of the multi-faceted driving pleasure for which BMW X models are renowned and a locally emission-free drive system.
The version of the fifth-generation electric motor developed for the SAV generates maximum output of over 200 kW/270 hp. The likewise model-specific high-voltage battery has a net capacity of over 70 kWh, which is enough to give the electric SAV a range of more than 400 kilometres (249 miles) in the WLTP cycle.
Another feature of the high-voltage battery developed for the fifth generation of eDrive technology is its optimised charging capability. The energy storage system has a newly developed Charging Control Unit and is designed to be hooked up to fast-charging stations generating up to 150 kW. The high-voltage battery can be charged in just 30 minutes from one of these stations.
Electric mobility also means a differentiation in design
In the front, the kidney and the brand emblem show the affiliation with the BMW i brand. The closed double kidney with the blue accentuation continues the BMW i Vision Dynamics brand.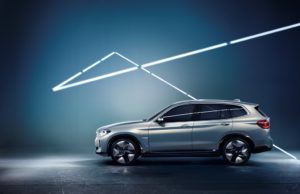 BMW i Blue accents around the kidney, around the brand logo at the front and along the side skirts, and a diffuser element in the same colour integrated in the rear apron. These styling cues provide a striking contrast against the Moonstone Silver matt exterior paint finish. The concept study is also fitted with light-alloy wheels in an aerodynamically optimised design.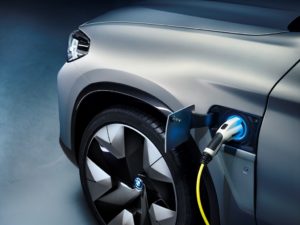 Alongside the world premiere of the BMW Concept iX3 and the BMW i Vision Dynamics study also on display in Beijing, the BMW Group is also highlighting the spectrum of design differentiation between the BMW and BMW i brands.
This study of a first all-electric model from BMW is clearly defined by the robust and sophisticated all-round character of an SAV, which remains unaffected by the presence of a locally emission-free drive system under the skin.