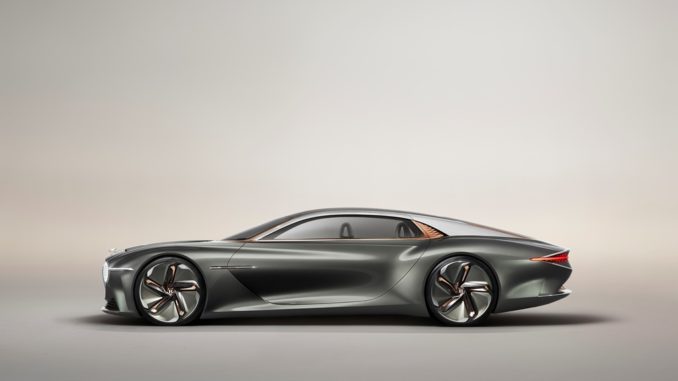 Enhancing the occupants experience of their extraordinary journey in the Bentley EXP 100 GT is the advanced intelligent system Bentley Personal Assistant AI.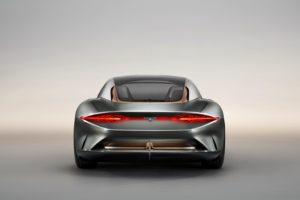 This advanced, intelligent system defines the Grand Tourer of the future as it delivers a highly personalised experience to the passenger based on five distinct modes with individual characteristics: Enhance, Cocoon, Capture, Re-Live and Customise. Interaction with the AI is made through hand gestures made to the front or rear Cumbria Crystal interfaces that intuitively interpret the commands.
Enhance harvests inputs from the outside environment, such as light, sound, smell and air quality, offering a holistic grand tour, and a feeling of open top motoring from under the glass canopy.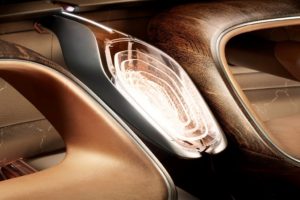 Cocoon creates a protective space, including air purification and glass areas that turn opaque for privacy; while Capture records experiences from both inside and outside the car which become part of your car's unique history.
Re-Live replays highlights of your Grand Tour, while Customise combines elements of all the different modes and are individually selected by the driver or passenger.
Sustainable Innovation – The Future of Bentley
Bentley believes its approach to innovation is created through a balance: preservation of the world and the self should be at the forefront, while purposeful and intuitive innovation remains essentially linked to sustainability.
The Bentley EXP 100 GT features air and sound curation that promotes self-care and well-being in the car. These create a physiological, health-enhancing environment for passengers, promoting increased mindfulness in the cabin.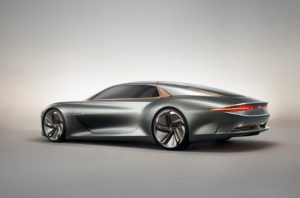 For example, Capture mode on Bentley Personal Assistant brings the external environment into the cabin, creating an open-top driving experience without taking the roof down. It also cocoons passengers – blocking and filtering air pollution in cities.
The Bentley EXP 100 GT has passive and active air intakes in the front grille, cooling the drivetrain and batteries that drive the car's powerful electric motors. Unwanted air is channelled out of the car at the rear to aid aerodynamics.
The Air Purification System is located in the boot space to purify air before it is supplied into the cabin, with deployable air vents on the rear passenger shelf and static vents on the front passenger panel. The air vents undulate giving the appearance that the car is breathing and alive. Meanwhile, CO2 levels in the cabin are constantly monitored to maintain air quality.
As well as capturing exterior scents, Bentley has developed a unique scent for the Bentley EXP 100 GT. Created in collaboration with ethically-aware fragrance house 12.29, it builds on the rich heritage of Bentley, incorporating sandalwood and fresh moss.
The Bentley EXP 100 GT also puts passengers in control of how they disconnect and reflect, enhancing mindfulness by allowing occupants to live in the present. As screen-time become ever more present, these disconnecting, relaxing experiences have gained luxury status.
Rotary switches fashioned from copper and aluminium add tactility in a digital world.
The in-car displays enhance the grand tour experience using augmented reality, or can provide a relaxed cocoon on demand. All displays use a simple, intuitive interface that includes transparent OLED information displays in the doors, automatically darkening glass, and a front entertainment screen for displaying films, live video and other media when the Bentley EXP 100 GT is in autonomous driving mode.
Making a material difference to Sustainable Innovation
Bentley has collaborated with carefully selected industry experts to provide exceptional materials in the Bentley EXP 100 GT. All use sustainable and innovative techniques for customers who are environmentally-conscious and ethical in their brand choice.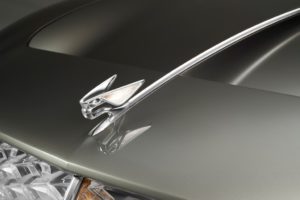 Among them is the remarkable Copper Infused Riverwood, a sustainable wood from naturally fallen trees that has been preserved for 5,000 years in peat bogs, lakes and rivers. The Riverwood features in the cabin and has been sourced from The Fenland Black Oak Project, a British organisation set up to preserve this material for future generations.
Hand and Lock is the London-based embroidery company that employs exquisite, traditional techniques that date back to 1767 and are used on Royal and Military Dress uniforms. Their techniques are primarily used on the door panels of the Bentley EXP 100 GT, creating a seamless integration between different materials and a beautiful contemporary embroidery pattern.
Bridge of Weir Leather of Scotland works with specifically selected, locally sourced hides for Bentley to create a soft, natural leather enhanced by its environment. With the ultimate Super Natural finish, this will be Bentley's benchmark for future luxury alternative materials.
Finally, in an exclusive collaboration, Bentley has used the by-products of wine-making to create the future of luxury eco-materials, creating a leather-like seating material which is 100 per cent bio-based.
Source: Bentley Motors Ltd.