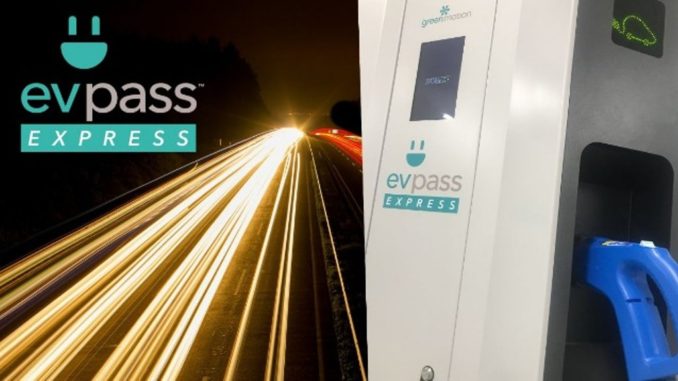 Evpass is the biggest Swiss EVs national public charging network and now with the new evpass EXPRESS, these network will be reinforced with ultra-fast stations.
Evpass has 1400 charging stations criss-crossing Switzerland in 426 municipalities and 26 cantons, located in carefully chosen public locations on the roadside and in users' homes. Convenience is guaranteed with easy-to-use charging stations that include integrated cables, plugs and sockets suitable for all types of electric vehicles. It delivers energy to its users that is certified as renewable.
The network has been specially designed to provide the right infrastructure in the right place, with semi-fast charging stations in urban areas or on the outskirts of towns, close to people's homes.
And soon from evpass EXPRESS, ultra-fast charging stations where they are warranted – mainly on highways where people will only stay for half an hour.
evpass EXPRESS – rapid, efficient, convenient charging on highways
evpass has joined forces with Tamoil, AVIA and Oel-Pool to offer evpass EXPRESS, a 160 kW network of charging stations with national coverage located primarily in highway service stations, making it possible to charge 100 km in 5 minutes in locations that are comfortable and secure with a shop and sometimes a café. Other partners will be able to join them to extend the EXPRESS evpass network.
This network is based on Swiss technology, the ultra-fast RANGE XT160 charging stations developed by GREEN MOTION SA, a pioneer in charging infrastructure for electric vehicles. The charging stations are manufactured locally and have an unrivalled energy inefficiency superior than 96%. Its high-level technology is housed entirely in a small, compact case, making it easy to install, never compromising user safety.
Ten or so locations have already been confirmed throughout the country. A second phase will bring another ten or so by the end of 2020.
evpass EXPRESS is the ideal addition to the rapidly-growing evpass network that is also gaining in density of coverage. This will make it possible to meet demand, because we are seeing ever-increasing sales of electric vehicles and a growth in battery capacity – says François Randin, evpass SA' founder and CEO.
Switzerland rose to 8th place in terms of electric vehicle sales in 2018, and did so without any state subsidies or aid, specifically thanks to the pre-existing charging infrastructure, the majority of which is financed and operated by evpass.
Source: Green Motion SA