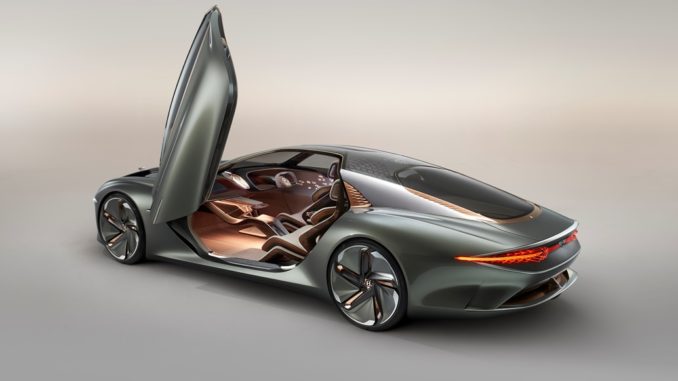 Bentley looks to the future of luxury mobility, and to celebrates its Centenary unveiled the autonomous and electric model Bentley EXP 100 GT.
Bentley EXP 100 GT is borne from pure Bentley DNA and inspired by the company's deep understanding of the desires of its intelligent, forward-thinking customers. Beautifully styled, it embraces Artificial Intelligence (AI) as a means to reassert the car as a place for creating, experiencing and capturing extraordinary human experiences and emotions.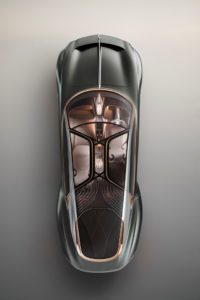 Designed from the inside out and taking advantage of an all-electric platform, Bentley EXP 100 GT reimagines the Grand Tourer for the world of 2035. This is a world of shared luxury experiences where passenger and driver enjoy equal status in their enjoyment of their extraordinary journeys. The cars' presence and impressive exterior proportions are reminiscent of many of Bentley's historic Grand Tourers but take these luxury hallmarks into the future. The result is a future vision commensurate with Bentley's status as the world's most sought after luxury brand.
The meticulously sculpted cabin is luxuriously tactile, helping to create a harmonious environment designed around the well-being of its passengers. This is seamlessly integrated with the unique AI, known as the Bentley Personal Assistant, which helps the car's occupants enhance and curate their Grand Tour experiences.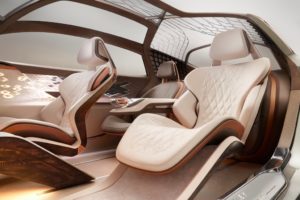 Sustainable innovation is also at the heart of the Bentley EXP 100 GT experience. The car is engineered to create a greater awareness of the world outside, with an intelligently-curated collection of materials including 5,000 year old Copper Infused Riverwood; Compass exterior paint made from recycled rice husks; 100% organic leather-like textile from wine making; British Farmed Wool carpets and embroidered cotton interior surfaces which all create sustainable future luxury, adding to the enhanced reality of the grand touring car of the future.
Adrian Hallmark, Bentley Chairman and CEO, said:
Today, on our Centenary, we demonstrate our vision of the future of our Marque, with the Bentley EXP 100 GT – a modern and definitive Grand Tourer designed to demonstrate that the future of luxury mobility is as inspirational and aspirational as the last 100 years.

Bentley has, and will continue to enhance and enrich every single journey and the lives of every single person who travels in, or has the honour to be a part of creating our extraordinary products.
Stefan Sielaff, Director of Design said:
The Bentley EXP 100 GT represents the kind of cars we want to make in the future. Like those iconic Bentleys of the past, this car connects with its passengers' emotions and helps them experience and safeguard the memories of the really extraordinary journeys they take.
An inspiring blend of performance, technology and craftmanship, the Bentley EXP 100 GT is a beautiful, immersive and emotionally intelligent experience.
Performance & Technology – Reimagining The Grand Tour
The Bentley EXP 100 GT is an extraordinary step on the road towards a carbon-free future.
Sustainable and intelligent, a battery electric powertrain, with intelligent power and charge management, will ensure that the Bentley EXP 100 GT is as powerful and exciting as its conventional predecessors.
Next Generation Traction Drive will enable maximum control via torque vectoring, applying 50 per cent increased power and 35 per cent less mass for more effective cornering. The battery system will power four motors that offer a 0-100 km (0-60 mph) time of less than 2.5 seconds, a top speed of 300 kph (186 mph) and maximum torque of 1,500 Nm.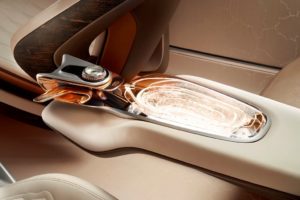 Future battery technology will offer five times the conventional energy density, and charging the Bentley EXP 100 GT to 80 per cent of capacity will take only 15 minutes. Charging is automatically taken care of by the Bentley Personal Assistant. Weight will remain at a remarkably trim 1,900 kg and a range of 700 km (435 miles) will be possible.
To celebrate the drive, the Bentley EXP 100 GT is optionally autonomous. It manages the driving experience based on the external environment and passenger well-being. This might include maximising an exhilarating self-drive across mountain roads, or disengaging from a stressful, inner-city commute.
Bentley Personal Assistant can curate personal driving experiences, offering points of information along a route, journey suggestions, or available luxury experiences nearby.
Key to this are a range of features based on passenger well-being and comfort. These include Active Aero Wheels that dynamically adjust to deliver efficiency or maximum performance feel; Intelligent Pirelli Tyres that adapt their contact patches based on weather conditions or driver demand; Adaptable Biometric Seating that adapts to the driver mode, or swivels rearward with the steering wheel retracted away in autonomous mode.
The use of artificial intelligence with the Bentley Personal Assistant, combined with expert engineering in the Bentley EXP 100 GT, has redefined the future of Grand Touring. AI manifests itself in the cabin as a 'feeling' light and is controlled through gestures and touch.
An example of gesture control can be demonstrated by a child looking out of the Bentley EXP 100 GT cabin at clouds, then pulling down content inside the vehicle through a gesture that explains what they are seeing to them. AI thus creates a joint, meaningful learning experience that can also be shared.
AI is controlled via an illuminated Cumbria Crystal centre piece and control centre, set in three layers. Cumbria Crystal, the last producer of completely hand-blown and hand-cut crystal in England.
A cartridge system in the centre of the Bentley EXP 100 GT delivers luxury items and services. The main features are a Purified Water Decanter and Crystal Glasses; a Cartridge Delivery System that can deliver items from an under the bonnet storage area into the cabin itself; and World Class Services, that could receive items requested by the car's AI and delivered from luxury service partners.
To watch the film on YouTube, visit:
Source: Bentley Motors Ltd.