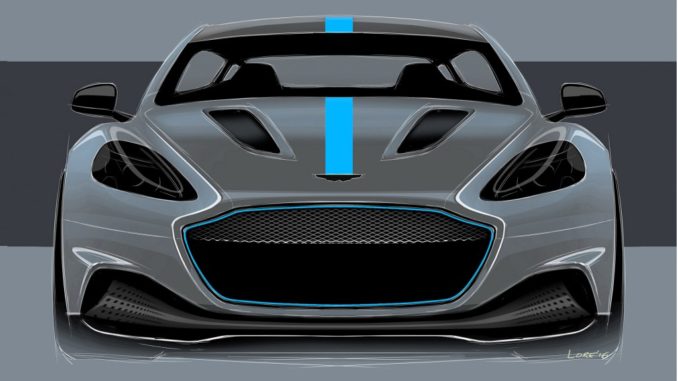 I produttori di automobili guardano al futuro secondo la ricarica rapida e Aston Martin potrebbe essere la prima a ricaricare a 800 Volt.
Molti hanno discusso e alcuni hanno annunciato auto elettriche da 800 Volt, in particolare Porsche, con le prossime versioni della sua auto elettrica Taycan.
Prima del Concours d'Elegance di Pebble Beach lo scorso fine settimana, Andy Palmer, Amministratore Delegato di Aston Martin, ha twittato una foto del suo imminente sistema a 800 Volt, da costruire in una versione elettrificata della sua berlina Rapid-E.
Secondo Palmer, Aston Martin potrebbe battere Porsche nella produzione di un'auto elettrica capace di caricare a 800 Volt.
Andy Palmer su Twitter
✔

@AndyatAston

The @astonmartin RapidE EV will use 800v battery technology when launched end 2019. The higher voltage facilitates fast charging times as energy E=VxIxt (V is voltage, I is Current & t is time). Faster charge time t=E/(VxI) achieved by increasing Voltage. Nerdy but bloody good!

✔

@AndyatAston

@Astonmartin RapidE EV utilizzerà la tecnologia della batteria 800v quando verrà lanciata alla fine del 2019. La tensione più elevata facilita i tempi di ricarica rapida come energia E = VxIxt (V è tensione, I è corrente & t è tempo). Tempo di carica più rapido t = E / (VxI) ottenuto aumentando la tensione. Noioso ma dannatamente buono!
Palmer ha dichiarato a Green Car Reports che la futura auto elettrica Rapid-E da 800 Volt sarà disponibile alla fine del 2019.
Chiamando la tecnologia Porsche "favolosa", Palmer dice che il suo sistema di ricarica della Rapid-E a 800 Volt sarà un precursore del rinnovato marchio Aston Martin Lagonda.
Lagonda sarà un marchio di veicoli elettrici al 100%, e con questo arriva una certa trepidazione.
Perché nessuno lo ha fatto – dice – nessuno ha la minima idea di come il nostro cliente di lusso userà un'auto elettrica".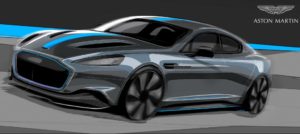 Per sperimentare i driver di Aston, con le auto a batteria e con la ricarica, Aston venderà solo circa 155 auto ai clienti che Aston sceglierà, "perché possiamo farlo", afferma. Rapid-E sarà un modello in edizione limitata che verrà venduto solo ai clienti disposti a fornire un feedback qualitativo su come utilizzano l'auto.
Saranno un po' come la nostra flotta di sviluppo – dice.

Con il nuovo sistema di ricarica rapida su strada entro la fine del prossimo anno, "probabilmente ci rende la prima azienda automobilistica al mondo a introdurre 800 Volt nella struttura ecologica", afferma Palmer. "Un po' prima, probabilmente, di Porsche."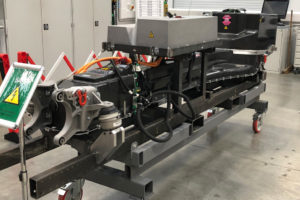 Palmer dice che la fase sperimentale consentirà ad Aston di imparare molto prima di rilanciare Lagonda come marchio EV dopo il 2020. Aston non ha risposte immediate su dove i clienti caricheranno le loro macchine o quale standard emergerà dalla gara automobilistica per fornire velocità di ricarica sempre più elevata.
Questo è sempre stato il dilemma – ammette. Si potrebbe pensare di avere accordi con i fornitori di infrastrutture, ma la realtà è che quasi sempre ti deludono. Sia che si tratti di fornitori di servizi di pubblica utilità, sia che si tratti di distributori di benzina, sia che si tratti di governi, alla fine le case automobilistiche devono riparare collettivamente da sole.

Hai visto l'incapacità del settore di riparare una spina standard. Quindi abbiamo almeno cinque diverse spine nelle auto in questo momento? – Si chiede.
Il sistema a 800 Volt, secondo lui, probabilmente emergerà dallo standard CCS Combo e potrebbe portare a un'adozione più ampia delle auto elettriche.
La migliore possibilità che abbiamo attualmente con i 400 Volt – dice – è cercare di ottenere un po' di armonia attorno al sistema 800 Volt.

Speriamo che l'industria sia più brava nel farlo rispetto al passato – afferma Palmer, ex vicepresidente esecutivo di Nissan quando ha lanciato Leaf.
Mentre Lagonda guiderà lo sviluppo elettrico di Aston Martin, il costruttore inglese produrrà anche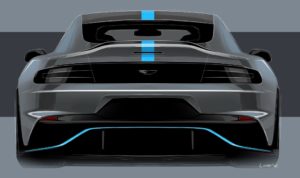 veicoli ibridi, ma quelli saranno marchiati come Aston Martin per il prossimo futuro. Palmer sostiene che gli ibridi di Aston avranno una progettazione in serie e utilizzeranno i loro motori a combustione interna per alimentare e ricaricare i pacchi batteria.
La legislazione di qualsiasi potenza globale – Europa, Cina o Nord America – potrebbe imporre che Aston Martin costruisca ibridi plug-in, e per questo è pronta.
Se l'unico modo in cui Aston Martin potrebbe sopravvivere è combinando le capacità della benzina, per inserire un plug-in, allora ovviamente faremo un plug-in, ma così com'è al momento prevediamo l'ibrido fornendo power fill-in.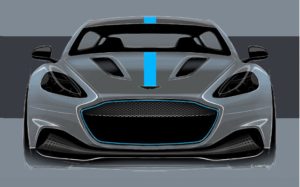 Palmer dice che l'attuale clima politico, come in ogni altro periodo storico, richiede pazienza con organismi di regolamentazione come l'EPA degli Stati Uniti. Quello, crede, dà un vantaggio alla sua compagnia.
Siamo in un periodo di infanzia – ​​dice. Siamo in un periodo di transizione e chiaramente quello che stiamo cercando di fare con Lagonda è discontinuare la filosofia di produzione.

Enormi conglomerati possono richiedere molto tempo per prendere decisioni. Non sarebbe stato facile per nessuno dei concorrenti dire: butteremo via il motore a combustione interna e andremo al 100% in BeV.

Siamo una piccola azienda … e quindi abbiamo l'opportunità di farlo. Questo è enormemente dirompente.

I motori a combustione interna saranno qui per molto tempo, dice. Ma sicuramente, i veicoli elettrici prenderanno il sopravvento e addirittura elimineranno la necessità delle celle a combustibile. L'ansia di autonomia elettrica scomparirà e, a ragione, la necessità di idrogeno scomparirà.
Mentre ciò accade, Palmer è fermamente convinto che la combustione interna sta entrando nella storia e si avvia verso la fine.
Potrei sbagliarmi – e questo è il punto dei tempi in cui viviamo – ma, la mia convinzione di base è che se dovessi andare avanti veloce al 2040, probabilmente metà delle auto sulla strada saranno a batteria e il resto sarà ibrido in qualche modo, in qualsiasi forma.

È una lunga coda, dice, ma "alla fine, l'elettrificazione è sicura come la morte e le tasse".