At China International Import Expo has been signed and important strategic cooperation agreement between AeroMobil and Baoneng Motor in the field of personal aerial vehicles (PAV).
Both parties will seek win-win cooperation and mutual benefit to establish long-term stable cooperative partnership including potential investment.
Both companies signed the partnership on November 11th, during the last day of China's most important trade event this year, finalising discussions about the non-exclusive cooperation in the personal aerial vehicles (PAV) area and potential investment of Baoneng Motor into AeroMobil in the future.
AeroMobil is very active in discussing cooperation opportunities in various Asian markets, including China. Our personal aerial vehicle features numerous global patents, latest lightweight technology and is engineered in a way that attracts leading automotive and aviation industry players to seek further collaboration also on future mobility vehicles featuring VTOL (Vertical Take-Off and Landing) technology – said Patrick Hessel, Chairman of AeroMobil.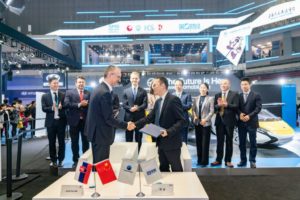 Both companies agreed that together they would explore opportunities to build a solid PAV business case for the Chinese market, including sales and marketing activities related to the promotion of multi-model PAV range.
AeroMobil and Baoneng Motor will further analyse opportunities in using Baoneng Motor'sauthorised Maintenance and Repair Organisation in China to advance certification of vehicles for the Chinese market. AeroMobil also values the potential of Baoneng Motor in future public affairs with specific regions and on national China level.
Baoneng Motor is following a strategy of multipurpose vehicles development. AeroMobil fully fits within this strategy and enables Baoneng Motor to enter into the new industry of personal aerial vehicles. Baoneng Motor is well prepared for the changes in the mobility markets, which combine shared, smart, autonomous vehicles and via AeroMobil would extend 2D into 3D transportation – said Yao Zhenhua, Chairman of Baoneng Group.
The cooperation of Baoneng Motor and AeroMobil will also focus on the possible future fleet operation of the next generation VTOL vehicles incorporating a vast experience of Baoneng Group with smart city infrastructure and real estate development. This partnership is a cornerstone of future on-demand transport network operation which will work seamlessly for all passengers.
The Debut of the AeroMobil Flying Car in China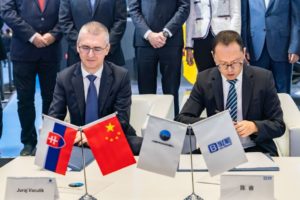 AeroMobil is pioneering the design and commercialisation of flying cars, developing cutting-edge technology to produce a range of vehicles for short take-off and landing (STOL) and vertical take-off and landing (VTOL). Its range of vehicles features lightweight technology and full electric power on the ground. The first production vehicle, the AeroMobil 4.0, showcased on the stand at CIIE 2018 in Shanghai, features a deployable fixed wing with future vehicles featuring Vertical-take-off and Landing (VTOL) capabilities, as showcased in the 5.0 concept.
The 4.0 flying car was on display in China for the first time as AeroMobil aims to become a driving force in the development of personal aerial vehicles in the country.
AeroMobil believes China has the potential to become a pioneer in the adoption of flying cars as it fulfils the ambitious goals of its Belt and Road Initiative which demands more flexible regional and intra-city travel options while reducing environmental impact. With 200 of its 500 new planned airports already built, China is set to become the world's largest aviation market by 2022.
The 5.0 VTOL continues AeroMobil's unique strategy to develop vehicles with the fly-drive capability to provide seamless door-to-door journeys with the added convenience of vertical take-off and landing. The AeroMobil 5.0 has been specifically developed for inter-urban and intra-city personal air transport, including as a shared means of transportation, to provide a premium limousine service in the sky.
Growth of personal air transport in China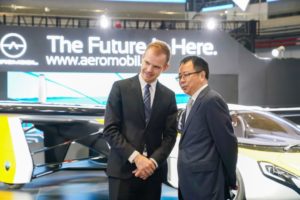 AeroMobil sees strong growth potential for personal aviation and flying cars in China. As the next frontier and global mega-industry, personal air transportation can support China's important strategic initiatives and ambitions to increase connections between its large urbanised areas, reduce traffic and congestion and improve the 'radius of life' of its citizens. Flying cars can easily integrate with current and future transportation infrastructure, allowing for greater connections between other modes of transport across short and medium distances.
AeroMobil is participating at CIIE 2018 to demonstrate their innovative technology while recognising the importance of establishing partnerships with Chinese authorities, cities and companies to pioneer the future of personal air transportation in China.
About Baoneng group
Baoneng group was born in Shenzhen Special Economic Zone, the frontier of reform and opening up policy. For many years, around the three strategies of "Baoneng Manufacturing ", " Baoneng Science and Technology " and " Baoneng people's livelihood ", Baoneng Group adhered to the mission of "developing industry and repaying society", and deeply cultivated the real economy. Through introducing external and internal cooperation, Baoneng Auto builds a complete industrial chain covering "R&D-auto component- vehicle manufacturing-after sale market", and strives to be an auto group with strong competitiveness and international influence in 10 to 15 years.
About Aeromobil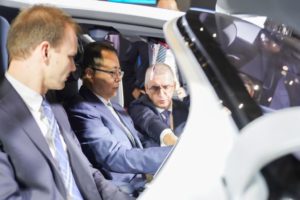 AeroMobil is a leader in mobility in three dimensions with a vision to liberate personal mobility from the ground and into the skies. AeroMobil develops the most flexible, capable and efficient range of personal aerial vehicles (PAVs) designed for door to door travel in intra and inter-urban environments, reducing congestion and emissions while increasing proximity and convenience for citizens, cities and society.
AeroMobil is pioneering the development and commercialisation of flying cars, developing cutting edge technology to produce a range of vehicles for short take-off and landing (STOL) and vertical take-off and landing (VTOL). This includes electric propulsion systems, battery technology and control systems for piloted and autonomous flight for transportation on the ground and in the air to support short and longe range personal air travel with eVTOLs.
AeroMobil adopts an iterative approach to the development of personal air transportation in line with technology readiness, legislation and market acceptance. We believe the future offers unbounded opportunity for air mobility at scale but requires a pragmatic and considered approach to ensure technology and solutions implemented are safe, reliable and effective through partnership and collaboration with regulators, governments and cities to realise the benefits of all.
The first flying car from AeroMobil provides increased flexibility and versatility for the customer as it combines the best of automotive and aerospace technology into one vehicle while respecting the limits of current technology and the regulatory environment. It is the first step in their journey towards air Mobility-as-a-service (aMaaS) which will make personal transportation vastly more efficient and environmentally friendly by allowing significantly faster door-to-door travel over short and medium distances, and in areas with limited road or public transport infrastructure.