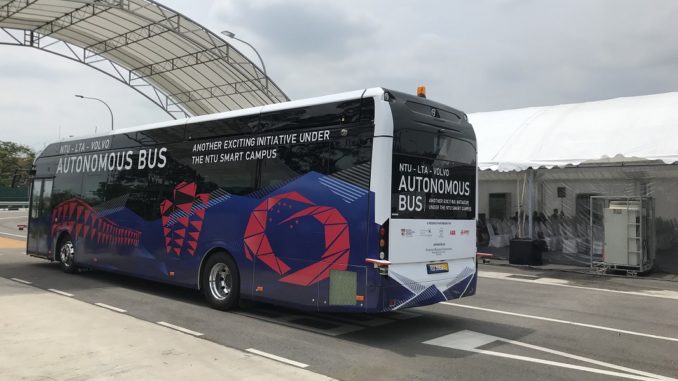 At Nanyang Technological University (NTU) in Singapore has been unveiled the 12m fuell electric autonomous bus and two of ABB's Heavy Vehicle Chargers (HVC).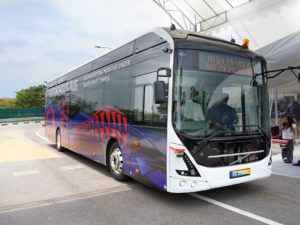 The project is part of an ongoing collaboration between NTU, the Land Transport Authority (LTA) and Volvo Buses to develop autonomous bus technologies. This phase, which includes self-driving bus trials, demonstrates the ability to provide fixed route and scheduled services similar to existing public bus services in Singapore. ABB is a key industry partner of the project, helping Singapore to make another major step towards sustainable mobility.
ABB's HVC 300P fast charging system delivers 300 kW DC power and will recharge a battery in three to six minutes. It is based on OppCharge, an open interface for DC electric bus charging, which is now being used in Singapore and across Asia Pacific. Using a pantograph mounted on the charging infrastructure for end-point charging, set up at a bus stop or depot, it allows buses to be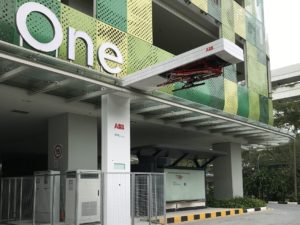 charged at the end of the line, without impacting the normal operation of the route.
Tarak Mehta, President of Electrification Products division said:
ABB is at the forefront of developing smart and sustainable transportation solutions. We have pioneered the creation of flexible and high quality electric charging systems that enable the development of cleaner, more efficient and cost effective solutions.

We are delighted to be involved in this landmark project in Singapore and hope this will mark a positive step toward greater electrification of public transport solutions across the region, where traffic emissions have been identified as a major concern in fast-developing cities.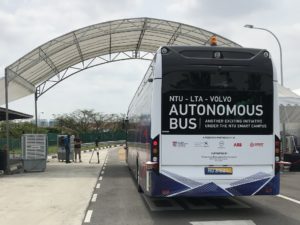 One of the autonomous electric buses will be used at the Centre of Excellence for Testing and Research of Autonomous Vehicles (CETRAN) – Singapore's advanced new test facility at the NTU campus – where researchers will test new functions and study how the bus interacts with other road-users. The second bus will be used for tests in a bus depot, in partnership with SMRT.
Source: ABB