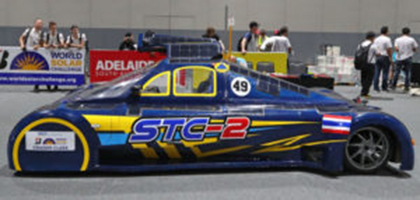 Source: World Solar Challenge
Darwin, Australia. 6th October 2017. One of the world's greatest engineering adventures begins this weekend when more than 40 solar cars brave the Australian Outback on a 3000-kilometre journey from Darwin to Adelaide, South Australia.
In its 30th year, the organisers of the Bridgestone World Solar Challenge have made the journey even more challenging in 2017 by reducing the size of the solar array that powers the cars.
Event Director Chris Selwood said the decision to reduce the solar array from 6 to 4 square metres because the challenge was about being more efficient with the use of power rather than travelling the fastest. In 2007 the size was reduced to 6sq m from the 8sq m originally allowed in 1987.
"When we started this 30 years ago the scientists told us that each of us as human beings had 8 square metres of the Earth's surface from which to draw our sustenance. So when we looked at a regulation for how big a solar array could be on a solar car we said eight," he said.

"As the cars got better, they got faster and in 2006 we crossed that magic threshold of 100kmh average speed between Darwin and Adelaide.

"It wasn't sustainable for us just to be going faster and faster because the World Solar Challenge is not about how fast you can go, it's about how …
The first teams leave Darwin on Sunday 8 October and are expected to begin arriving in Adelaide on the Friday 13 October.
no images were found