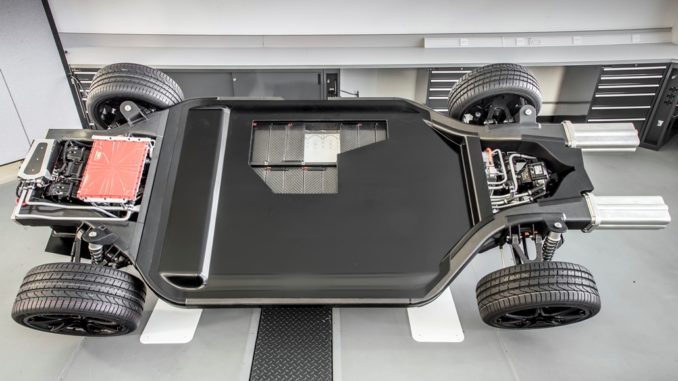 Williams Advanced Engineering has revealed the technologies behind its innovative FW-EVX electric vehicle platform concept. The platform integrates innovations in battery pack design, impact absorption, cooling and other systems within a lightweight, compact chassis that is readily scalable for C, C-D and D-segment vehicles.
In a typical C-segment application, the platform weighs just 955kg including all-round wishbone suspension, up to four motors, 4WD transmission, steering and a 350kg, 80kWh lithium-ion battery pack. Williams Advanced Engineering anticipates interest from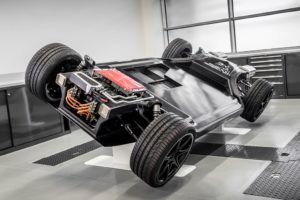 two distinct customer groups for the FW-EVX: vehicle manufacturers looking for a next-generation EV platform that brings the benefits of highly integrated design and those seeking specific areas of technology for their own platforms.
Paul McNamara, Technical Director at Williams Advanced Engineering explained:
An electric vehicle constructed on the FW-EVX platform can be lighter, safer, greener and much more cost-effective. This potential performance would be greater even than a design adapted from a conventional vehicle or one assembled from individual state-of-the-art systems from technology suppliers. By designing the key systems as an integral part of an aluminium/composite vehicle chassis, we have greatly reduced many of the compromises that arise when the individual elements of an EV powertrain are sourced separately, forcing the vehicle architecture to be created around stand-alone packages.
The innovative thinking by Williams Advanced Engineering includes: high-strength battery modules that contribute to the vehicle structure; inferring peak battery cell temperature to eliminate the need for individual cell temperature monitoring; using two different innovations in carbon composites to reduce weight and simplify assembly; using a bespoke inverter design to better complement the vehicle package; and improving cost, packaging and component count through tight design integration across all systems.
Multifunction chassis rails improve cooling, aerodynamics and impact protection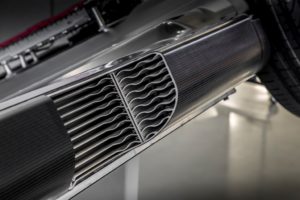 The bonded aluminium and carbon composite centre module of the FW-EVX platform includes chassis side rails that provide controlled crush zones to increase impact absorption. The side rails also provide cooling air for the battery pack, collected through ducts at the front of the vehicle, helping to minimise both the vehicle frontal area and the aerodynamic drag normally associated with heat exchangers. The sills channel cooling air through internal radiators then direct it rearwards to create downforce via an aerodynamic diffuser.
The required volume of cooling air has been minimised by designing the battery modules with an aluminium base plate that bolts directly to the thermally conductive vehicle floor that acts as a heat sink, taking every opportunity to deliver additional functionality from every component.
The high level of integration creates a virtuous circle where each improvement in weight and functionality leads to additional benefits – added McNamara. For example, the weight saving permits increased battery capacity and greater vehicle range.
2D materials create 3D structures
The goals of lightweight and superior crashworthiness are also reflected in the novel construction of the battery module, for which Williams Advanced Engineering evolved a ground-breaking technique in composite manufacture.
Paul McNamara explained:
We have invented a method of creating an engineered hinge embedded in a single composite preform that allows 3D structures to be created from 2D materials then folded when required, called 223, and it opens up the potential to use new types of assembly processes alongside much lower cost, more flexible logistics.
Based on considerable experience as the battery supplier to the FIA Formula E Championship, Williams Advanced Engineering has designed the central battery module of the FW-EVX as a low, slim, ultra-stiff honeycomb of interlocking composite boxes containing the battery cells.
Using the highly-automated 223 process, each box is manufactured in sheet form, then folded and bonded to create the required shape. The resulting exo-skeleton contributes to the structural performance of the vehicle and provides enhanced safety systems, including crash protection and isolation. The individual location and securing of each cell is also a crucial part of the cell's longevity.
Lighter wishbones using recycled composite materials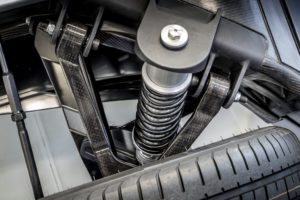 Though the FW-EVX platform is initially aimed at premium and niche vehicles, there is a strong focus at Williams Advanced Engineering on bringing weight-saving composite materials to higher volume applications.
For example, the suspension wishbones are press-formed from 80% recycled carbon composite using a new, highly automated, near zero waste process with a cycle time of just 90 seconds. Williams calls this process RACETRAK, and the resulting parts are 40% lighter than conventional aluminium wishbones yet comparable in cost to aluminium forgings.