Renault Twizy in prima linea nei viaggi sostenibili nel Lake District
Renault Twizy scelta per il sistema di car sharing nel Lake District
Scheme è una parte fondamentale del programma "See More" di Cumbria Tourism di viaggio sostenibile
Dieci Twizy completamente elettriche saranno disponibili per il noleggio da otto imprese locali
Scheme incoraggia i visitatori a 'lasciare l'auto a casa'
La Twizy a zero emissioni ha un impatto minimo locale sull'ambiente
Fonte: Renault UK
Cumbria, Gran Bretagna. 17 Marzo 2016. Renault Twizy sta aiutando a preservare una delle più belle e popolari destinazioni turistiche nel Regno Unito come parte di un sistema di car sharing innovativo che fornisce i visitatori del Lake District un modo indimenticabile e ambientalmente compatibile per visitare la bella regione.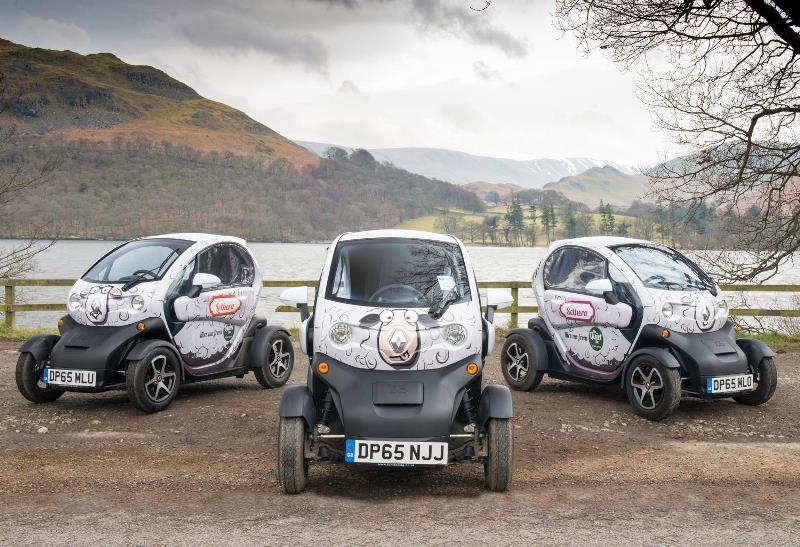 I veicoli sono un componente fondamentale del programma 'See More', studiato in collaborazione con Cumbria County Council, The Lake District National Park Authority e Cumbria Tourism, che si impegnano a migliorare i servizi di trasporto per il visitatore, oltre a ridurre l'impatto dei viaggi su l'ambiente locale. Lo schema di car-sharing comprende dieci Renault Twizy che sono disponibili a noleggio in otto luoghi diversi a Keswick e Ullswater. Lo schema è gestito in collaborazione con Co-Wheels Car Club – a gestione privata, un club di auto nazionale del Regno Unito che fornisce veicoli a basse emissioni, auto ibride ed elettriche su base pay-as-you-go.
Agile, compatta e leggera, la zero emissioni Renault Twizy si adatta perfettamente alle infrastrutture di Ullswater e Keswick. La Twizy offre ai turisti il veicolo ideale per esplorare la zona e offre la pace della mente che la visita avrà il minimo impatto sulla straordinaria bellezza dell'ambiente e della sua rete stradale. La silenziosità della Twizy garantisce inoltre che il rumore del motore non disturberà l'ambiente o l'esperienza delle visite dei turisti.
Con l'obiettivo finale di incoraggiare i visitatori a lasciare la propria auto a casa, la disponibilità della Renault Twizy offre coloro che arrivano nella zona in pullman o in treno la possibilità di visitare facilmente le parti pittoresche del Lake District che sono irraggiungibili con i mezzi pubblici. Lo schema di car-sharing è anche progettato per fare appello ai proprietari di camper che soggiornano presso campeggi locali, fornendo un'alternativa a prendere i loro veicoli in aree più ristrette ed eliminando la necessità di trainare un ulteriore auto, più manovrabile che può essere utilizzato per visitare la città.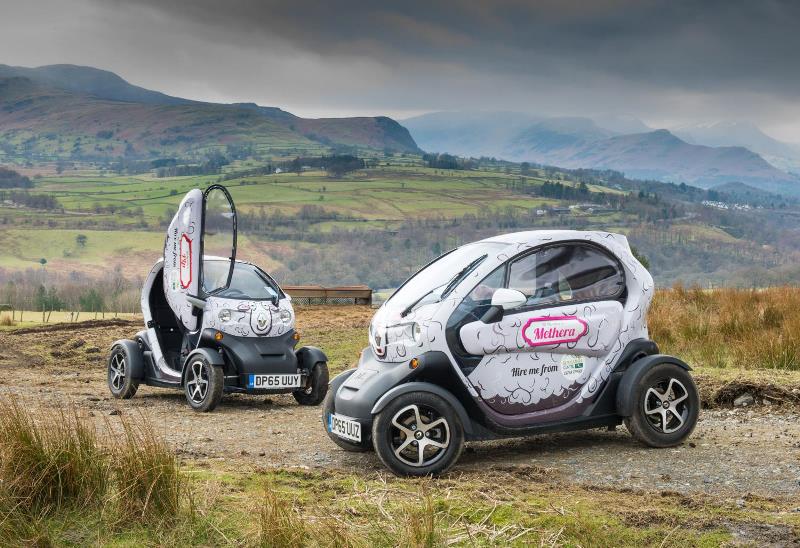 Già uno dei più accattivanti veicoli, le due posti Twizy sono state rese ancora più caratteristiche, con una livrea del tipo pecora. Ciascuna è stata anche chiamata in dialetto tradizionale (un mix di numeri Westmorland e Cumberland). Per fornire un livello di protezione contro gli elementi, tutte le Twizy sono state allestite con porte e finestre.
L'arrivo della Twizy avviene in un momento particolarmente impegnativo per Cumbria. Mentre la stagione delle vacanze si avvicina rapidamente, il lavoro continua ad un ritmo elevato per porre rimedio al grave danno causato dalle inondazioni delle piogge di dicembre, mentre la regione ha appena goduto di piena attenzione il fine settimana e Cumbria è anche pronta per accogliere uno dei percorsi di arte pubblica più colorati del Paese. Grazie al lancio alla fine di marzo ed organizzata dalla Calvert Trust, la pista Go Herdwick dispone di 61 figure di pecore decorate, che verranno messe in spazi pubblici e le imprese al di fuori di un percorso che percorre a Keswick, Grasmere, Rydal, Ambleside e Windermere. Per festeggiare l'arrivo della Twizy e l'apertura imminente del Go Herdwick Trail, un certo numero di pecore appositamente dipinte e le Twizy sono stati introdotti gli uni agli altri in un evento di lancio ospitato presso il Centro Rheged, vicino a Penrith.
Sul lancio del sistema di car sharing Twizy, Nicola Parker, responsabile del programma "See More" in di turismo Cumbria, ha dichiarato:
"Questo nuovo stormo di Twizy elettriche sono capaci di offrire ai visitatori un modo divertente e eccentrico per sperimentare il paesaggio unico del Lake District – in particolare nel momento in cui abbiamo bisogno di mostrare ai visitatori che è tutto ancora veramente in ordine come al solito dopo i recenti alluvioni. Il tema delle pecore è sinonimo della regione, quindi quale modo migliore di aiutare i passeggeri più da vicino e personale con la natura e davvero assaporare tutto ciò che rende i laghi così speciali".
Richard Falconer, Direttore, Co-Wheels Car Club, ha aggiunto:
"Le Twizy sono state scelte come un approccio scanzonato per aiutare i visitatori a pensare alla guida a zero emissioni. Con il loro aspetto eccentrico e divertente, la Renault Twizy è la scelta perfetta per attirare la conversazione dei visitatori e dei residenti. Cumbria ora ha una crescente rete di punti di ricarica, e con la loro collocazione ideale in campeggi, la Twizy avrà un lato molto pratico, permettendo alle persone che arrivano in grandi automobili o camper di avere la libertà di esplorare la zona in un piccolo veicolo silenzioso".
Due delle Renault Twizy sono disponibili a noleggio da Field Centro Studi Blencathra. Tim Foster, Responsabile del Centro, FSC Blencathra, ritiene che i veicoli sono unici e di una misura eccellente per l'impianto ei suoi visitatori.
Ha spiegato: 'FSC è una carità di educazione ambientale ed è importante che cerchiamo di mettere in pratica ciò che predichiamo e di promuovere l'importanza della sostenibilità per gli 8 mila studenti che accogliamo ogni anno, molti dei quali vengono a visitare il Lake District per la prima volta. Durante i corsi, gli studenti entrano in contatto con il nostro approccio al 'turismo verde' e le Twizy sono una misura perfetta per il modo in cui lavorare per educare, offrendo un'esperienza molto divertente ed essendo grandi ambasciatori della sostenibilità con le loro batterie in fase di ricarica dal nostro generatore idroelettrico".
Ben Fletcher, Electric Vehicle Product Manager, Groupe Renault UK, ha detto:
"Twizy presenta un modo davvero divertente e unico per viaggiare ed è ideale per sfruttare al meglio un viaggio in uno spazio di straordinaria bellezza naturale, la sua facilità d'uso ed il sistema di ricarica versatile significa che è ugualmente a suo agio sia nelle zone rurali che in città. Optando per una delle Twizy, i visitatori del Lake District possono godersi il paesaggio in un modo rilassante e molto tranquillo, con la rassicurazione che la loro decisione di non usare il proprio veicolo sta contribuendo a preservare il paesaggio locale per permettere gli altri di goderlo per molti anni venire."
Le Twizy, con i loro nomi dialettali tradizionali tra parentesi sotto, sono disponibili per il noleggio su base oraria, mezza giornata o giornata intera da:
Hazel Bank Country House, Borrowdale (Yan)
Castlerigg Hall Caravan & Camping Park, Keswick (Tyan)
Keswick Brewing Company (Tethera)
FSC Blencathra Centre, Threlkeld (Methera e Pip)
The Quite Site, Watermillock (Sethera e Lethera)
Hillcroft Park, Pooley Bridge (Dovera)
Waterfoot Park, Pooley Bridge (Hovera)
Wayfarers Independent Hostel, Penrith (Dec)
Per saperne di più sul sistema, visitare www.co-wheels.org.uk/twizyflock
In English
All-electric Renault Twizy at the forefront of sustainable travel in the Lake District
Renault Twizy chosen for car sharing scheme in the Lake District
Scheme is a core part of Cumbria Tourism's 'See More' sustainable travel programme
Ten all-electric Twizys available to hire from eight local businesses
Scheme encourages visitors to 'leave their cars at home'
Zero emissions Twizy has minimal impact on local environment
Source: Renault UK
Cumbria, UK. 17th March, 2016. The 100 per cent electric Renault Twizy is helping to preserve one of the most beautiful and popular tourist destinations in the UK as part of an innovative car sharing scheme that provides visitors to the Lake District with an unforgettable and environmentally-compatible way to experience the beautiful region.
The vehicles are a core component of the 'See More' programme, being delivered in partnership by Cumbria County Council, The Lake District National Park Authority and Cumbria Tourism, which is committed to enhancing visitor transport services in addition to reducing the impact of travel on the local environment. The car-sharing scheme includes ten Renault Twizys that are available to hire from eight different locations in Keswick and Ullswater. The scheme is run in association with Co-wheels Car Club – the UK's only independently-owned national car club that provides low emission, hybrid and electric cars on a pay-as-you-go basis.
Agile, compact and light weight, the zero-emissions Renault Twizy is perfectly suited to the infrastructure of Ullswater and Keswick. The Twizy provides tourists with the ideal vehicle in which to explore the area and offers the peace of mind that their visit will have the minimum impact on the environment's outstanding beauty and its road network. The Twizy's silent running also ensures that engine noise won't effect the environment or tourists' sightseeing experience.
With the ultimate aim of encouraging visitors to leave their own cars at home, the availability of the Renault Twizys offers those arriving in the area by coach or train the option to easily experience picturesque parts of the Lake District that are unreachable by public transport. The car-sharing scheme is also designed to appeal to motorhome owners staying at local campsites, providing an alternative to taking their vehicles into more confined areas and doing away with the need to tow an additional, more manoeuvrable car that can be used for sightseeing.
Already one of the most eye-catching vehicles around, the two-seat Twizys have been made even more distinctive with a sheep livery. Each has also been named in traditional dialect (a mix of Westmorland and Cumberland numbers). To provide a level of protection against the elements, all of the Twizys have been specified with optional scissor doors and windows.
The arrival of the Twizys comes at a particularly busy time for Cumbria. With the holiday season fast approaching, work continues at a pace to rectify the significant flood damage from December's heavy rain, while the region has just enjoyed the attraction-filled Cumbria Weekend and is also set to welcome one of the most colourful public art trails in the country. Due for launch at the end of March and organised by the Calvert Trust, the Go Herdwick trail features 61 decorated ewe figures that will be placed in public spaces and outside businesses on a route that takes in Keswick, Grasmere, Rydal, Ambleside and Windermere. To celebrate the arrival of the Twizys and the impending opening of the Go Herdwick Trail, a number of the specially-painted ewes and the Twizys were introduced to each other at a launch event hosted at the Rheged Centre, near Penrith.
On the launch of the Twizy car sharing scheme, Nicola Parker, Programme Manager for Cumbria Tourism's See More programme, said:
"This new flock of electric Twizys are all about offering visitors a fun, quirky way to experience the unique Lake District landscape – particularly at a time when we need to show visitors that it is still well and truly business as usual after the recent floods. The sheep theme is synonymous with the region, so what better way of helping passengers get up close and personal with nature and really savour everything that makes the Lakes so special."
Richard Falconer, Managing Director, Co-wheels Car Club, added:
"The Twizys were chosen as a light-hearted approach to help visitors think about zero emission driving. With their quirky looks and fun demeanour, the Renault Twizys are the perfect choice to attract conversation for visitors and residents alike. Cumbria now has a growing network of charge points, and with their ideal placement in campsites, the Twizys have a practical side too, allowing people who arrive in large cars or camper vans to have the freedom to explore the area in a small, silent vehicle."
Two of the Renault Twizys are available to hire from Field Studies Centre Blencathra. Tim Foster, Head of Centre, FSC Blencathra, believes that the unique vehicles are an excellent fit for the facility and its visitors.
He explained: 'The FSC is an environmental education charity and it is important that we try to 'practice what we preach' and promote the importance of sustainability to the 8,000 students that we welcome each year, many of whom are visiting the Lake District for the very first time. During their courses, students come into contact with our approach to 'green tourism' and the Twizys are a perfect fit for how we work to educate this, offering a very fun experience and being great ambassadors for sustainability with their batteries being charged by our own generated hydro-electricity."
Ben Fletcher, Electric Vehicle Product Manager, Groupe Renault UK, said:
"Twizy presents a really fun and unique way to travel and is ideal for making the most of a trip to an Area of Outstanding Natural Beauty, its ease of use and versatile charging system meaning that it is equally at home in rural areas as it is in the city. By opting for one of the Twizys, visitors to the Lake District can enjoy the scenery in a relaxing and very quiet way with the reassurance that their decision to not use their own vehicle is helping to preserve the local landscape for others to enjoy for many years to come."
The Twizys, with their traditional dialect names in brackets below, are available to hire on an hourly, half day or full day basis from:
Hazel Bank Country House, Borrowdale (Yan)
Castlerigg Hall Caravan & Camping Park, Keswick (Tyan)
Keswick Brewing Company (Tethera)
FSC Blencathra Centre, Threlkeld (Methera and Pip)
The Quiet Site, Watermillock (Sethera and Lethera)
Hillcroft Park, Pooley Bridge (Dovera)
Waterfoot Park, Pooley Bridge (Hovera)
Wayfarers Independent Hostel, Penrith (Dec)
To find out more about the scheme, visit www.co-wheels.org.uk/twizyflock
no images were found

.