Fonte: Formula E
Long Beach, California. USA. 8 Aprile 2015. Jean-Eric Vergne non sapeva se giustificare il sorriso sul suo volto nel parco chiuso per aver ottenuto un podio o semplicemente per aver completato la distanza di gara.
Il pilota del team Andretti ha avuto sfortuna fin dal suo debutto in Formula E a Punta del Este, in quella gara un problema di sospensione negli ultimi giri ha provocato il suo ritiro quando era in mezzo ad una battaglia per la leadership ed ha perso le posizioni che sicuramente avrebbero valso un podio.
Vergne si è qualificato quinto e partiva insieme al suo compagno di squadra Scott Speed che aveva senza dubbio rubato i riflettori nel team Andretti dopo il suo secondo posto a Miami.
Aveva un disperato bisogno di una corsa regolare sul circuito di Long Beach.
Il francese è stato coinvolto in una lunga battaglia in gara con entrambi i piloti Audi Sport ABT e quello dell'e.dams-Renault Sebastien Buemi che era in agguato pronto a balzare davanti in qualsiasi momento della lotta per i punti ed il podio finale.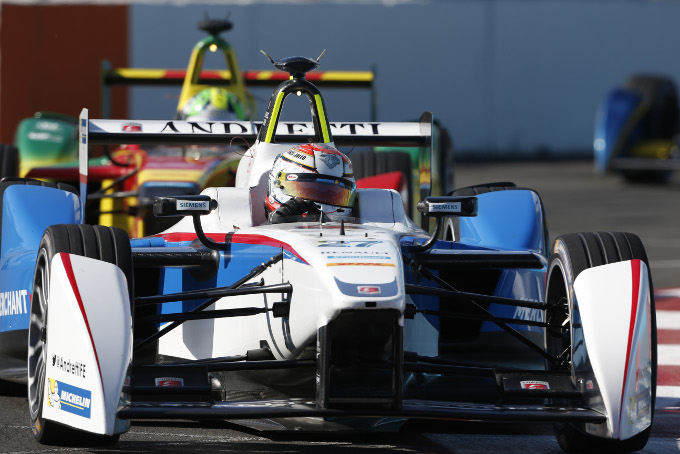 Vergne ha affrontato vari problemi tecnici di temperatura a Buenos Aires e Miami, così si sentiva finalmente sollevato di assaggiare lo champagne per la prima volta in quattro anni.
Ha detto:
"E' un bene, sono passati quattro anni da quando mi trovavo sul podio. Nei miei tre anni con la Toro Rosso in Formula 1 non è stato possibile, quindi sono davvero felice di essere qui. Forse avrei dovuto essere qui prima, ma queste sono le corse e non si sa mai cosa può succedere e sono stato molto sfortunato nelle ultime tre gare".
Il risultato è stato ancora più impressionante dopo il pesante incidente di Vergne nella seconda sessione di prove libere.
Vergne è stato spazzato contro le barriere quando era vicino a Lucas di Grassi, è andato largo distruggendo contro il muro del lato esterno della curva 5.
Vergne ha proseguito:
"Questo risultato porta buoni punti per la squadra, che sta spingendo duro nel campionato e il podio è sempre l'obiettivo. E' stato un inizio difficile di giornata quando mi sono schiantato pesantemente nelle pratiche, ma devo dire grazie ai ragazzi per la riparazione della macchina e spero che questo podio serva come una scusa!"
In English
Vergne: "It's good to be back on the podium"
Source: Formula E
Long Beach, California. USA. April 8th, 2015. Jean-Eric Vergne didn't know whether to justify the grin on his face in parc ferme on a podium finish or just for completing the race distance. The Andretti driver has suffered some misfortune since his Formula E debut in Punta del Este, none more so than in that race where a suspension issue in the closing laps caused him to retire in a battle for the lead and losing a certain top-three position.
Vergne lined-up fifth alongside his team-mate Scott Speed who had undoubtedly stolen some of the spotlight in the Andretti team following his second place finish in Miami. He desperately needed a smooth race on the notoriously bumpy Long Beach circuit.
The Frenchman was embroiled in a race-long battle with both Audi Sport ABT drivers and e.dams-Renault's Sebastien Buemi lurking in the background ready to pounce on any slip-up in the fight for the final podium spots.
Vergne faced various technical gremlins with temperature related issues in Buenos Aires and Miami, so felt relieved to finally taste the champagne for the first time in four years.
He said:
"It's good, it's been four years since I stood on the podium. In my three years with Toro Rosso in Formula 1 it wasn't possible so I'm really happy to be here. Maybe I should have been here earlier but that's racing and you never know what can happen and I've been quite unfortunate in the past three races."
The result was all the more impressive after Vergne's heavy crash in the second practice session. Vergne swept round the outside of Lucas di Grassi and ran wide smashing into the wall on the outside of Turn 5.
Vergne continued:
"This result is good points for the team, they are pushing hard in the championship and the podium is always the objective. It was a difficult start to the day with me crashing heavily in practice but I have to say thanks to the guys for fixing it and I hope this podium serves as an apology!"
no images were found