200 auto in una valigetta
· Questa soluzione consente dimostrazioni "a tavolino" di complicati sistemi elettrici
· Utilizzata da Nissan per sviluppare la prossima generazione di crossover, Qashqai, Juke e X-Trail
· Parte delle rigorose procedure di prova per assicurare ai clienti un'esperienza di alta qualità
Fonte: Nissan Italia
Roma, Italia. 3 Agosto 2016. Un ingegnere Nissan ha sviluppato un nuovo modo per condividere tecnologie avanzate con i colleghi all'estero. Ha immaginato un innovativo "centro tecnico mobile", costruito a casa nel tempo libero e installato in una valigetta facilmente trasportabile.
L'idea, frutto dell'ingegno di Martin Banks, è impiegata per sviluppare la prossima generazione dei premiati crossover Nissan: Qashqai, Juke e X-Trail.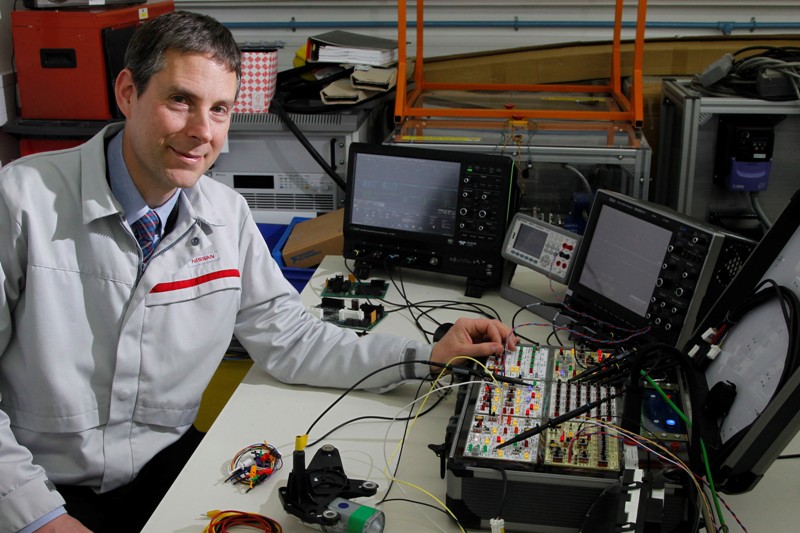 La valigetta con i suoi semplici interruttori e le luci a LED sembra frutto di bassa tecnologia per un occhio non addestrato. Però questa scatola ingegnosa, abbastanza piccola da essere trasportata in aereo come bagaglio a mano, può replicare l'intera architettura elettrica di 200 differenti modelli e combinazioni di allestimento Nissan. Ora il problema più grande di Martin è riuscire a passare i controlli di sicurezza negli aeroporti.
"Viaggio per partecipare alle riunioni con i colleghi di tutto il mondo, in cui ci scambiamo idee e soluzioni," ha spiegato Martin, ingegnere elettrico del Centro Tecnico Europeo Nissan a Cranfield, nel Regno Unito. "Quando sono lontano dal mio ufficio, il problema è sempre dimostrare i sistemi che ho sviluppato, così ho deciso di creare la mia soluzione".
Martin ha realizzato la maggior parte del progetto e dello sviluppo della sua valigetta a casa nel tempo libero. Ha costruito anche i circuiti stampati, in modo che funzionassero esattamente come voleva lui.
Ha aggiunto: "Sembra rudimentale, ma i LED mi fanno capire se i circuiti stanno funzionando correttamente. All'interno della vettura, questo semplice sistema può provare l'integrazione di alcune fra le più avanzate funzionalità elettriche di Nissan, come le tecnologie per l'assistenza al guidatore e per il Safety Shield."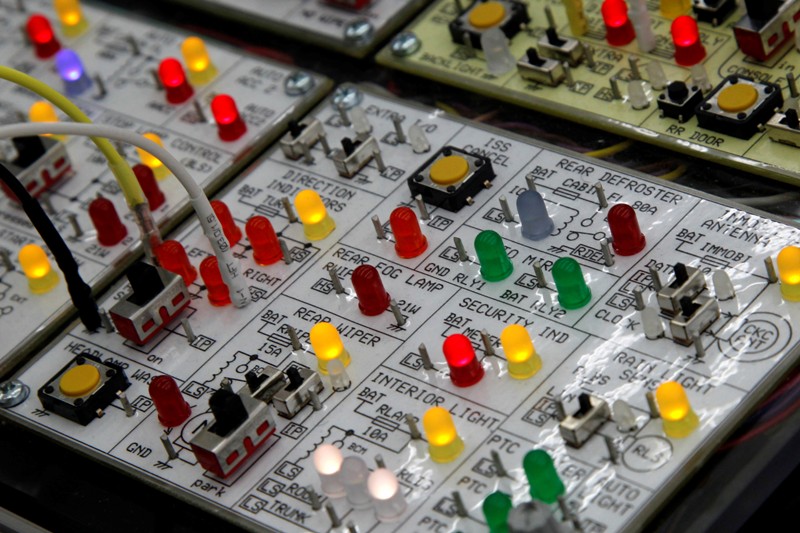 La valigetta aiuta a verificare che i sistemi elettrici e il software, per i crossover Nissan di prossima generazione, come Qashqai, Juke e X-Trail, si integreranno senza problemi con il resto della vettura e offriranno la funzionalità richiesta dal guidatore d'oggi.
Dopo la convalida "a tavolino", usando la valigetta di Martin, il sistema viene prima realizzato come prototipo di dimensioni maggiori e in seguito sottoposto a test rigorosi per essere sicuri di offrire al cliente un prodotto di alta qualità. Solo allora viene approvato per essere incluso nei futuri modelli.
In English
Nissan engineer creates innovative 'mobile technical centre'
200 cars in a briefcase
Clever home-made solution allows 'table top' demonstration of complicated electrical systems
Used by Nissan to develop next generation of crossovers – Qashqai, Juke and X-Trail
Part of the brand's rigorous testing procedures to ensure high-quality customer experience
Source: Nissan
A Nissan engineer has developed a new way to share advanced technologies with colleagues abroad. He imagined an innovative 'mobile technical centre', built it at home in his spare time and then fitted into an easy-to-carry briefcase.
The idea was the brainchild of Martin Banks, and it is now being used to develop the next generation of Nissan's award-winning crossovers – the Qashqai, Juke and X-Trail.
To the untrained eye the briefcase looks lo-tech, with its simple switches and LED lights. But this box of tricks – small enough to be transported as aeroplane cabin luggage – can replicate the entire electrical architecture of up to 200 different Nissan model and trim combinations. Martin's biggest problem now is getting past the security scanners at airports!
"I travel to many meetings with colleagues around the world, where we share ideas and solutions," explained Martin, an electrical engineer from Nissan's European Technical Centre in Cranfield, UK. "The issue is always demonstrating the systems we have developed when I'm away from my desk, so I decided to create my own solution."
Martin did most of the design and development of his briefcase at home and in his spare time, even making his own printed circuit boards so they performed exactly as he wanted.
He added: "It looks very rudimentary, but the LEDs show me if the circuits are working properly. This simple framework can test the in-car integration of some of Nissan's most advanced electrical features, such as the driver assistance and Safety Shield technologies."
The briefcase helps to prove that electrical systems and software for next-generation Nissan crossovers – such as the Qashqai, Juke and X-Trail – will work in harmony with the rest of the car and provide the functionality that today's drivers require.
Following 'table-top' validation using Martin's briefcase, the set-up is built as a larger-scale prototype and rigorously tested to ensure a high-quality customer experience. Only then is it approved for inclusion in a future model.
no images were found

.