• Da ADAM a Zafira Tourer: i modelli Opel conquistano i clienti e gli esperti delle giurie
• Un risultato prestigioso: Nuova Opel Astra riceve il Volante d'Oro 2015
• Cambia modo di pensare: campagna pubblicitaria, presentazione del marchio e organizzazione aziendale di successo
Fonte: Opel Italia
Rüsselsheim. Germania. 13 gennaio 2016. Per Opel il 2015 è stato caratterizzato da un gran numero di riconoscimenti, e la pioggia di titoli è iniziata fin dai primi giorni di gennaio, quando Opel Zafira Tourer 1.6 ecoM è stata nominata per la terza volta consecutiva monovolume più ecologica dall'istituto ambientale Ökotrend, (Consumi ciclo combinato (l/100 km)/Emissioni CO2 (g/km): da 4,5 a 7,2/da 119 a 169. Consumi metano: 7,2 m3/100km – dato utilizzato per il calcolo dell'autonomia).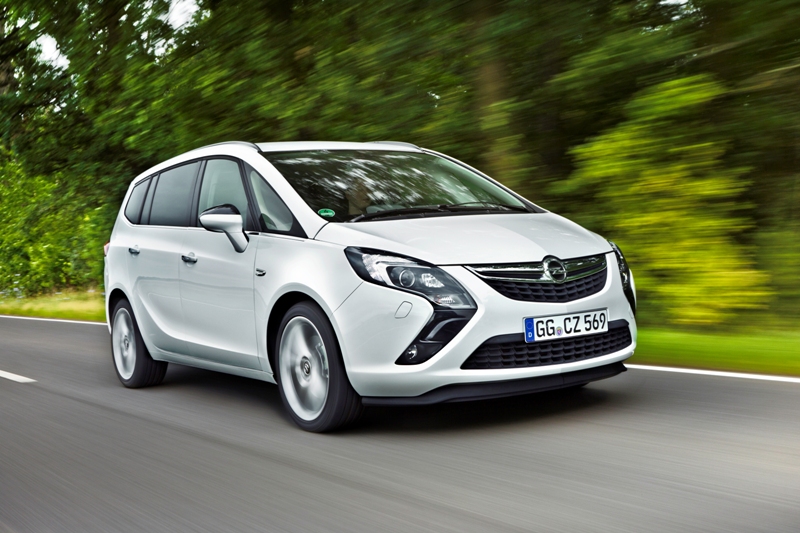 Zafira Tourer nel frattempo ha addirittura ricevuto il quarto titolo in serie. Ma quello attribuito alla versatile monovolume a gas naturale è stato solo il primo di una lunga serie di premi che dimostrano una cosa: Opel c'è e continua a conquistare clienti e critici.
Opel ADAM ha ottenuto per il secondo anno consecutivo il prestigioso titolo Best Cars assegnato dai lettori della nota rivista specializzata auto motor und sport nella categoria delle citycar; il premio è stato seguito dal Blogger Auto Award 2015. E grazie a valori residui particolarmente elevati, Opel ADAM e Zafira Tourer hanno conquistato la prima posizione nelle rispettive categorie dei premi Value Champion 2015 assegnati da Auto Bild e Schwacke, il principale listino tedesco per la valutazione delle auto usate.
I lettori della rivista dei consumatori Guter Rat e della rivista SUPERillu hanno nominato Opel Corsa "Auto più intelligente 2015". La nuova versione della piccola campionessa di vendite ha conquistato anche il Car of the Year Award in Romania, Grecia e Serbia, e questi sono solo alcuni tra i numerosi riconoscimenti nazionali che Corsa ha raccolto in tutta Europa. A livello internazionale ha ricevuto il famoso premio di Migliore Acquisto in Europa per il 2015 conferito dalla giuria di esperti di AUTOBEST.
La rivista specializzata Firmenauto e l'istituto indipendente DEKRA hanno nominato ancora una volta Mokka Auto Aziendale dell'Anno. I veicoli commerciali Opel hanno dimostrato ancora una volta tutto il proprio valore. Movano e Vivaro hanno ricevuto infatti numerosi premi, tra cui l'agognato titolo per l'innovazione Plus X Award, conquistato in diverse categorie, accanto a nuova Opel KARL e Zafira Tourer. Grazie a tutti questi riconoscimenti, nei Plus X Award Opel risulta il "Marchio più innovativo" dal 2012. In Austria, Opel Vivaro è stato nominato Veicolo dell'anno per le flotte, mentre Movano, testato da VerkehrsRundschau e Trucker, si è imposto come Furgone Ecologico per il 2015 ed è risultato il veicolo con il minor numero di difettosità secondo il Rapporto Annuale DEKRA sulle Auto Usate, dove ha prevalso nella categoria furgoni.
Auto motor und sport ha assegnato alla sportiva ADAM S (consumi ed emissioni di CO2 nel ciclo misto: 5,9 l/100 km, 139 g/km) il premio Autonis per il design. La nuovissima Astra ha rappresentato la novità principale dell'anno per Opel e ha contribuito ad arricchire la bacheca di premi del marchio. Questa vettura, che costituisce un enorme salto di qualità per Opel, ha rastrellato in tutta Europa i titoli nazionali di Car of the Year, Best Choice e Family Car, per concludere con il Volante d'Oro 2015 assegnato da Auto Bild e Bild am Sonntag. La nuovissima compatta Opel è più leggera e dinamica e monta tecnologie all'avanguardia, come i fari IntelliLux LED® a matrice, per i quali la giuria di AUTOBEST ha assegnato a Opel il premio SAFETYBEST 2015. Un altro esempio è OnStar: all'inizio dell'anno, le riviste Auto Bild e Computer Bild hanno attribuito a questa tecnologia innovativa il Connected Car Award e il premio Pioneer; nel Regno Unito, il servizio di connettività e assistenza personale ha ricevuto i premi Auto Express Technology Award e BusinessCar Techies Award.
Pubblicità eccellente per prodotti fantastici: il successo delle campagne pubblicitarie e dell'organizzazione aziendale
Non sono solo i nuovi modelli Opel a suscitare l'interesse di clienti ed esperti. Anche il modo in cui l'azienda fa comunicazione al pubblico è stato premiato.
L'Associazione delle Agenzie di Comunicazione (GWA) ha conferito a Opel il GWA Effie in Gold, il principale riconoscimento nel campo del marketing in Germania, per la campagna pubblicitaria "Cambia modo di pensare". Questa audace campagna ha già portato a Opel e alla sua agenzia, Scholz & Friends, più di 30 riconoscimenti, tra cui il Grand Prix nella categoria Jahr der Werbung (Anno della Pubblicità) di Econ Forum per la migliore campagna dell'anno. La Direzione Pubbliche Relazioni di Opel è stata nominata Team di Comunicazione del 2015 agli European Excellence Awards, prevalendo su più di 20 concorrenti. L'azienda vanta inoltre un'organizzazione ideale. Lo ha confermato anche l'Associazione Tedesca dell'Industria dell'Automobile (VDA), assegnando a Opel il Premio VDA 2015 per la Logistica per le eccellenti soluzioni di logistica dell'azienda. Ci sono quindi tutte le basi per proseguire anche nel 2016 sulla strada del successo.
no images were found