Fonte: Volvo Cars
San Francisco, California. USA. 14 Dicembre 2016. Uber, la società di servizi di trasporto in condivisione, sta ampliando il suo progetto pilota con veicoli con guida autonoma alla città di San Francisco, in California, utilizzando SUV di lusso Volvo XC90 dotati di tecnologia di guida autonoma (AD), appositamente convertiti.
Questo sviluppo segna l'inizio di una fase di consolidamento dell'alleanza fra Volvo e Uber, avviata ufficialmente nell'agosto del 2016 con la firma di un accordo finalizzato allo sviluppo congiunto di un progetto per la realizzazione di veicoli di base da utilizzare per la costruzione di automobili con guida completamente autonoma, ovvero senza la presenza del guidatore. Tali vetture sono state inizialmente testate a Pittsburgh, in Pennsylvania.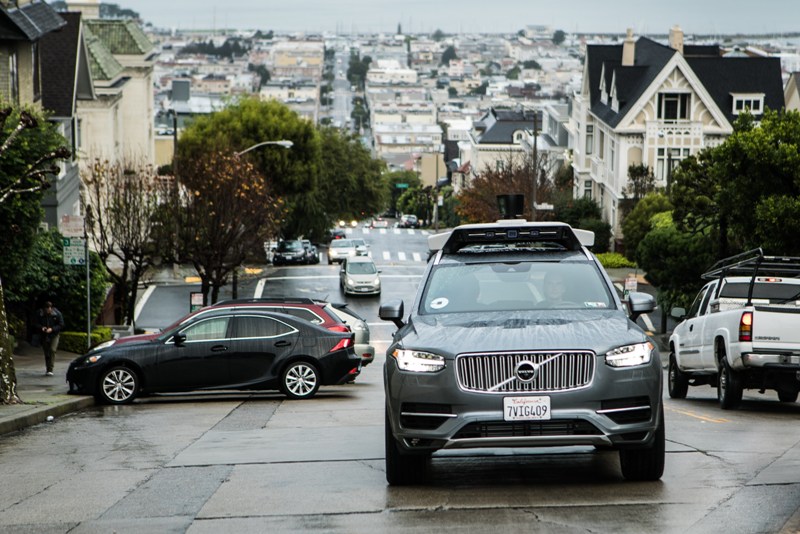 Le vetture più recenti, che verranno utilizzate a San Francisco, sono state costruite da Volvo e poi vendute a Uber, che in un secondo momento ha provveduto all'installazione del suo pacchetto hardware e software per la guida autonoma, di cui si intravede la centralina di controllo sul tetto.
Queste automobili circoleranno sulle strade di San Francisco in modalità autonoma, ma poiché fanno parte di un progetto pilota, a bordo di ciascuna sarà sempre presente un tecnico di Uber incaricato di supervisionarne il corretto funzionamento.
"La promessa del trasporto in condivisione effettuato da vetture che si guidano da sole sta diventando realtà," ha dichiarato Mårten Levenstam, Vice President Pianificazione di Prodotto di Volvo Cars. "Volvo è orgogliosa di essere all'avanguardia degli ultimi sviluppi dell'industria automobilistica insieme al suo partner Uber."
L'alleanza con Uber rappresenta una parte del programma di Volvo, articolato in tre fasi, per lo sviluppo delle tecnologie di guida autonoma (AD).
Nel gennaio del 2017 verrà avviato il progetto Drive Me, ovvero l'esperimento di guida autonoma più esteso al mondo, nell'ambito del quale fino a 100 vetture con diversi livelli di tecnologia AD verranno affidate a normali cittadini per essere utilizzate sulle strade della rete pubblica della città di Goteborg, in Svezia. Le esperienze dei guidatori verranno poi sfruttate per sviluppare in modalità congiunta le automobili Volvo con guida autonoma.
La seconda fase del programma è rappresentata dalla fondazione di una nuova società in joint-venture con Autoliv, azienda leader del settore della tecnologia per la sicurezza automobilistica, allo scopo di sviluppare e produrre pacchetti software per guida autonoma e assistenza al guidatore da commercializzare sotto un altro marchio.
La futura nuova società avrà sede a Goteborg, in Svezia, e si avvarrà inizialmente di circa 200 collaboratori già oggi alle dipendenze delle due aziende fondatrici, per arrivare a un totale di 600 unità nel medio periodo. L'avvio delle attività operative della nuova società è previsto per l'inizio del 2017.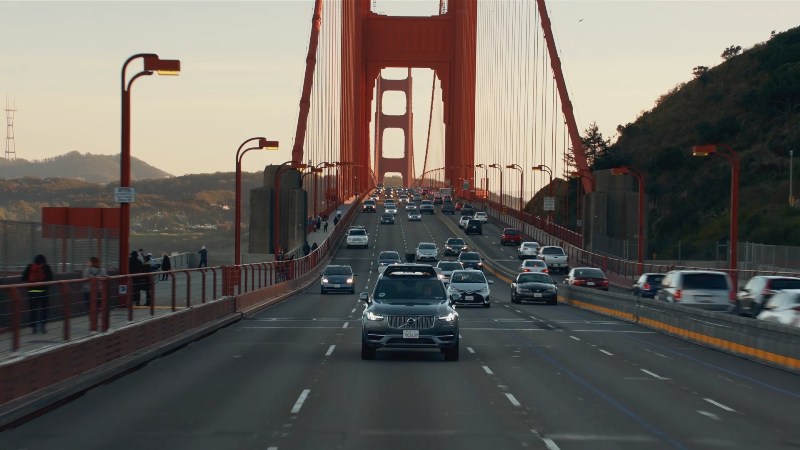 La terza fase è costituita dal rapporto continuativo di collaborazione con Uber finalizzato alla progettazione e alla realizzazione congiunta di veicoli di base per il successivo sviluppo di automobili con tecnologia AD. Si tratta di un accordo che va a ridurre i costi di sviluppo di Volvo, offre a quest'ultima l'opportunità di sviluppare tecnologie d'avanguardia e potrebbe infine contribuire a un incremento significativo delle vendite.
L'accordo prevede che i veicoli di base vengano prodotti da Volvo e successivamente venduti da quest'ultima a Uber. Volvo Cars e Uber hanno stanziato congiuntamente 300 milioni di dollari per finanziare il progetto. Sia Uber sia Volvo utilizzeranno lo stesso veicolo di base per l'impostazione della fase successiva delle rispettive strategie riguardanti le vetture con guida autonoma.
Le auto che verranno utilizzate a San Francisco sono state sviluppate sulla base della SPA, l'Architettura di Prodotto Scalabile interamente modulare di Volvo Cars. La SPA è una delle architetture per auto più avanzate al mondo e viene attualmente usata per il pluri-premiato SUV di lusso di Volvo, l'XC90, oltre che per i modelli di fascia alta S90 berlina e V90 station wagon.
La SPA è stata sviluppata nell'ambito del programma di trasformazione industriale globale di Volvo Cars avviato nel 2010, per il quale è stato previsto un investimento di 11 miliardi di dollari, ed è stata predisposta sin da subito per l'avvento delle tecnologie di guida autonoma più avanzate oltre che per l'adeguamento ai successivi sviluppi nell'ambito dell'elettrificazione e della connettività. Sono proprio questi aspetti che hanno portato Uber a segliere Volvo come partner.
In English
Uber launches self-driving pilot in San Francisco with Volvo Cars
Source: Volvo Cars
San Francisco, California. USA. 14th Dicembre 2016. Uber, the ride-sharing technology company, is expanding its self-driving pilot to San Francisco, California, using specially-converted self-driving Volvo XC90 premium SUV's.
The move marks the next phase in a deepening alliance between Volvo and Uber after the two companies signed an agreement in August 2016 to establish a jointly-owned project to build base vehicles that can be used to develop fully autonomous driverless cars. These cars were initially tested in Pittsburgh, Pennsylvania.
The latest cars to be used in San Francisco have been built by Volvo and sold to Uber, after which Uber's own self-driving hardware and software package has been added, most visibly in the roof-mounted control apparatus.
These cars will drive around the streets of San Francisco autonomously, but as part of the pilot programme they will at all times have an Uber technician on board to supervise the car's operation.
"The promise of self-driving ride sharing is becoming a reality," said Mårten Levenstam, vice president product planning at Volvo Cars. "Volvo is proud to be at the forefront of the latest developments in the automotive world alongside our partners at Uber."
The alliance with Uber forms one part of Volvo's three part plan to develop autonomous driving (AD) technologies.
In January 2017 it will begin a project entitled Drive Me, which will be the world's largest autonomous driving test in which up to 100 AD cars will be given to members of the public to be driven on real roads around Gothenburg, Sweden. Their experiences will be used to co-develop Volvo's AD cars.
The second part is a joint venture with Autoliv, the leading automotive safety technology company, to set up a new jointly-owned company to design and manufacturer separately-branded AD and driver assistance software technology packages for sale to third party OEMs.
The new company will have its headquarters in Gothenburg, Sweden, and an initial workforce taken from both companies of around 200, increasing to over 600 in the medium term. The company is expected to start operations in the beginning of 2017.
The third part is the ongoing relationship with Uber to build and co-develop base vehicles for AD cars. This deal reduces Volvo's developments costs, gives it a chance to develop cutting edge technology and could ultimately boost sales significantly.
The base vehicles are manufactured by Volvo and then purchased from Volvo by Uber. Volvo Cars and Uber are contributing a combined USD300m to the project. Both Uber and Volvo will use the same base vehicle for the next stage of their own autonomous car strategies.
The cars to be used in San Francisco are developed on Volvo Cars' fully modular Scalable Product Architecture (SPA). SPA is one of the most advanced car architectures in the world and is currently used on Volvo Cars' top-of-the-line multiple award winning XC90 SUV, as well as the S90 premium sedan and V90 premium estate.
SPA has been developed as part of Volvo Cars' USD11bn global industrial transformation programme, which started in 2010, and has been prepared from the outset for the latest autonomous drive technologies as well as next generation electrification and connectivity developments. It is these capabilities that attracted Uber to Volvo.
no images were found

.