Il razzo Triumph Infor diventa il più veloce nel lago salato di Bonneville
La leggenda del TT Guy Martin ha pilotato il Rocket Triumph Infor Streamliner fino a diventare la più veloce Triumph di tutti i tempi raggiungendo di 274,2 mph nel Bonneville Salt Flats
Fonte: Triumph
Bonneville Salt Flats, Utah. USA. 10 Agosto 2016. Il razzo Triumph Infor è diventato il Triumph più veloce di tutti i tempi segnando la velocità di 274,2 mph (oltre 441 km/h) nelle Bonneville Salt Flats, lo scorso 8 agosto, 2016. Pilotato dalla leggenda del TT Guy Martin, lo streamliner ha polverizzato il precedente record ufficiale di Triumph che era di 245,667 mph (395 km/h) così come il record non ufficiale Triumph di 264 miglia all'ora (424 km/h), fissato dal Bob Leppan, nel Gyronaut X-1.
Le quasi perfette condizioni del tempo hanno salutato la squadra l'ultimo giorno della settimana delle consuete pratiche di velocità della squadra. Con fiducia elevata dopo un certo numero di pratica con successo nei giorni precedenti sul lago salato di Bonneville, la squadra sentiva che nella giornata avrebbe segnato il record di Triumph con la Triumph Infor Rocket Streamliner.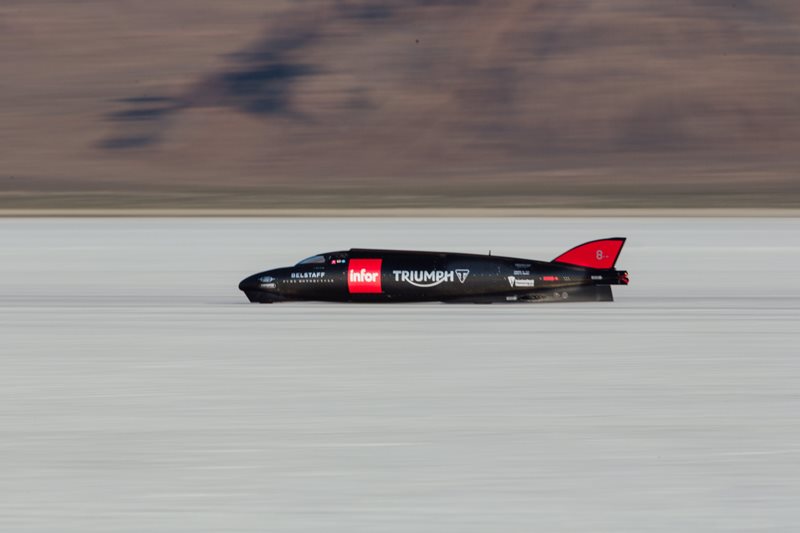 Subito dopo le 8:30, Guy Martin e la squadra partirono per la prima corsa della giornata, dopo un avvio stabile, Martin ha accelerato lo streamliner cercando l'elegante lancio fino ad una sconcertante velocità di 274,2 mph (otre 441 km/h), per riscrivere la storia Triumph. Subito dopo il registro del record, Martin si è arrestaato in modo controllato vicino al campo base della squadra che l'ha accolto dalla notizia che aveva rotto il vecchio record Triumph in vigore da 46 anni.
La corsa record di oggi è un'ulteriore prova della crescente fiducia di Martin sul sale e l'impegno per rompere il record mondiale di velocità su terra a due ruote. Durante la settimana Martin ha continuato a stupire tutti all'interno del team con la velocità in cui egli è stato in grado di padroneggiare il Rocket Streamliner Triumph Infor sul sale. Ogni volta che Martin si è seduto nello streamliner sul sale è stato in grado di raggiungere gli obiettivi fissati dal Crew Chief, del progettista del Triumph Rocket Infor Streamliner Matt Markstaller e la sua squadra con il necessario livello di controllo.
Quando è stato chiesto cosa si sente ad essere diventato il detentore del record di velocità mai raggiunto da Triumph, Martin ha commentato:
"E' bello e ci stiamo muovendo nella direzione giusta, ma è solo un passo sulla strada di quello che io e la squadra abbiamo intenzioni di fare qui."
Il Rocket Triumph Infor dispone di un telaio monoscocca in carbon kevlar con due motori turbo Rocket Triumph III che producono una potenza combinata di 1.000 CV a 9.000 giri al minuto. La moto è lunga 25,5 piedi, larga 2 piedi e alta 3 piedi. Alimentata da metanolo, la moto è in competizione nella categoria Divisione C (moto snella).
Triumph ha una storia di record di velocità su terra. In possesso del titolo della moto più veloce del mondo tra il 1955-1970*. I record Triumph streamliners includono: Devil's Arrow, Texas Cee-gar, Dudek Streamliner e Gyronaut X1, l'ex detentore del record che aveva raggiunto la velocità massima di 245,667 mph (395,28 kmh). L'attuale record, detenuto da Rocky Robinson dal 2010 in sella alla Streamliner Top Oil-Ack Attack, è di 376,363 mph (605,697 kmh).
Il nome iconico Bonneville è stato concepito in seguito al record di velocità su terra di Johnny Allen registrato nelle Salt Flats nel settembre 1956, quando ha raggiunto la velocità di rottura record di 193,72 mph. Il primo modello T120 Bonneville è stato presentato al Earls Court Bike Show e messo in vendita nel 1959.
* Con l'eccezione di un breve periodo di 33 giorni
In English
Triunph Infor Rocket streamliner becomes the fastest ever Triumph on the Bonneville Salt Flats
TT Legend Guy Martin pilots the Triumph Infor Rocket Streamliner to become the fastest ever Triumph achieving 274.2 mph on the Bonneville Salt Flats
Source: Triumph
Bonneville, Utah. USA. 10th August 2016. The Triumph Infor Rocket Streamliner has become the world's fastest ever Triumph by achieving a speed of 274.2 mph at the Bonneville Salt Flats on 8 August, 2016. Piloted by TT legend Guy Martin, the streamliner smashed the previous official Triumph record that stood at 245.667 mph as well as the unofficial Triumph Record of 264mph, both set by Bob Leppan, in the Gyronaut X-1.
Near perfect conditions greeted the team on the final day of the team's land speed practice week. With confidence high after a successful number of days running on the salt at Bonneville the team's goal for the day with the Triumph Infor Rocket Streamliner was the Triumph record.
Just after 8:30am Guy Martin and the team set off on the first run of the day, after a steady start, Martin accelerated the sleek looking streamliner to a staggering 274.2 mph, rewriting Triumph history in the process. Just after the two mile marker Martin came to a controlled stop near to the team's base camp to be greeted by the news that he had broken the 46 year old Triumph record.
Today's record run is further proof of Martin's growing confidence on the salt and commitment to breaking the World two wheeled Land Speed record. Throughout the week Martin has continued to impress everyone within the team with the speed in which he has been able to master the Triumph Infor Rocket Streamliner on the salt. Each time Martin has sat in the streamliner on the salt he has been able to achieve the goals set by Crew Chief and the Triumph Infor Rocket Streamliner designer Matt Markstaller and his team with the required level of control.
When asked about becoming the fastest ever Triumph record holder Martin commented: "It's good and we are moving in the right direction, but it is just one step on the way to what me and team are here to do."
The Triumph Infor Rocket features a carbon Kevlar monocoque construction with two turbocharged Triumph Rocket III engines producing a combined 1,000 bhp at 9,000 rpm. The motorcycle is 25.5 feet long, 2 feet wide and 3 feet tall. Powered by methanol fuel, the bike is competing in the Division C (streamlined motorcycle) category.
Triumph has a history of breaking the land speed record, holding the title of 'World's Fastest Motorcycle' between 1955 to 1970*. The record-breaking Triumph Streamliners included: Devil's Arrow, Texas Cee-gar, Dudek Streamliner and Gyronaut X1, the former achieving a top speed of 245.667 mph (395.28 km/h). Today's record, held by Rocky Robinson since 2010 riding the Top Oil-Ack Attack streamliner, sits at 376.363 mph (605.697 km/h).
The iconic Bonneville name was conceived following Johnny Allen's land-speed record runs at the Salt Flats in September 1956, when he reached the record breaking speed of 193.72 mph. The first T120 Bonneville model was unveiled at the Earls Court Bike Show and went on sale in 1959.
*with the exception of a brief 33 day period
no images were found

.