GKN lancia la tecnologia di trazione integrale  elettrica sulla piattaforma globale del veicolo
Fonte: GKN
Redditch, Gran Bretagna. 24 maggio 2016. Una serie di nuovi veicoli del segmento C offrirà ai consumatori la possibilità di aggiungere l'azionamento elettrico plug-in a quattro ruote motrici con l'ultima unità dell'asse elettrico (eAxle), la tecnologia di GKN Driveline. eAxle è una evoluzione dei sistemi sviluppati per le supercar ibride che utilizzano la trazione integrale elettrica per migliorare le prestazioni e l'efficienza.
GKN si è assicurata ordini per una grande piattaforma globale e la produzione è ora in corso presso lo stabilimento di produzione eDrive della società a Brunico, in Italia. La prima applicazione è sulla BMW Serie 2 Active Tourer PHEV.
L'amministratore delegato GKN Driveline Phil Swash ha detto:
"GKN Driveline continua a portare il futuro dell'eMobility qui ed ora. La nostra attenzione totale per l'innovazione della trasmissione, la nostra competenza senza eguali in tutta la trazione integrale ed i nostri 14 anni di esperienza nella produzione di eAxle stanno ora facendo l'eAWD praticabile in veicoli più piccolo e più accessibili.

Dalla i8 alla Serie 2 Active Tourer, il lavoro di GKN con BMW riflette la nostra posizione di partner scelto di sviluppo per la prossima ondata di ibride plug-in con l'eAWD".
Alimentazione ibrida per le vetture compatte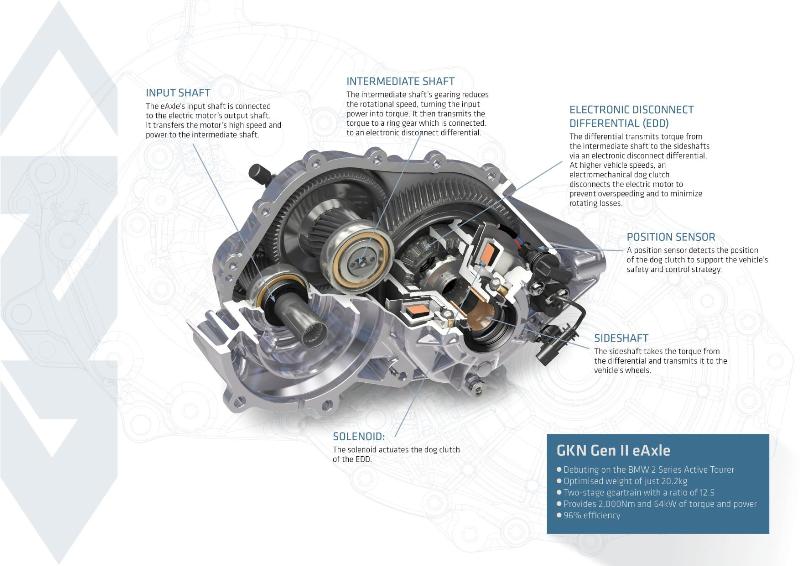 Il nuovo asse elettrico della società è stato ottimizzato per applicazioni per auto compatte. Il design leggero e la singola velocità hanno un rapporto di trasmissione di 12,5:1, riducendo così la velocità del motore elettrico in due fasi. Il sistema genera fino a 2,000Nm di coppia e 70 kW di potenza aggiuntiva – abbastanza per la modalità elettrica pura di un veicolo in grado di raggiungere la velocità di fino a 125 chilometri all'ora e per una trazione integrale (AWD), modalità che accelera notevolmente più veloce rispetto ai sistemi convenzionali AWD meccanici.
L'intera unità pesa solo 20.2kg e ha una lunghezza pari a 457 mm, larghezza 229 mm e un'altezza di 259 millimetri, facilitando il packaging e l'installazione in spazi ristretti.
Se non è richiesto l'uso in modo ibrido, l'e-car può essere scollegato dalla trasmissione da un dispositivo di disconnessione integrato, che utilizza un innesto a denti ad azionamento elettromeccanico. Questo riduce al minimo le perdite che ruotano a velocità del veicolo più alte quando disimpegnato. I raccordi degli ingranaggi e cuscinetti sono stati ottimizzati per l'efficienza e la durata nel tempo.
La meccanica di precissione di tutto il sistema, tra cui un rapporto basso ed un differenziale di trasmissione ad alte prestazioni; garantiscono che le transizioni tra le modalità elettrica, ibrida e motore a scoppio puro siano trasparenti per il conducente.
Capacità efficiente eAWD
L'ultima generazione di GKN eAxles rappresenta un significativo passo avanti in termini di prestazioni, dimensioni e costi. Per molte piattaforme di veicoli a trazione anteriore, è ora più semplice e più efficace elettrizzare l'assale posteriore rispetto a sviluppare un modulo ibrido da abbinare alla trasmissione principale.
Il Presidente di GKN Automotive Engineering, Peter Moelgg, ha dichiarato:
"La tecnologia eAxle di GKN sta passando una tappa fondamentale nella sua evoluzione in un momento in cui la domanda di trazione integrale e di ibridi plug-in si sta rafforzando. Quest'ultimo sistema anticipa il business delle case automobilistiche per avere la capacità di trazione elettrica a quattro ruote motrici negli ibridi. Un certo numero di case automobilistiche stanno introducendo la nostra tecnologia sui loro modelli premium ed iniziano a trasferire versioni ibride eAxle dei modelli di volume più alti".
eAxles trasmette la coppia elettrica direttamente alle ruote del veicolo, garantendo una risposta più immediata ed accelerazione dinamica. La velocità di ingresso di 14000rpm è ora possibile e si prevede di superare questo regime raggiungendo 20.000 giri nei prossimi anni – di gran lunga superiore a quanto sia possibile con le trasmissioni ibride.
GKN ha lanciato le sue prime applicazioni eAxle nel 2002. L'azienda ha ricevuto il riconoscimento ufficiale come Porsche Technology Partner per il suo contributo al programma dell'hybrid plug-in Porsche 918 Spyder ed ha lanciato il primo eAxle a due velocità al mondo nel plug-in hybrid BMW i8 e fornisce anche l'eAxle sul programma della Volvo XC90 T8 Bimotore PHEV.
In English
GKN launches electric all-wheel drive technology on global vehicle platform
Source: GKN
Redditch, UK, 24 May 2016: A series of new C-Segment vehicles will offer consumers the option of adding plug-in electric all-wheel drive using GKN Driveline's latest electric axle drive (eAxle) technology. The eAxle is an evolution of systems developed for hybrid supercars that use electric all-wheel drive to boost performance and efficiency.
GKN has secured orders for a major global platform and production is now underway at the company's eDrive production facility in Bruneck, Italy. The first application is the BMW 2 Series Active Tourer PHEV.
GKN Driveline Chief Executive Phil Swash said: "GKN Driveline continues to bring the future of eMobility into the here and now. Our total focus on driveline innovation, our unmatched expertise in all-wheel drive and our 14 years of production experience in eAxles are now making eAWD viable in smaller, more affordable vehicles. From the i8 to the 2 Series Active Tourer, GKN's work with BMW reflects our position as the development partner of choice for the coming wave of plug-in hybrids with eAWD."
Hybrid power for compact cars
The company's new electric axle drive has been optimized for compact car applications. The lightweight single-speed design has a transmission ratio of 12.5:1, reducing the electric motor speed in two stages. The system generates up to 2,000Nm and 70kW of additional torque and power – enough for a vehicle's pure electric mode to achieve speeds of up to 125km/h and for an all-wheel drive (AWD) mode that accelerates considerably faster than conventional mechanical AWD systems.
The entire unit weighs just 20.2kg and has a length of 457 mm, a width of 229 mm and a height of 259 mm, facilitating packaging and installation in confined spaces.
When hybrid operation is not required, the e-machine can be disconnected from the driveline by an integrated disconnect device, which uses an electromechanically actuated dog clutch. This minimizes rotating losses at higher vehicle speeds when disengaged. Gear and bearing arrangements have also been optimized for efficiency, NVH and durability. Precision engineering throughout the system, including a low backlash, high performance transmission differential and case ensures transitions between pure electric, hybrid and ICE modes are transparent to the driver.
Efficient eAWD capability
The latest generation of GKN eAxles represent a significant breakthrough in terms of performance, size and cost. For many front wheel drive vehicle platforms, it is now simpler and more effective to electrify the rear axle than to bolt on a hybrid module to the main transmission.
GKN Automotive President of Engineering Peter Moelgg, said: "GKN's eAxle technology is passing a key milestone in its evolution at a time when the demand for all-wheel drive and plug-in hybrids is strengthening. This latest system advances the business case for electric all-wheel drive capability in hybrids. A number of automakers are introducing our technology on their premium models and starting to transfer eAxle hybrid versions of higher volume models."
eAxles transmit the electric torque directly to the vehicle's wheels, providing more immediate response and dynamic acceleration. Input speeds of 14,000rpm are now possible and are expected to exceed 20,000rpm in the next few years – far higher than is possible with hybrid transmissions.
GKN launched its first eAxle applications in 2002. The company was awarded Official Porsche Technology Partner status for its contribution to the plug-in hybrid Porsche 918 Spyder program. It launched the world's first two-speed eAxle in the plug-in hybrid BMW i8 and also supplies the eAxle on the Volvo XC90 T8 Twin Engine PHEV program.
no images were found

.