Fonte: Adrian Flux
Santa Pod, Gran Bretagna. Un progetto triennale per trasformare una city car elettrica di 40 anni fa in un dragster in grado di battere la Tesla ha raggiunto il punto culminante con la Flux Capacitor presentata dallo showman televisivo Jonny Smith e diventata l'auto elettrica più veloce omologata per circolare su strada in Europa.
La city car elettrica Enfield 8000 del 1975, capace di raggiungere appena 40 miglia all'ora (64 km/h) quando era nuova, ha fracassato il record della Tesla sul quarto di miglio nelle finali europee FIA ​​a Santa Pod.
Con il presentatore di Fifth Gear al volante, la piccola Enfield – con potenza aumentata dagli originali 8HP a 1.000HP – silenziosamente ha percorso il quarto di miglio in 10s84 a 121 mph (195 km/h), migliorando il record della Tesla che aveva segnato 11,5 secondi.
"Non riesco ancora a credere a quello che quest'auto è in grado di fare", ha detto Jonny. "La striscia di carta con i tempi non mente mai, e quando ha rivelato un secondo passaggio in 10 sec. ero così felice che ho baciato il mio compagno di squadra Nick Farrow sulle labbra".

"Questo weekend la vettura non ha solo conquistato, ma polverizzzato il record europeo per una vettura elettrica omologata a circolare su strada. Mai nei miei sogni avrei creduto che l'Enfield fosse capace di questo tipo di prestazioni".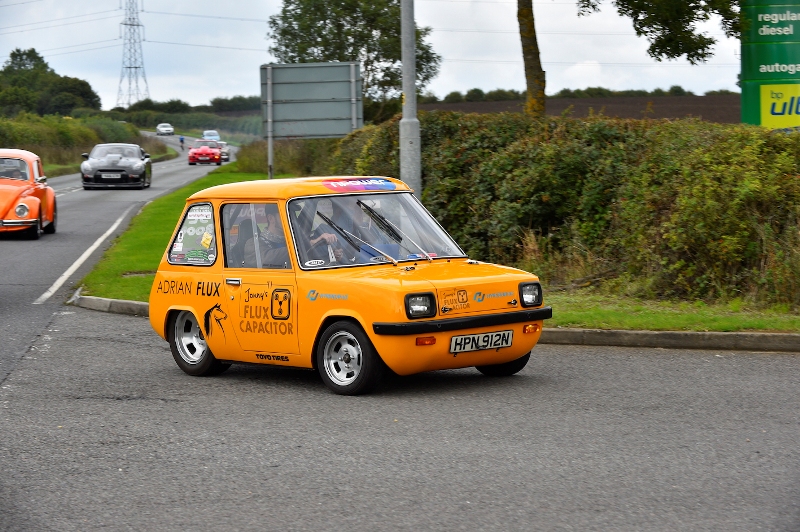 Molto prima che Tesla lanciasse la sua berlina supercar elettrica Model S P85 S e prima ancora che la Formula E vedesse la vita, Jonny ha iniziato il restauro della rarissima Enfield.
Ha portato la macchina da Flux Capacitor con l'idea di andare verso il futuro dell'auto elettrica, anche con un cenno allo sponsor, il broker assicurativo Adrian Flux.
All'inizio dell'anno la vettura è riuscita a percorrere il quarto di miglia in 12s, poi in 11s.
Ma a Santa Pod in un fine settimana del 2015, la silenziosa Davide è stata lanciata contro il Golia da motore a pistoni. Jonny è entrato nella contestatissima categoria Street Eliminator, dove gareggiano alcune delle vetture più veloci, tutte in configurazione stradale, con tasse di circolazione pagate e correndo su pneumatici legali da strada.
Al fine di dimostrare le sue credenziali legali da strada, prima della corsa c'è l'obbligo di percorrere 25 miglia (40 km) su strada a velocità crociera intorno alla campagna del Northants.
"Questo non suona molto bene per le auto normali, ma questi sono veicoli che percorrono la linea sottile tra i dragster e quelle da passeggio della domenica", ha detto Jonny.

"Se si resta fermo e non si riesce a tornare in pista senza un aiuto esterno, si viene squalificato. E' stata dura, ma siamo riusciti a mantenere la nostra carica ed a completare l'evento".
Nelle qualifiche fatte con un tempo di 11,27s per il quarto di miglio a 118 mph (190 km/h), Jonny ha montato ingranaggi degli assi più corti per cercare di andare ancora più veloce.
"Abbiamo avuto due ore per ricaricarci dopo la crociera estenuante prima di andare in gara uno. Non era molto tempo. Ad essere onesto, ero felice di essermi qualificato tra tutti, dato che la maggior parte dei miei concorrenti erano equipaggiati con motori Twin Turbo V8 da 1500bhp", ha detto Jonny.
E poi, 40 anni dopo la sua costruzione sull'isola di Wight, dove la vettura originariamente era stata concepita come una runabout elettrica da città nel bel mezzo della crisi petrolifera degli anni '70, strappò la striscia dei tempi in ben 10,84s a 121 mph (195 km/h).
Non abbastanza con i suoi 1.21 gigawatt di potenza, c'erano anche 1900 amp ed oltre 250 Volt di elettrostimolazione muscolare.
"Questo sarebbe un grave smacco ad una supercar moderna, per non parlare della piccola vettura che è lunga come qualcosa di 2,8 metri e che è stata progettata per una velocità massima di 40 mph", ha detto Jonny.

"I numeri hanno dimostrato che avevamo segnato un'accelerazione da 0 a 102mph (164 km/h) in 6,9 secondi. Quando alcune delle nuove non riusciva nemmeno a fare 6,0. Hanno misurato le prestazioni nella brochure citando 0-30mph in 12,5 secondi. Intendiamoci, originalmente aveva 6kW di potenza, ora possiede 600kW.

"Correvo contro una Nissan GT-R da 2000bhp, quindi sapevo che avrei avuto bisogno di qualche miracolo per vincere. Comunque con un passaggio di 10 secondi nel quarto di miglio con una piccola auto elettrica di fronte a migliaia di spetattori, non potevo essere più felice di perdere in questo modo.

"Anche se è un progetto molto di sinistra, l'attenzione suscitata negli ultimi tempi dalla Flux Capacitor è ridicola. Abbiamo avuto la visita di persone serie del settore e ci hanno tributato del rispetto. Penso che – anzi, mi auguro – il Flux Capacitor sai andato un po' oltre per mostrare alla gente che le auto elettriche non sono una novità, e che possono essere carismatiche, potenti e veloci"
La domanda ora è, può andare ancora più veloce?
"Forse", ha detto Jonny. "Sono solo al settimo cielo per aver superato due importanti ostacoli. In primo luogo il completamento del obbligatoria percorrenza di 25 miglia su strada a velocità crociera intorno a Northamptonshire senza scaricare le batterie o accettare aiuto 'esterno'. E' stata dura, non voglio mentire … tre giorni prima dell'evento io e mio fratello eravamo occupati ad installare le luci di emergenza ed a capire corno farle funzionare correttamente!

"Due ore dopo quando, la vettura ha girato con il tempo più veloce da sempre e di conseguenza è diventata la più veloce auto elettrica stradale legale in circolazione in Europa".
Naturalmente, l'Enfield è anche esente dalla tassa del congestion charge di London.
"Quando ho iniziato questo progetto ho stimato un tempo per il quarto di miglio di 12,5 s, che abbiamo raggiunto nelle prime sei prove della macchina nel mese di Maggio", ha detto Jonny.

"Pochi mesi dopo abbiamo registrato 11s e ora stiamo limando le decine. E mai una volta ha cercato di scaparmi dalle mani. Nonostante le sue dimensioni ridicole, appena si accelera l'auto, corre dritta e liscia. E' una testimonianza importante quella degli ingegneri specializzati di Current Racing, Webster Race Engineering, BG Developments e GAS IT che ho scelto di coinvolgere nel progetto.

"Semplicemente non sarebbe stato possibile senza il supporto dell'assicurazione Adrian Flux, quindi sono contento di aver telefonato per caso per verificare se sarebbero stati in grado di assicurare l'auto prima di iniziare a costruirla.

E' una bella sensazione che 30 anni dopo Ritorno al Futuro la mia Flux Capacitor ha visto le 88 miglia all'ora e oltre (142 km/h)".
Contesto e tecniche specifiche di ieri ed oggi
Storia. Enfield 8000 ECC 1975 (Electric City Car)
Nata durante la crisi petrolifera del 1970, la casa motociclistica britannica Enfield ha costituito una società auto eco nell'Isola di Wight guidata dal progettista John Ackroyd, che fu poi seriamente coinvolto nella 'Thrust 2', la vettura destinata a sfidare il record mondiale di velocità su terra.
Realizzata con una scocca in alluminio e struttura reticolare in acciaio (la stessa dell'Aston Martin di quel tempo!), La 8000 a trazione posteriore aveva il suo caricabatterie di bordo, pneumatici run-flat e anche un parabrezza riscaldato.
Anche se scalfita da molte caratteristiche delle macchine esistenti nel suo tempo, come ad esempio i fari dell'Allegro, le sospensioni anteriori e lo sterzo della Hillman Imp; la Enfield costava due volte e mezzo di più di una Mini.
Con il suo passo di 1,72 metri, era 31 centimetri più corta della Mini originale. Le dimensioni titchy e un motore elettrico da 8 HP (6kW) a 48 Volt alimentato da 8 batterie al piombo acido ha reso la macchina perfetta per la circolazione in città. La Enfield potrebbe percorrere fino a 55 miglia (88 km) e raggiungere una velocità massima di 40 mph (64 km/h).
Sono state costruite 120 Enfield 8000, 60 delle quali sono state acquistate dal British Electricity Council come pool di vetture. La mia auto ha il numero di telaio 003 ed è stata fornita nuova a Seeboard (South East Electricity) nella zona di Brighton. Ora esistono circa 30 in tutto il mondo.
Dati tecnici originali Enfield 8000
Scocca: Costruita a mano in alluminio, due posti
Telaio: tubolare in acciaio
Sospensioni: Coil-over McPherson anteriore, asse posteriore a quattro bracci Reliant
Motore: 8HP / 6kW / 150 Amp
Ruote: Ruote Mini da 10 pollici
Freni: anteriori Mini, tamburi posteriori Reliant
Batterie: 8 batterie x 12 V 55 Amp al piombo acido
Velocità massima: 40 mph 64 km/)
Prestazioni: Accelerazione, 0-30mph in 12,5 secondi
Autonomia: 35-55 miglia (da 56 a 88 km/h), a seconda del clima e della quantità delle colline
Peso: 975 kg (molto per una tale nanovettura – 308 kg è il peso delle sole batterie)
Lunghezza: 2.84 m / 112 "(una Mini era 3.05 m / 120″)
Passo: 1.725m / 68″(una Mini era 2.04m / 80,3")
Carburante: rete Economy Sette da 240 Volt
La missione Flux Capacitor è stata quella di far risorgere una reliquia elettrica britannica dimenticata e trascinarla in gara nel 21esimo secolo contro la moderna tecnologia.
Perché? Per essere il veicolo elettrico più veloce omologato per circolare su strada in Europa. Non è mai stata l'intenzione di essere la più bella.
Ci sono voluti 18 mesi per trovare quest'auto danneggiata e tre anni per trasformarla da city car da 6 kW a una piccola belva silenziosa e violenta da 600kW.
Hyperdrive Innovation ha costruito il pacco batterie agli ioni di litio ed il sistema di gestione elettronica della batteria adattandolo sotto il cofano. Quest'ultimo mantiene le celle equilibrate e sicure durante la carica / scarica. Un controller drive-by-wire (come un ECU) è montato sotto il sedile del passeggero che è collegato al computer portatile, dove è possibile regolare i Volt (velocità massima) e gli Amp (coppia).
Non c'è il cambio. Basta pigiare l'acceleratore ed andare e considerando che i motori eletttrici producono la coppia massima già da 0 rpm. risulta perfetto per le drag racing.
Può accelerare da 0 a 100 mph in circa 7 secondi. E' veloce come molte supercar sul quarto di miglio, pur essendo insolitamente piccola.
La Flux Capacitor di Jonny è esentasse, immune dalla Congestion Charge di Londra e (si spera) la prova che le auto eco possono carismaticamente calciare alcune grandi.
Dati Tecnici – Flux Capacitor Enfield 8000
Scocca: in alluminio, dipinto da Roadhouseretro.com in 'Giallo Ocra' Lambretta GP, finestre di Plastics4Performance.com in Lexan, paraurti in vetroresina
Telaio: Roll bar personalizzato, tunnel di trasmissione modificato per ospitare i due motori posteriori ed il 'mini-tubbed'.
Sospensioni: ammortizzatori AVO su bracci Hillman, sospensione posteriore snodata a quattro bracci ristretti tipo Ford da 9 pollici, assi LSD con lunghi tiranti da 6 pollici, barra rimovibile (!).
Motori: 2 elettrici DC da 9 pollici da corsa, corrente nominale per 2000 A @ 170V, 5500rpm max. Nessun cambio. Guida diretta.
Ruote: British Wolfrace ristrutturate da Wicked Ruote, 12×5″ anteriori, 14×7″ posteriori
Freni: a disco anteriore con pinze AP Racing modificati da BG Developments.
Batterie: 144 celle x 4.2v tipo militare agli ioni di litio Kokam a 'marsupio' (collegate in parallelo, 2 serie da 72 Volt) suddivise in 3 pacchi batteria. Originariamente utilizzate per avviamento e mini-gun per un elicottero d'attacco di Bell SuperCobra. 378v scarico / 1600amps in un secondo impulso 10. Batterie e BMS (Battery Management System) di Hyperdrive Innovation.
Prestazioni: 530 kW, £ 1.100 ft +, 700 + CV. 0-60 in 3 secondi. Quarto di miglio in 11 secondi. 120 miglia all'ora di velocità massima (stimata), autonomia delle batterie a circa 30 miglia (48 km) (ancora sotto test).
Peso: 882 kg (senza il conducente)
Combustibile: energia elettrica fornita da npower (240v, 32 Amp)
In English
Tesla beating Enfield Europe's quickest street legal electric car
Source: Adrian Flux
A three-year project to turn a 40-year-old electric city car into a Tesla-beating dragster has climaxed with TV presenter Jonny Smith's Flux Capacitor becoming Europe's quickest street legal electric car.
The 1975 Enfield 8000 electric city car, capable of just 40mph when new, this weekend smashed the Tesla's record over a quarter mile in the FIA European Finals at Santa Pod.
With the Fifth Gear presenter at the wheel, the tiny Enfield – boosted from its original 8hp to 1000hp – silently charged through the quarter mile in 10.84 seconds at 121mph, dismantling the Tesla's record of 11.5 seconds.
"I still cannot believe what that little car is capable of," said Jonny. "The little paper timing slip never lies, and when it revealed a 10 second pass I was so happy I kissed my crew mate Nick Farrow on the lips.

"This weekend the car not only clinched but blitzed the European record for a street legal electric car. Never in my dreams did I think the Enfield was capable of this kind of performance."
Long before Tesla launched its supercar-killing model S P85 electric saloon, and prior to the Formula E race series, Jonny started restoring the rare but derelict Enfield.
He dubbed the car the Flux Capacitor with the idea of going Back to the Future of the electric car, and as a nod to the sponsor, insurance broker Adrian Flux.
Earlier in the year the car managed to run a 12-second quarter mile, then into the 11s.
But at Santa Pod this weekend the silent David was pitched against the piston-powered Goliaths. Jonny entered the highly contested Street Eliminator category, where some of the fastest cars compete, all with current MoTs, tax and running on street legal tyres.
In order to prove its road legal credentials, prior to the racing there is a mandatory 25-mile street cruise around the Northants countryside.
"This doesn't sound much for normal cars, but these are vehicles treading the fine line between all-out dragsters and Sunday cruisers," said Jonny.

"If you break down and can't get back to the race track without outside help, you're disqualified. Harsh, but we managed to keep our charge and complete the event."
Qualifying with an 11.27 second quarter mile at 118mph, Jonny fitted taller axle gears to try to go even faster.
"We had two hours to recharge after the gruelling cruise before heading into race one. It wasn't a lot of time. To be honest I was happy to have qualified at all given most of my competitors are running over 1500bhp twin turbo V8s," said Jonny.
And then, 40 years after it was built on the Isle of Wight, the car originally designed as an electric city runabout in the midst of the 1970s oil crisis, tore up the strip in a staggering 10.84 seconds at 121mph.
Not quite 1.21 gigawatts of power, but 1900 amps and over 250 volts of electric muscle.
"This would be a serious feat for a modern supercar, let alone something 2.8 metres long that was designed for a maximum of 40 mph," said Jonny.

"The numbers showed we'd got the thing from 0-102mph in 6.9 seconds. When new it couldn't even do 60. They measured performance in the brochure quoting 0-30mph in 12.5 seconds. Mind you, it had 6kW of power then. Now it's got 600kW.

"I was racing against a 2000bhp Nissan GT-R, so I knew I'd need some miracle to win. With a 10 second quarter mile in a tiny electric car in front of thousands of spectactors, I couldn't have been happier to lose.

"While it is a very left-field project, the attention the Flux Capacitor got over the last few days is ridiculous. We had serious dyed in the wool drag racers come over and give us respect. I think – I hope – the Flux Capacitor has gone a little way to showing people that electric cars are nothing new, and that they can be charismatic and mighty fast."
The question now is, can it go even faster?
"Maybe," said Jonny. "I'm just chuffed to have achieved two major hurdles. Firstly completing the mandatory 25 mile street cruise around Northamptonshire without breaking down or accepting 'outside' help. It was tough, I won't lie…three days before the event me and my brother were busy getting the hazard warning lights and horn to work properly!

"Then two hours later the car ran the fastest it's ever run and consequently became Europe's quickest street legal electric car."
Of course, the Enfield is also tax and London congestion charge exempt.
"When I started this project I estimated a 12.5 second quarter mile, which we achieved within six runs of the car back in May," said Jonny.

"A few months later we got into the 11s and now we're running in the tens. And it never once tried to bite me. Despite its ludicrous proportions the car just gripped and ran straight and smooth. It's a testament to the specialist engineers I chose to get involved with the project like Current Racing, Webster Race Engineering, BG Developments and GAS IT.

"It simply wouldn't  have been possible without the support of Adrian Flux insurance, so I'm glad I phoned them by chance to check they'd be able to insure the car before starting to build it. It feels apt that 30 years after Back to the Future my Flux Capacitor has seen 88mph and beyond."

Background and technical specifications then and now
1975 Enfield 8000 ECC (Electric City Car) history
Born during the 1970s oil crisis, British motorcycle company Enfield set up an eco car company on the Isle of Wight headed by design engineer John Ackroyd, who was later involved with the 'Thrust 2' land speed world record car. Seriously.
Made with an aluminium bodyshell and steel space frame (the same as Aston Martins of that time!), the rear wheel drive 8000 had its own on-board charger, run-flat tyres and even a heated windscreen.
Although it nicked a lot of bits from existing cars of its time like the headlights (Allegro), front suspension and steering (Hillman Imp), the Enfield cost two and a half times more than a Mini. Oh dear.
Its 1.72-metre wheelbase was 31cm shorter than the original Mini. Titchy dimensions and a 8hp 48-volt 6kW electric motor with 8 lead acid batteries made it the perfect city car. The Enfield could do up to 55 miles and max out at 40mph.
120 Enfield 8000s were made, 60 of which were purchased by the British Electricity Council as pool cars. My car is chassis number 003 and was supplied new to SEEBOARD (South East Electricity) in the Brighton area. Around 30 exist worldwide now.
Original Enfield 8000 Tech Spec
BODYSHELL: Handbuilt aluminium two-seater
CHASSIS: Square-section tubular steel space frame
SUSPENSION: Coil-over McPherson strut front, four-link Reliant rear axle
MOTOR: 8hp / 6kw / 150amps
WHEELS: 10-inch Mini wheels
BRAKES: Mini front, Reliant rear drums
BATTERIES: 8 x 12v 55-amp hour lead acid batteries
TOP SPEED: 40mph
PERFORMANCE: Erm. Well, 0-30mph in 12.5 seconds
RANGE: 35-55 miles, depending on climate and quantity of hills
WEIGHT: 975kg (a lot for such a midget – 308kg was batteries)
LENGTH: 2.84m / 112″ (a Mini was 3.05m / 120″)
WHEELBASE: 1.725m / 68″ (a Mini was 2.04m / 80.3″)
FUEL: 240v mains Economy Seven
The Flux Capacitor (e)mission statement was to resurrect a forgotten British electric relic and drag (race) it into the 21st century using modern leccy technology.
Why? To be Europe's fastest street legal electric vehicle. It was never going to be the prettiest.
It took 18 months to find this flood damaged car and three years to transform from 6kW city car into 600kW silent-but-violent midget.
Hyperdrive Innovation built the lithium-ion battery pack and battery management system to fit under the bonnet. The latter keeps the cells balanced and safe during charge/discharge. A drive-by-wire controller (like an ECU) is mounted under the passenger seat which is tuned via laptop, where you can adjust volts (top speed) and amps (torque).
There's no gearbox. Just squirt and go, as elec motors produce maximum torque from 0 rpm. Perfect for drag racing.
It will get from 0-100mph in about 7 seconds. It's as fast as many supercars on the quarter mile, despite being stupidly short.
Jonny's Flux Capacitor is tax exempt, immune from London's CC and (hopefully) proof that eco cars can charismatically kick some amps.
Flux Capacitor Enfield 8000 Tech Spec
BODYSHELL: Aluminium, painted by Roadhouseretro.com in Lambretta GP 'Yellow Ochre', Plastics4Performance.com Lexan windows, glassfibre moulded bumpers
CHASSIS: Custom roll cage, trans tunnel altered to house twin motors & 'mini-tubbed' rear.
SUSPENSION: AVO shocks on Hillman Imp A-arms, rose-jointed four-link rear suspension with narrowed Ford 9-inch LSD axle with 6-inch long (!) prop shaft, removable wheelie bars.
MOTORS: 2 x 9-inch DC Current Racing motors rated for 2000 amps @ 170v, 5500rpm max. No gearbox. Direct drive.
WHEELS: British Wolfrace slot mags refurbished by Wicked Wheels, 12×5″ front, 14×7″ rear
BRAKES: Bespoke front disc conversion with AP Racing calipers by BG Developments.
BATTERIES: 144 x 4.2v military grade lithium-ion Kokam 'pouch' cells (connected in 2 parallel and 72 series) split into into 3 battery packs. Originally used as engine starter and mini-gun batteries for a Bell SuperCobra attack helicopter. Discharge 378v/1600amps in a 10 second pulse. Battery packs and BMS (Battery Management System) by Hyperdrive Innovation.
PERFORMANCE: 530kW, 1100lb ft+, 700+bhp. 0-60 in 3 seconds. Quarter mile in 11 secs. Top speed 120mph (est), battery range approximately 30 miles (still testing).
WEIGHT: 882kg (minus driver)
FUEL Electricity supplied by npower (240v, 32-amp)
no images were found

.