– DHL diventa title sponsor per la gara a Tempelhof Airport il 23 Maggio 2015
– Biglietti già in vendita a prezzi a partire da soli 10 €
Fonte: Formula E
Berlino, Germania. 24 febbraio 2015. Gli organizzatori della Formula E hanno presentato oggi il layout del circuito del Berlin ePrix del 23 maggio 2015, sponsorizzato dall'importante società di logistica DHL.
Il circuito da 17 curve e 2,47 km sarà costruito entro la sezione 'Apron' dell'aeroporto di Tempelhof, situato nel centro della città. Progettato da Rodrigo Nunes, è lo scenario dell'ottava gara della stagione inaugurale della Formula E.
L'annuncio è stato dato nel corso di una conferenza stampa tenutasi presso l'ex aeroporto con la partecipazione del CEO della Formula E Alejandro Agag, il CEO di DHL Express Europe John Pearson, il Senatore di Berlino Cornelia Yzer, membri della stampa, insieme ai due piloti tedeschi del campionato; Daniel Abt (Audi Sport Abt Team) e Nick Heidfeld (Venturi Team). Durante l'evento, gli ospiti hanno anche potuto vedere la macchina da corsa di Formula E, oltre a godere di un giro del circuito in una BMW i3 completamente elettrica e un'ibrida BMW i8 con Daniel e Nick.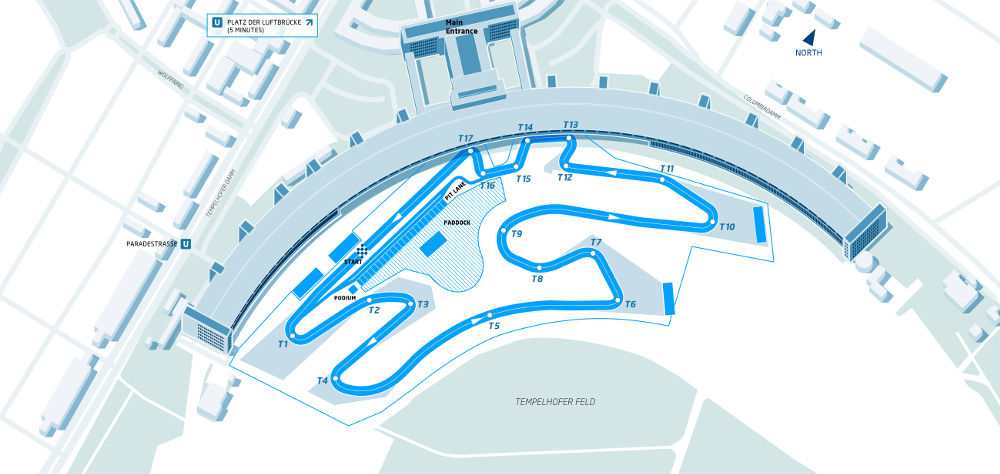 Oggi è anche iniziata la vendita dei biglietti per il DHL Berlin ePrix con l'ammissione generale (in piedi) a prezzi da soli 10 euro se acquistato entro il 30 aprile, in aumento a € 19, successivamente, con i bambini di età fino a sei anni con entrata gratuita (se accompagnati da un adulto pagante ). Così come alle corse di un intero giorno, i biglietti daranno accesso ai fan eVillage di Formula E – o fan zone – con una varietà di intrattenimenti compreso display acrobatici eBike, bancarelle interattivi e una sessione di autografi dei piloti. Per i dettagli e le opzioni di prezzo visitare www.fiaformulae.com/en/tickets.aspx.
Alejandro Agag ha dichiarato:
"Siamo lieti di essere oggi a Berlino e di svelare il circuito di Formula E. Berlino è una delle città leader in Europa per l'innovazione e la mobilità sostenibile, mentre la Germania è famosa per la sua passione per il motorsport e, quindi, il valido motivo per cui l'abbiamo scelto come città ospitante per la Formula E. Siamo molto impazienti di organizzare un grande spettacolo per i fan, che possono essere orgogliosi e che saranno in grado di supportare i talenti di casa Nick Heidfeld e Daniel Abt, insieme alla squadra tedesca Audi Sport Abt".
John Pearson, CEO di DHL Express Europe, parte di DHL, che è anche un partner fondatore e logistico ufficiale della Formula E, ha detto:
«Il Berlin ePrix è l'evento ideale per mostrare perché DHL e la Formula E sono la soluzione perfetta. Come pioniere di consegna con veicoli elettrici senza emissioni di carbonio nel mercato tedesco, siamo estremamente entusiasti di dare il benvenuto ad un altro pioniere – questa volta con un marchio ancora più veloce di auto elettrica – a Berlino. Siamo inoltre lieti di individuare un 'e-Novator' del futuro alla gara, in quanto la giuria della nostra Formula E di ispirazione Blue Sky Transport Design Award selezionerà un vincitore nella progettazione dei veicoli elettrici a Berlino nel mese di maggio".
Parlando del layout del circuito, Nick Heidfeld, ha detto:
"Sarà una corsa molto speciale davanti al mio pubblico di casa e non vedo l'ora di farla. Sarà la prima volta per me dove correrò in un posto come questo quindi dovrebbe avere la sua atmosfera speciale. Sembra che sia un circuito molto tortuoso e impegnativo con 17 giri in meno di 2,5 km e penso che i fan avranno grande visibilità ovunque si trovino. Quando ho parlato con alcuni amici di recente erano tutti interessati a venire a Berlino e spero che ci siano molti altri tifosi che verranno a unirsi a noi per la gara".
La gara sarà organizzata dalla società manifestazione tedesca Gil Und Weingärtner che ricorrerà anche alle competenze di Hans Jörg Fischer – uno dei principali consulenti di pista dietro il nuovo Moscow Raceway in Russia.
Tutte le gare di Formula E sono trasmesse in diretta su Sky Deutschland.
Per ulteriori informazioni sulla Formula E visitare www.fiaformulae.com o per visitare il nuovo sito dedicato DHL Berlino ePrix andare a www.fiaformulae.com/berlin.
In English
Circuit unveiled for Formula E DHL Berlin e-Prix
– DHL becomes title sponsor for race at Tempelhof Airport on May 23 2015
– Tickets now on sale priced from just 10 euros
Source: Formula E
Berlin, Germany. February 24 2015. Organisers of the new all-electric FIA Formula E Championship have today unveiled the circuit layout for the Berlin ePrix on May 23 2015, sponsored by leading logistics company DHL.
The 17 turn, 2.47km circuit will be built within the 'Apron' section of the Tempelhof Airport, located in the city-centre. Designed by Rodrigo Nunes, it is the setting for the eighth race in the inaugural Formula E season.
The announcement was made during a press conference held at the former airport and attended by Formula E CEO Alejandro Agag, CEO of DHL Express Europe John Pearson, Berlin Senator Cornelia Yzer, members of the press, together with the championship's two German drivers; Daniel Abt (Audi Sport Abt Team) and Nick Heidfeld (Venturi Team). During the event, guests could also view the Formula E race car, as well as enjoy a lap of the circuit in a fully-electric BMW i3 and a hybrid BMW i8 by Daniel and Nick.
Today also saw tickets for the DHL Berlin ePrix go on sale with general admission (standing) priced from just 10 euros if purchased before April 30, rising to 19 euros thereafter, with children aged six and under going free (if accompanied by a paying adult). As well as a full day's racing, all tickets will give fans access to Formula E's eVillage – or fan zone – featuring a variety of off track entertainment including eBike stunt displays, interactive stalls and a driver autograph session. For full details and pricing options visit www.fiaformulae.com/en/tickets.aspx.
Alejandro Agag said:
"We are delighted to be in Berlin today and to be unveiling the Formula E circuit. Berlin is one of the leading cities in Europe for innovation and sustainable mobility, whilst Germany is renowned for its motorsport passion and hence why we selected it as a host city for Formula E. We're now very much looking forward to putting on a great show for the fans, one they can be proud of and where they'll be able to support home-grown talent Nick Heidfeld and Daniel Abt, along with German team Audi Sport Abt."
John Pearson, CEO DHL Express Europe, part of DHL who are also a founding and official logistics partner to Formula E, said:
"The Berlin ePrix is the ideal event to showcase why DHL and Formula E are the perfect fit. As a pioneer of delivery with carbon-free electric vehicles in the German market, we are extremely excited to be welcoming another pioneer – this time with an even faster brand of electric car – to Berlin. We are also looking forward to identifying an 'e-novator' of the future at the race, as the jury of our Formula E-inspired Blue Sky Transport Design Award will select a winning electric vehicle design in Berlin in May."
Speaking about the circuit layout, Nick Heidfeld, said:
"It's going to be very special racing in front of my home crowd and I'm really looking forward to it. It will be the first time for me racing on somewhere like this so should have its own special atmosphere. It looks like it's going to be a very twisty and challenging circuit with 17 turns in under 2.5km and I think the fans are going to have great visibility wherever they are. When I spoke to some friends recently they were all interested in coming to Berlin and I hope there will be a lot of other fans who will come and join us for the race".
The race will be organised by German event company Gil Und Weingärtner who will also call upon the expertise of Hans Jörg Fischer – one of the main track consultants behind Russia's new Moscow Raceway.
All Formula E races are broadcast live on Sky Deutschland.
For more information on Formula E visit www.fiaformulae.com or to visit the new dedicated DHL Berlin ePrix website go to www.fiaformulae.com/berlin.
no images were found