Sunstar "way of life" è un modo di intendere il futuro delle persone: più sicuro e in piena salute.
Oltre 80 anni di esperienza per il consumatore
Fonte: Sunstar
Milano, Italia. Marzo 2015. Ci sono novità in casa SUNSTAR con l'inserimento di Peter Silberbauer nell'organico aziendale così con l'inizio della nuova stagione due ruote SUNSTAR ha deciso di ampliare, accrescere e fortificare il suo team proponendo la nuova figura di General Sales Manager Europe nel settore iBike (kit motore elettrico centrale).
1. Nuovo direttore generale vendite Europa
Facciamo un passo indietro e scopriamo che Peter Silberbauer proviene da molti anni di esperienza nel settore delle due ruote e accessori lavorando per aziende come Matra, Staiger, Dream Bike… sviluppando le loro reti in Europa e aumentando i contatti con i key account customers. Oltre che sul mercato tedesco, Silberbauer si concentrerà su differenti mercati tra i quali: l'Italia, la Danimarca e la Gran Bretagna.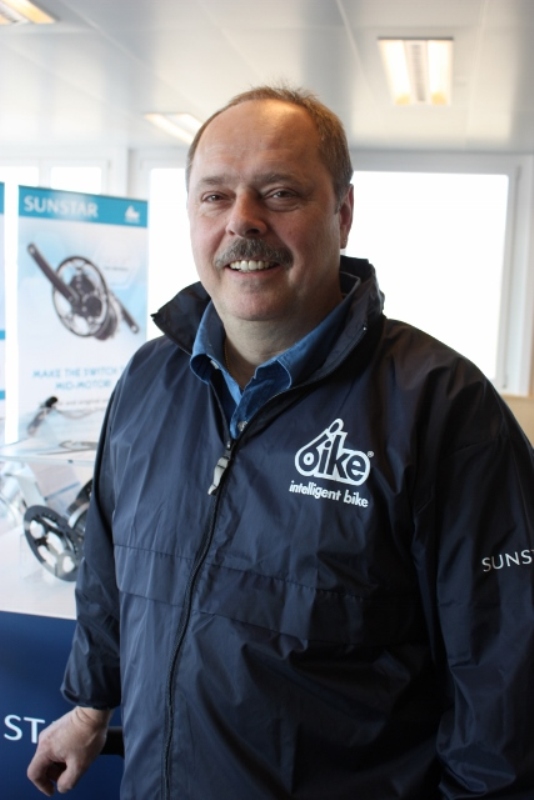 Silberbauer si focalizzerà specialmente sui produttori di special bike per i quali è perfetto un motore universale e centrale come l'S03+ e il nuovo VIRTUS che a breve arriverà sul mercato. Un esempio perfetto della partnership e della collaborazione tra la divisione Sunstar iBike e i produttori di cargo bike è il rapporto con il leader di mercato danese Nihola. Le Cargo Bikes Nihola di altissima qualità sono disponibili sia con, sia senza il motore elettrico, mentre le Nihola già presenti sul mercato possono essere retro-fitted con Sunstar iBike S03+ direttamente dai dealers Nihola.
Silberbauer è davvero una figura chiave per SUNSTAR e soprattutto accoglie con grande forza questa nuova sfida entrando a far parte di un'azienda mondiale leader in svariati settori.
2. Creare un futuro più sano per tutte le persone.
La filosofia di SUNSTAR infatti afferma da oltre 80 anni che: "Always strive to help people everywhere achieve better health and enhance their quality-of-life" (Da sempre aiutiamo le persone, ovunque nel mondo, a migliorare la loro qualità della vita e il loro benessere). SUNSTAR infatti ha uffici in 16 paesi e oltre 4.000 dipendenti nel mondo e distribuisce i suoi prodotti e servizi in oltre 90 Nazioni. Una lunga tradizione che vanta radici giapponesi, un headquarter in Svizzera mentre i cardini dell'attività sono rappresentati dai prodotti per l'igiene orale, il beauty, health care, prodotti industriali e chimici oltre che di ingegneria.
Se ci concentriamo sulle due ruote le attività di Sunstar risalgono al 1932, quando l'azienda ha iniziato la produzione di adesivi per la riparazione delle camere d'aria delle biciclette. Inoltre le corone ad alte prestazioni e i sistemi di freni a disco, sono distribuiti e commercializzati sotto il brand Braking e sono utilizzati in tutto il mondo dai principali costruttori di moto. Dal 2003, l'azienda ha iniziato la produzione di Pedelec per il mercato giapponese. In Europa, Sunstar è concentrata sullo sviluppo, produzione e vendita di motori con movimento centrale universali e accessori di montaggio, con il marchio "Intelligent Bike (iBike), dal 2010.
3. La E-Bike: un modo green per muoversi
Oggi le biciclette a pedalata assistita rappresentano un mezzo sempre più green e innovativo per muoversi e le e-bike sono prodotti che rappresentano il modo più intelligente e moderno per risolvere le esigenze di mobilità individuale, sia sulle brevi distanze, sia su quelle un po' più impegnative. L'idea alla base del concetto SUNSTAR è semplice: se sei un produttore di bici e vuoi cogliere la domanda crescente di due ruote a pedala assistita il nostro kit motore è la soluzione ideale: non ha bisogno di un un telaio specifico ed è adattabile alla quasi totalità delle biciclette oggi in commercio, inoltre il motore centrale rappresenta la scelta di maggiore qualità e quella in grado di offrire il miglior bilanciamento fra prestazioni e distribuzione dei pesi.
no images were found