Deutsche Post DHL Group e Ford svelano i primi lavori di costruzione dello StreetScooter XL Electric Delivery Van
• 150 veicoli di pre-produzione da utilizzare per le consegne pacchi entro la fine del 2017
• Deutsche Post DHL e Ford sono pionieri nel campo della mobilità elettrica in Germania
Fonte: Ford
Colonia, Germania, 16 agosto 2017. Deutsche Post DHL Group e Ford hanno presentato oggi il primo dei loro furgoni elettrici – o e-van – prodotti congiuntamente a Colonia, in Germania.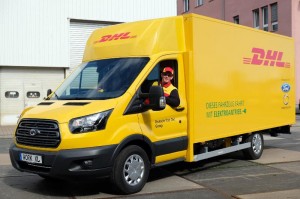 Il veicolo, chiamato StreetScooter Work XL, si basa su un telaio Ford Transit dotato di una trasmissione elettrica e una carrozzeria progettata e costruita secondo le specifiche di Deutsche Post DHL.
Nel 2017, circa 150 furgoni elettrici di pre-produzione saranno costruiti nello stabilimento di StreetScooter ad Aquisgrana (Aachen) in Germania. Deutsche Post DHL utilizza i furgoni elettrici per il suo servizio di consegna pacchi urbano in Germania.
Deutsche Post DHL, StreetScooter e Ford prevedono costruire 2.500 furgoni elettrici entro la fine del 2018. Come i modelli elettrici esistenti StreetScooter Work e Work L – il Work XL potrebbe quindi essere venduto a clienti terzi.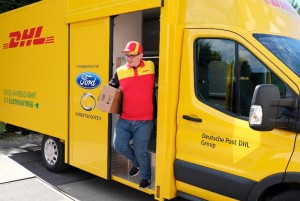 Ogni Work XL potrebbe risparmiare circa cinque tonnellate di CO2 e 1.900 litri di gasolio ogni anno. Con 2.500 veicoli in servizio come previsto, questo potrebbe tradursi in un risparmio complessivo di 12.500 tonnellate di CO2 e 4,75 milioni di litri di carburante ogni anno.
Jürgen Gerdes, membro del consiglio di gestione Post – eCommerce – Parcel, della Deutsch Post Group DHL, ha dichiarato:
"Il nuovo StreetScooter Work XL espande la nostra e-flotta nel segmento dei veicoli commerciali. E' il veicolo perfetto per le consegne pacchi in grandi città e grandi aree urbane, e ci consentirà di far fronte all'aumento del volume dei pacchi in maniera ancora più ecologica e più silenziosa. Con questo impegno, stiamo sottolineando così la nostra intenzione di essere leader del mercato della logistica green".
Steven Armstrong, vice presidente e presidente del Gruppo Ford Motor Company per Europa, Medio Oriente e Africa, ha dichiarato:
"Siamo davvero orgogliosi di questo ambizioso progetto, e della forte partnership che abbiamo sviluppato con Deutsche Post Group DHL e StreetScooter. Questo progetto congiunto ci porter ad essere il più grande produttore europeo di fugoni elettrici ad emissioni zero di medie dimensioni, e non arriva troppo presto. Gli autobus, le automobili, e, naturalmente, i furgoni svolgono un ruolo fondamentale nella nostra vita quotidiana, ma dobbiamo trovare un modo per farli più puliti. Questo progetto è un grande passo in questo cammino".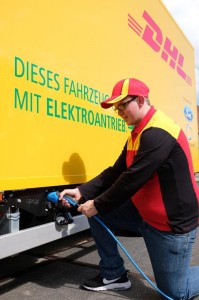 Work XL avrà un volume di carico di 20 metri cubi ed uno spazio di stivaggio per più di 200 pacchi. L'e-furgone è dotato di un sistema modulare di batterie da 30 kWh a 90 kWh di energia, dando un'autonomia complessiva tra 80 e 200 chilometri.
Work XL non solo ha dimensioni e autonomia diverse dai suoi furgoni fratelli – Work (4 metri cubi di volume di carico) e Work L (8 metri cubi di volume di carico) – ma differisce anche in termini di costruzione della carrozzeria.
Il vano di carico del Work XL è dotato di mensole ed è accessibile dalla cabina di guida. Il veicolo può essere caricato tramite il portellone posterior e da una porta laterale scorrevole. Con una capacità di ricarica di fino a 22 kW, il tempo medio di ricarica delle batterie è di tre ore.
In aggiunta al nuovo modello Work XL, più di 3.000 StreetScooter Work e Work L elettrici, oltre alle circa 10.500 Pedelec, sono attualmente in servizio alla Deutsche Post DHL, rendendo il gruppo il più grande operatore di flotta di grandi dimensioni in Germania.
In English
New StreetScooter WORK XL Electric Delivery Van in pre-production
Deutsche Post DHL Group and Ford Unveil the Early Build StreetScooter WORK XL Electric Delivery Van
150 pre-production vehicles to be used for parcel deliveries by the end of 2017
Deutsche Post DHL and Ford are pioneers in electric mobility in Germany
Source: Ford Motor Company
Cologne, Germany, 16 August, 2017. Deutsche Post DHL Group and Ford presented the first of their jointly produced electric delivery vans – or e-van – today in Cologne, Germany.
The vehicle, called the StreetScooter WORK XL, is based on a Ford Transit chassis fitted with a battery-electric drivetrain and a body designed and built to Deutsche Post DHL specifications.
In 2017, around 150 early build e-vans will be manufactured in the StreetScooter plant in Aachen, Germany. Deutsche Post DHL will use the e-vans to support its urban parcel delivery service in Germany. Deutsche Post DHL, StreetScooter and Ford plan to build 2,500 e-vans by the end of 2018. Like StreetScooter's existing electric models – the WORK and WORK L – the WORK XL could be also sold to third-party customers.
Each WORK XL could save around five tonnes of CO2 and 1,900 litres of diesel fuel each year.  With 2,500 vehicles in service as planned, this could result in a total saving of 12,500 tonnes of CO2 and 4.75 million litres of fuel every year.
Jürgen Gerdes, Member of the Board of Management Post – eCommerce – Parcel, at Deutsche Post DHL Group, said:
"The new StreetScooter WORK XL expands our e-fleet in the commercial vehicle segment. It is the perfect vehicle for parcel deliveries in major cities and large urban areas, and will enable us to cope with the rising parcel volumes in an even more environmentally friendly and quieter manner. With this commitment, we are also underlining our claim of being the market leader in green logistics."
Steven Armstrong, group vice president and president, Europe, Middle East & Africa, Ford Motor Company, said:
"We're really proud of this ambitious project, and of the strong partnership we've developed with Deutsche Post DHL Group and StreetScooter. This joint project will be Europe's largest manufacturer of emission-free, medium-sized e-vans, and it doesn't come a moment too soon. Buses, cars, and of course, delivery vans play vital roles in our daily lives, but we have to find a way to make them cleaner. This project is a great step along this path."
The WORK XL will have a load volume of 20 cubic metres and provide stowage space for more than 200 parcels. The e-van is fitted with a modular battery system delivering 30 kWh to 90 kWh of power, giving it a range of between 80 km and 200 km.
The WORK XL not only is different in size and range from its sister vans – the WORK (4 cubic metres load volume) and the WORK L (8 cubic metres load volume) – but differs also in terms of the body construction. The WORK XL's load area is fitted with shelves and is accessible from the driver's cab. The vehicle can be loaded via the tailgate and a kerb-side sliding door. With a charging capacity of up to 22 kW, the average charging time is three hours.
In addition to the new WORK XL model, more than 3,000 StreetScooter WORK and WORK L electric vehicles, plus about 10,500 pedelecs, are currently in service with Deutsche Post DHL, making the group the largest e-fleet operator in Germany.
no images were found

.