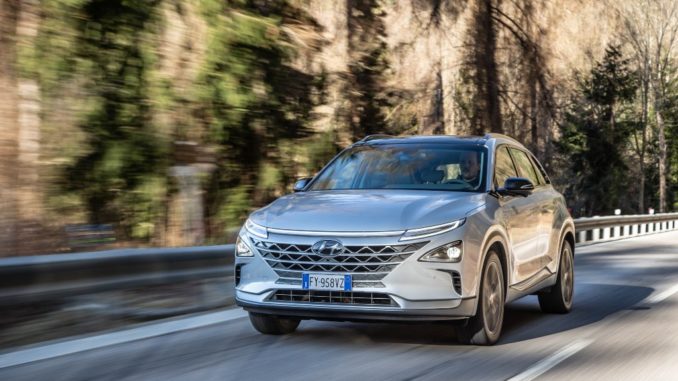 Hyundai Motor Europe presenterà la sua strategia dell'idrogeno e le fuel cell applicate alla mobilità nella SHIFT Mobility Convention – IFA 2020, a Berlino.
Il Presidente e CEO di Hyundai Motor Europe, Michael Cole, terrà il discorso di apertura della Convention che presenterà la transizione di Hyundai da produttore di auto mobili a fornitore di smart mobility. Hyundai ospiterà inoltre un panel di approfondimento dedicato alla mobilità a idrogeno.
Durante la conferenza stampa globale, il Presidente Cole illustrerà la strategia di Hyundai per la mobilità ecosostenibile , condividendo approfondimenti sul nuovo brand IONIQ.

Lo spazio di Hyundai alla conferenza stampa è previsto per il 4 settembre dalle ore 10:45, presso il Conference Center Berlin .
La conferenza stampa si terrà in un format misto tra digitale e fisico, con un numero limitato di partecipanti in loco e la possibilità di seguire l'evento via web, attraverso l' IFA Xtended Space. Il discorso sarà trasmesso anche in live streaming sul canale YouTube di IFA.
In aggiunta al discorso durante la conferenza stampa globale, Hyundai organizzerà anche un palcoscenico digitale con un panel dedicato alla mobilità a idrogeno intitolato "Fuelling the future paving the way to a Hydrogen Society". Il panel sarà aperto da Albert Biermann, Presidente e Head of R&D di Hyundai Motor Group, che condividerà la visione del brand su lla coesistenza tra diverse soluzioni di mobilità ecosostenibile, per poi passare a un approfondimento sulla tecnologia a idrogeno fuel cell .
Durante il panel, Hyundai ospiterà una discussione aperta sulle fonti di energia pulita per la mobilità a zero emissioni del futuro, tra cui la tecnologia fuel cell e i prossimi passi verso una società a idrogeno.
Fonte: Hyundai Italia