Fonte: ExtraEnergy
Tanna, Germania. Gennaio 2016. Le bici cargo elettricasmente assistite sono una tendenza calda nel settore del ciclismo.
Sia la domanda che i nuovi modelli in arrivo sul mercato sono in rapida evoluzione.
ExtraEnergy metterà questo settore del mercato Pedelec sotto il microscopio in aprile con il più completo test dei Pedelec di carico dell'Europa di oggi.
Appuntamenti per le prove di primavera 2016
dal 6 aprile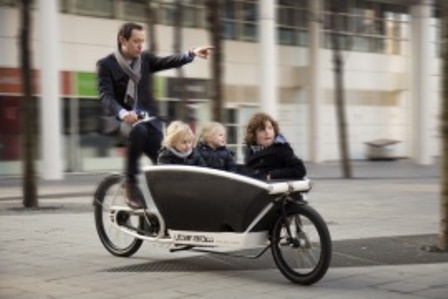 Consegna di pedelec ed e-bike
dal 20 aprile
Consegna delle bici da carico
dal 11 aprile
Prove di bici, compresi i test di off-road ed ergonomia, seguiti dalle prove delle bici da carico
dal 21 aprile
Registrazione per la ripubblicazione
Dati del test di Pedelec cargo: 21 al 29 Aprile 2016
Dove: percorsi ExtraEnergy da turismo e di prova di tutti i giorni a Tanna, Germania.
In English
Special Cargo Pedelec Test 2016
Source: ExtraEnergy
Tanna, Germany. January 2016. Electrically assisted cargo bikes are a hot trend in the cycling industry. Both demand and the range of new models on the market are developing rapidly.
ExtraEnergy will put this sector of the pedelec market under the microscope in April with Europe's most comprehensive cargo pedelec test to date.
Deadlines for spring 2016 test
by 6th April
Delivery of pedelecs and e-bikes
by 20th April
Delivery of cargo bikes
by 11th April
Riding tests, including off-road and ergonomics tests, followed by cargo bike ride testing
by 21st April
Registration for re-publication
When cargo pedelec test: 21 – 29 April, 2016
Where: ExtraEnergy touring and everyday test circuits in Tanna, Germany
no images were found

.