Fonte: Venturi
Punta del Este, Uruguay. 19 Dicembre 2015. La gara a Punta del Este Uruguay è stata frustrante per il Venturi Formula-e team di Monaco. Durante il turno di qualifica, Jacques Villeneuve è decollato nel gruppo 4 cercando di guadagnare la migliore posizione in griglia, ma ha finito per avere un violento incidente alla curva 17. E' arrivato veloce in curva, ma la sua aggressiva frenata in ritardo non ha pagato.
"Stavo frenando e le mie ruote anteriori si sono bloccate, non sono riuscito a controllare l'auto", ha detto il pilota canadese appena dopo il suo incidente.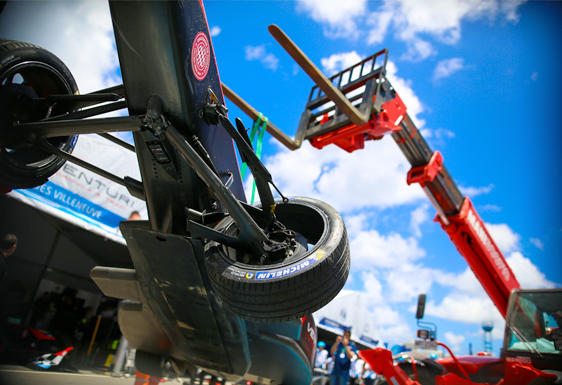 La macchina era rotta, la sospensione era completamente distrutta e c'è una crepa nel telaio. Non è possibile riparare tanti danni ed il team ha deciso di concentrarsi sulla giornata di test di domenica per l'ex campione di Formula Uno (1997) e così la sua partecipazione alla gara di Uruguay è stata annullata.
Stephane Sarrazin, ha avuto una sessione di qualifica difficile sulla pista scivolosa come conseguenza della sabbia ed è finito in 13esima posizione sulla griglia. Tuttavia, come al solito, con pazienza e determinazione Stephane ha fatto un ottimo lavoro e ha tenuto un buon ritmo dal primo giro, sorpassando Piquet ad esempio e finendo la gara in nona posizione. Stéphane ha spiegato dopo la gara:
"Oggi è stato molto difficile per noi, non avevamo la velocità, abbiamo fatto alcuni errori con il set-up in qualifica e con la nostra strategia durante la gara. Volevamo fare una breve prima parte ma questo non ha funzionato".
Ora la squadra è totalmente concentrata sulla giornata di test di domenica al fine di preparare il resto della stagione e il quarto turno del Campionato di Formula-e che si terrà a Buenos Aires, Argentina il 6 febbraio.
In English
Black Saturday in Punta Del Este for Venturi Formula-e Team
Source: Venturi
Punta Del Este, Uruguay, December 19th, 2015.The race in Punta Del Este Uruguay has been frustrating for the Monaco based Venturi Formula-e team. During the qualifying round Jacques Villeneuve took off with group 4 to try to earn the best position on the grid but ended up having a violent accident at turn 17.  He was coming into the turn quickly but his aggressive late braking didn't pay off
"I was braking and my front wheels were blocked, I was unable to control the car" said the Canadian driver just after his accident".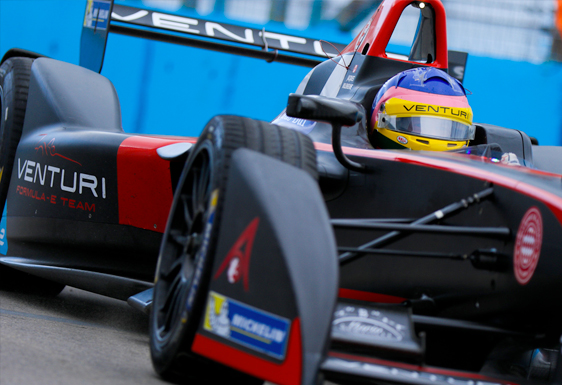 The car is broken, the suspension is totally destroyed and there is a crack in the chassis. It is not possible to repair so much damage and with one car left, the team decided to focus on the Sunday testing day for the former Formula One champion (1997) and his participation in the Uruguay race has been cancelled.
Stephane Sarrazin, had a difficult qualifying session on the slippery and sandy track and ended up in 13th position on the grid. However, as usual, with patience and determination Stephane did a great job and held a very good pace from lap one, overtaking Piquet for example and ending the race in 9th position. Stéphane explained after the race :
"Today it has been really difficult for us, we had no speed, we made some mistakes with the set-up in qualifying and  with our strategy during the race. We wanted to make a shorter first part and he didn't worked."
Now the team is totally focussed on the test day Sunday in order to prepare the rest of the season and the round 4 of the Formula-e championship which will take place in Buenos Aires, Argentina on February 6th.
no images were found

.