La FIA lancia un concorso per telai e batterie della Formula E
Fonte: Formula E
Ginevra, Svizzera. 4 Marzo 2016. Il Consiglio Mondiale della FIA in una riunione tenutasi oggi a Ginevra ha approvato il lancio di due offerte: trovare un fornitore unico per la batteria e uno per il telaio.
Le offerte sono per la quinta stagione del campionato di auto elettriche, che si svolgerà durante il biennio 2018/2019.
La decisione pone le basi per il raggiungimento di un duplice obiettivo strategico: l'uso di una sola auto per tutta la durata della gara, pur mantenendo i costi sotto controllo.
La gara d'appalto per la batteria è di un fornitore unico, come è stato il caso con la Williams per le stagioni da uno a quattro. Il fornitore del telaio – attualmente Dallara – avrà anche un accordo esclusivo.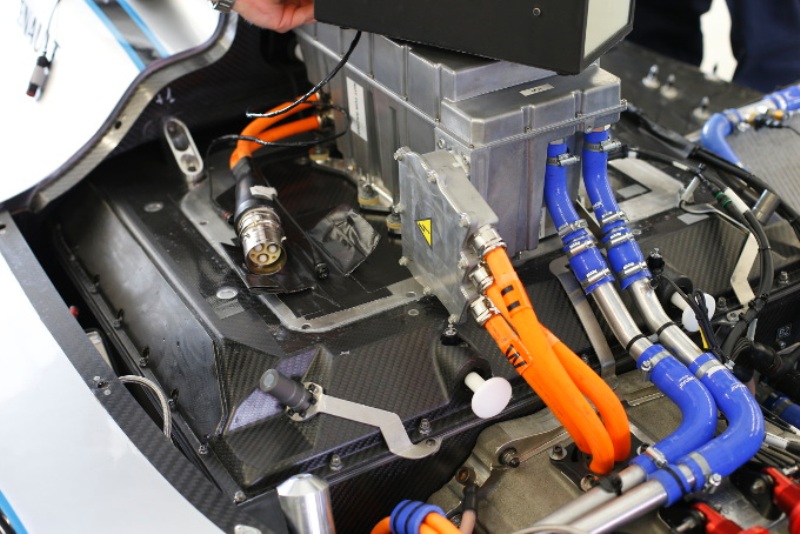 La mossa segue la filosofia adottata per l'evoluzione della normativa in materia di powertrain: un unico fornitore per cominciare, quindi aprire alla concorrenza nella fase successiva. Il piano è che una volta che il suddetto periodo contrattuale sia finito, i partecipanti saranno in grado di o sviluppare la propria batteria o continuare ad utilizzare quella esistente, come è il caso in questa stagione con il powertrain originale.
"La decisione del Consiglio Mondiale significa che la Formula E fa un significativo passo avanti, consolidando la sua posizione come una delle più importanti serie di gare a livello globale", ha commentato il professor Burkhard Goeschel, presidente della Commissione auto elettrica e Campionato Nuova Energia (ENECC) della FIA.

"Abbiamo lavorato a lungo con il promotore e le principali parti interessate nel motorsport per raggiungere questo risultato, che condividiamo con tutte le squadre di Formula E. Abbiamo tutti la stessa visione a lungo termine, vale a dire creare le migliori condizioni possibili in cui sviluppare questa nuova tecnologia. Vogliamo anche che questo sport a diventi la piattaforma ideale per testare nuove soluzioni in modo che sia l'apice quando si tratta di automobili elettriche. Allo stesso tempo vogliamo assicurare che sia accessibile a tutti, con costi sostenibili e che fornisca tutti i requisiti per la produzione di uno spettacolo che sia attraente per il pubblico più vasto possibile. "
Il CEO di Formula E Alejandro Agag ha detto:
"L'apertura del bando di gara per la quinta stagione dell'alimentazione a batteria ispirerà ulteriore sviluppo dell'elemento chiave della tecnologia dell'auto elettrica. La nuova batteria sarà più potente e avranno maggior autonomia rispetto all'unità corrente. Questo è esattamente il tipo di modifica del passo tecnologico che ha ispirato la creazione della Formula E. Mantenendo un unico fornitore, ci sarà anche la garanzia che i costi sono tenuti sotto controllo e creano una solida base per la continua crescita della serie come un marchio globale di intrattenimento".
La decisione di continuare con un unico fornitore per il telaio deriva anche dal desiderio di controllare i costi. I punti chiave della gara sono state finalizzate alla produzione di vetture attraenti che sono concepite con uno spirito che guarda al futuro, che è esattamente la caratteristica unica di questo campionato.
Inoltre, questa decisione mantiene anche una delle caratteristiche uniche del campionato, con la sua caratteristica principale che è la fonte di energia – la catena cinematica e la batteria – piuttosto che l'aerodinamica. Con questo in mente, la durata del contratto del fornitore di telai sarà collegata a quella della alimentazione della batteria. In entrambi i casi – il telaio e la batteria – i fornitori esistenti sono autorizzati a fare offerte per le nuove gare d'appalto.
Come è stato il caso nella breve storia del campionato fino ad oggi, la FIA e Formula E Holdings lavoreranno insieme per armonizzare i regolamenti con sviluppi tecnici nel settore elettrico di mobilità, rafforzando così ulteriormente i legami tra le corse e le realtà della vita di tutti i giorni.
Le due gare saranno pubblicati sul sito www.fia.com l'8 marzo e le candidature devono essere proposte prima dell'8 giugno di quest'anno.
In English
FIA puts Formula E battery and chassis supply out to tender
Source: Formula E
Geneva, Switzerland. March 4, 2016. The FIA World Council has approved the launch of two tenders: one to find a sole supplier for the battery and one for the chassis, at a meeting held today in Geneva.
The tenders are for season five of the all-electric championship, which will take place during 2018/2019. The decision lays the foundations for reaching a dual strategic aim: the use of a single car for the entire duration of the race, while also keeping costs under control.
The tender for the battery is for a sole supplier, as has been the case with Williams for seasons one to four. The chassis supplier – currently Dallara – will also be for an exclusive arrangement.
The move follows the philosophy adopted in the evolution of the regulations regarding the powertrain: a single supplier to begin with, then open to competition in the next phase. The plan is that once the aforementioned contract period is over, entrants will be able to either develop their own battery or continue using the existing one, as is the case this season with the original powertrain.
"The decision of the WMSC means that Formula E takes a significant step forward, consolidating its position as one of the most important race series on a global level," commented Professor Burkhard Goeschel, President of the FIA's Electric and New Energy Championship Commission (ENECC).

"We worked at length with the promoter and major stakeholders in motorsport to reach this result, which we share with all the Formula E teams. We all have the same vision for the long term, namely to create the best possible conditions in which to develop this new technology. We also want this sport to become the ideal platform for testing new solutions so that it is the pinnacle when it comes to electrically powered cars. At the same time we want to ensure it is accessible to all, with sustainable costs and that it provides all the prerequisites to produce a show that is attractive to the widest possible audience."
Formula E CEO Alejandro Agag said:
"Opening up the tender for the season five battery supply will inspire further development in the key element of electric car technology. The new battery will be more powerful and have a longer range than the current unit. This is exactly the type of technological step change that Formula E was created to inspire. By keeping with a single supplier, we will also ensure that costs are kept under control and create a solid foundation for the continued growth of the series as a global entertainment brand."
The decision to continue with a sole supplier for the chassis also stems from a desire to control costs. The key points of the tender were aimed at producing attractive cars that are ingrained with a spirit that looks to the future, which is exactly this championship's unique feature.
Furthermore, this decision also maintains one of the unique characteristics of the championship, with its defining feature being the energy source – the powertrain and battery – rather than aerodynamics. With this in mind, the duration of the chassis contract will be linked to that of the battery supply. In both cases – the chassis and the battery – the existing suppliers are entitled to bid for the new tenders.
As has been the case in the short history of the championship to date, the FIA and Formula E Holdings will work together to harmonise the regulations with technical developments in the electric mobility sector, thus strengthening still further the links between racing and the realities of daily life.
The two tenders will be posted on fia.com on March 8 and candidatures must be in before June 8 this year.
no images were found

.