Il Gruppo Renault stabilisce la sede in Israele dell'Open Innovation Lab
Open Innovation Lab metterà in risalto i veicoli elettrici e favorirà la creatività concentrata sulle mobilità del futuro.
Fonte: Renault
Tel Aviv, Israele. 14 Giugno 2016. Il Gruppo Renault ha annunciato oggi l'apertura dell'Open Innovation Lab a Tel-Aviv, Israele. Lo spazio creativo si basa nel cuore della Scuola Porter di Studi Ambientali, una rinomata università di tecnologia della città.
Il laboratorio lavorerà su argomenti di veicoli elettrici, che vanno dal post-vendita alla sicurezza informatica. La creazione dell'Open Innovation Labs è un altro passo nel portare avanti la strategia dell'innovazione Renault-Nissan. Cinque anni dopo l'apertura del primo laboratorio di innovazione nella Silicon Valley, l'Alleanza ha scelto Israel, che si colloca tra i primi cinque ecosistemi favorevoli per le start-up ed è in particolare la casa anche per le risorse di ricerca di fama universitari.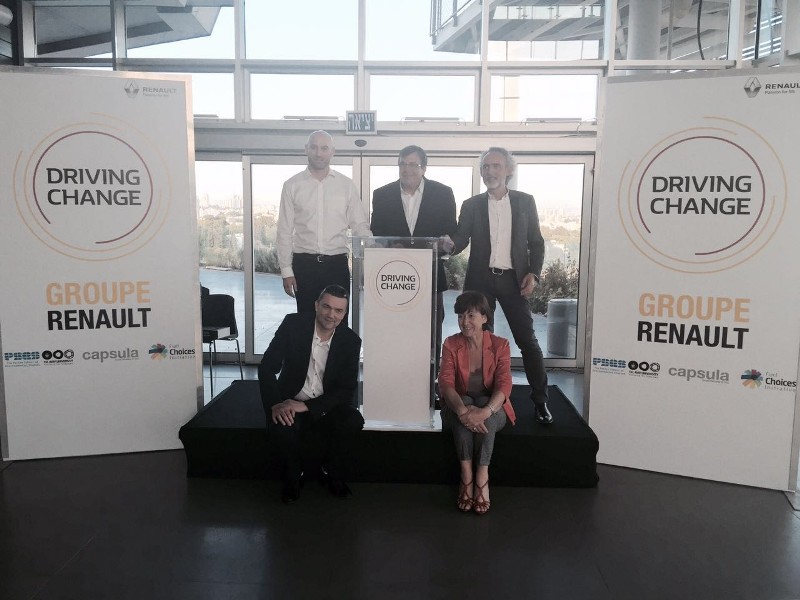 Il nuovo Open Innovation Lab è il risultato di uno sforzo di collaborazione tra Renault, nell'ambito dell'Alleanza Renault-Nissan, Carasso Motors (importatore Renault in Israele) e l'Istituto Tel-Aviv di innovazione nei trasporti.
Oggi a Tel Aviv in occasione della cerimonia dell'inaugurazione, Nadine Leclair, Renault Expert Fellow, ha consegnato in mano le chiavi di una delle due auto elettriche Renault, una Zoe ed una Twizy al professor Dan Rabinowitz, Direttore della Scuola Porter di Studi Ambientali, in presenza di Yoel Carasso, presidente di Carasso Motors, Itzik Weitz, CEO di Carasso Motors ed Eyal Rosner, Direttore di Alternative Fuels Administration.
Serge Passolunghi, Direttore Renault Innovation Silicon Valley, ha dichiarato:
"Questa apertura fa parte della politica dell'Alleanza sulla presenza globale a monte, nella ricerca e l'innovazione allo stesso modo. L'ambiente dinamico in Israele è l'occasione che servirà sia a promuovere il veicolo elettrico ed a promuovere la creatività sulla mobilità ".
Nadine Leclair, Renault Expert Fellow, ha dichiarato:
"Questa scelta evidenzia anche l'audacia della dell'Alleanza per quanto riguarda l'offensiva di prodotti e servizi, che ora ha la possibilità di attingere allo spirito di iniziativa e le persone di talento nell'ecosistema israeliano. Il successo si baserà su progetti di ricerca e innovazione che sono direttamente applicabili ai nostri prodotti. "
In English
Renault inaugure son Open Innovation Lab en Israel
Groupe Renault establishes Open Innovation Lab in Israel
Source: Renault
June 14th 2016. Open Innovation Lab will emphasize electric vehicles and foster creativity focused on future mobility.
Groupe Renault today announced the opening of The Open Innovation Lab in Tel-Aviv, Israel. The creative space is based in the heart of the Porter School of Environmental Studies, a renowned technology university in the city.
The Lab will work on electric vehicle topics, ranging from after-sales to cybersecurity. The creation of the Open Innovation Labs is another step in advancing the Renault-Nissan Alliance's innovation strategy. Five years after opening the first Innovation Lab in Silicon Valley, the Alliance chose Israel, which ranks in the top five favorable ecosystems for start-ups and is notably home to equally renowned university research resources.
The new Open Innovation Lab is the result of a collaborative effort between Renault, as part of the Renault-Nissan Alliance, Carasso Motors (Renault importer in Israel) and the Tel-Aviv Institute of Innovation in Transportation.
Today in Tel Aviv in celebration of the inauguration, Nadine Leclair, Renault Expert Fellow, handed over the keys to a two Renault electric cars, a ZOE and a Twizy to Professor Dan Rabinowitz, Director of the Porter School of Environmental Studies, in the presence of Yoel Carasso, Chairman of Carasso Motors, Itzik Weitz, CEO of Carasso Motors, and Eyal Rosner, Director of the Alternative Fuels Administration.
Serge Passolunghi, Director of Renault Innovation Silicon Valley, said:
"This opening is part of the Alliance policy on global presence upstream, in research and innovation alike. The dynamic envi-ronment in Israel is an opportunity that will serve both to promote the electric vehicle and foster crea-tivity on mobility."
Nadine Leclair, Renault Expert Fellow, said:
"This choice was also informed by the boldness of the Alliance's product and services offensive, which now has the opportunity to draw on the spirit of initiative and the talented individuals in the Israeli ecosystem. Success will be based on research and innovation projects that are directly applicable to our products."
no images were found

.