• Oltre 1.000 bambini delle scuole competono nel Meeting di Goblins 2015
• Folla record al Goodwood Motor Circuit per il più grande evento di gara del Greenpower Education Trust orientata verso bambini da 9 a 11 anni di età
• Funtington Primary, con sede a Chichester, si aggiudica quattro premi
• I presentatori CBBC Blue Peter partecipano con le auto elettriche al Goblin
Fonte: GreenPower Education Trust
West Sussex, Gran Bretagna. 13 luglio 2015: Greenpower Education Trust ha effettuato la Gathering of Goblins nel Goodwood Motor Circuit la scorsa domenica 12 luglio, con un totale di 84 squadre scolastiche allineate sulla griglia di partenza. Celebrando più di dieci anni della manifestazione, è stata la più grande e la migliore finale dall 'inizio del Gathering Goblin, con una folla di oltre 2.000 persone.
Le classi IET Formula Goblin per 9-11 anni di età è la categoria più giovane di gara di Greenpower, essendo il 'Raduno' l'evento finale di questa stagione per quel gruppo di età. Conosciuto come gara di punta della carità, le squadre delle scuole – ciascuna include un massimo di 12 bambini – viaggiano alla famosa pista del West Sussex da tutto il Regno Unito per competere.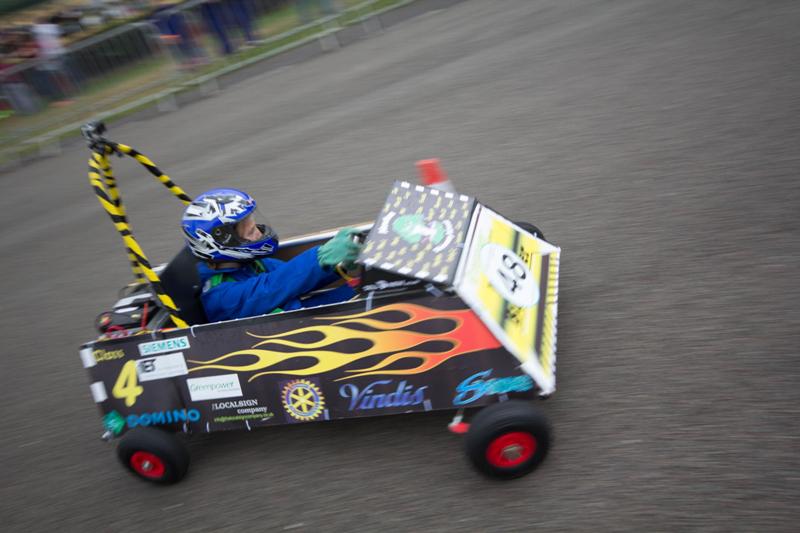 Le auto elettriche da corsa vengono costruite da loro stessi, alle scuole primarie vengono fornite con delle monoposto Goblins (in kit) che possono raggiungere velocità fino a 15 mph.
Il Gathering Goblin è costituita da quattro gare, vale a dire lo slalom, drag, sprint e il 'giro dei campioni' – che coinvolge tutte le auto che devono completare un intero giro della pista di Goodwood di 2,4 miglia. L'obiettivo principale di Greenpower è quello di ispirare la prossima generazione di ingegneri tanto necessari attraverso l'istruzione hands-on STEM nelle scuole ed il Goblin per contribuisce a rendere che questo accada.
Ospiti speciali alla finale del Goblin di quest'anno hanno incluso il CBBC Blue Peter presentato da Barney Harwood e Radzi Chinyanganya. Partecipando a tre delle quattro gare, CBBC hanno dato un'impronta molto importante del ben noto e molto amato spettacolo per bambini.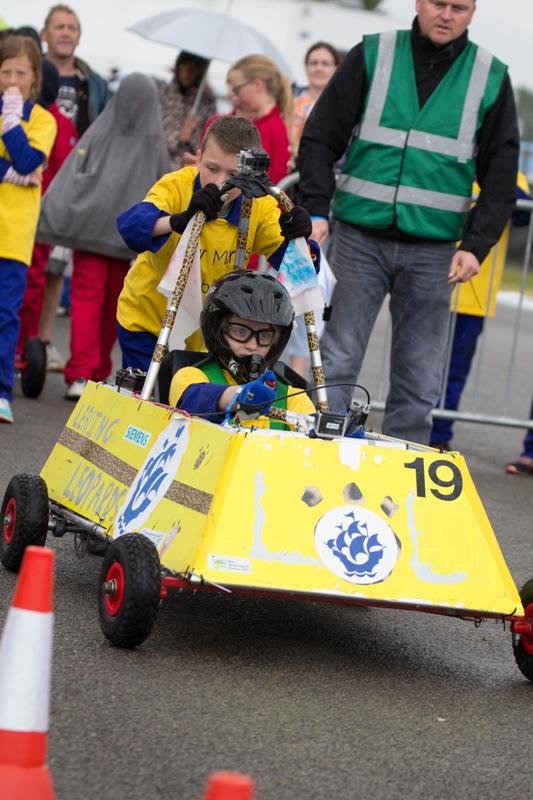 Greenpower Education Trust CEO, Jeremy Way, ha dichiarato:
"Congratulazioni a tutti i nostri team in competizione al Goblin, è stato un evento fantastico. Ogni anno il Raduno di Goblin diventa sempre migliore – non so come faremo a migliorare quello del 2015 l'anno prossimo, ma io sono obiettivamente aspro ed è possibile, principalmente con il coinvolgimento e l'entusiasmo puro e semplice di tutti i soggetti coinvolti.

"Essere un ente di beneficenza che conta sul supporto degli sponsor è affidabile per ospitare eventi di questo tipo, al fine di portare davvero l'ingegneria alla vita dei bambini della scuola in un ambiente divertente e stimolante. Un grande ringraziamento va a Siemens, Silverline e IET per il loro continuo impegno per la formazione dei futuri ingegneri nel Regno Unito".
I risultati finali del Gathering Goblin 2015
Slalom 1                      Funtington Primary – XLR8
Slalom 2                      Newick C of E School – Newick Proton
Slalom 3                      South Malling C of E Primary – Purple Penguins
Drag 1                         Bosmere Junior School – The Bosmere Bus
Drag 2                         Funtington Primary – XLR8
Drag 3                         Bursley Academy – Goblin 3
Sprint 1                        Summerlea CP School – Kit Car 1
Sprint 2                        Bursley Academy – Goblin 3
Sprint 3                        Funtington Primary – XLR8
Lap of champions 1      Twyford School – Twyford School
Lap of champions 2      Four Marks C of E Primary School – Green Goblin
Lap of champions 3      Newick C of E School – Newick Proton
Best bodywork Swanbourne Primary
Greenest bodywork       Wickham Primary School – Wickham Wheelies
Best presented team     St Faith's School
Spirit of Greenpower     St Margaret's Primary School
Portfolio award Newton Primary School
Overall winner               Funtington Primary – XLR8
no images were found

.