L'aeroporto di Sydney e BYD annunciano il primo bus elettrico dell'Australia
Fonte: BYD
Sydney, Australia. 31 Agosto 2016. In una cerimonia svoltasi il 31 agosto 2016, l'aeroporto di Sydney e BYD Company Ltd. hanno presentato il primo autobus elettrico per l'impiego in servizi aeroportuali dell'Australia nella prima operazione commerciale di una flotta di bus puro elettrico in Australia, come parte di un investimento di 5 milioni di dollari in trasporto di terra ecologico, dimostrando il forte impegno tecnologico di Sydney Airport e BYD per la sostenibilità. L'evento ha visto la partecipazione di Kerrie Mather, Managing Director e CEO di Sydney Airport Corporation Limited, Luca Todd, CEO di Carbridge, Mark Coure, Deputy Government Whip of New South Wales e diversi rappresentanti dei media locali.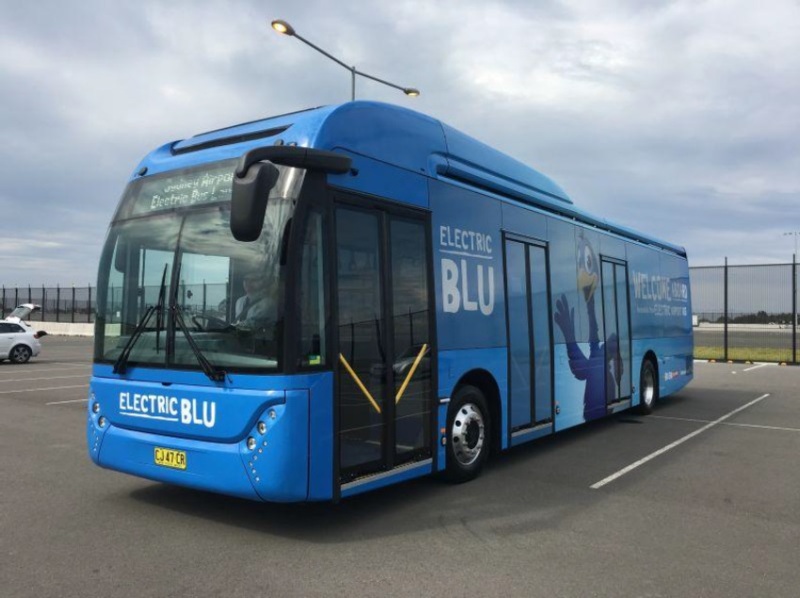 Il bus Blu Electric è il primo di una flotta di sei autobus elettrici – fornito dal produttore globale leader mondiale nel settore degli autobus elettrici BYD in una joint venture con Carbridge – per essere operativo entro la fine di quest'anno, in sostituzione dell'esistente flotta di autobus diesel dell'aeroporto che effettua il percorso di 7 km di navetta tra i terminal di zona T3 e T2 ed il Blu Emu Car Park.
Questi autobus elettrici hanno una capacità di carico di 70 passeggeri, appositi portabagagli e portaoggetti per lo stoccaggio appositamente progettati per un'ottima funzionalità e hanno un'autonomia di 400 km con una singola carica, che può portare a 100 i viaggi di trasferimento con un pieno di energia, fornendo trasporto pulito e sostenibile per i due milioni di viaggiatori, visitatori e operatori aeroportuali che utilizzano il servizio di navetta Blu Emu ogni anno.
La flotta Blu Emu raggiungerà una riduzione delle emissioni di carbonio di circa 160 tonnellate all'anno e migliorerà la qualità dell'aria a livello locale attraverso il funzionamento a zero emissioni. La flotta avrà anche livelli più bassi di rumorosità esterna, ridurrà i liquidi di scarto a zero e diminuirà la quantità di materiale tossico generato durante la manutenzione.
"Siamo orgogliosi di essere il primo aeroporto australiano ad introdurre bus elettrici al nostro servizio e nelle operazioni di trasporto a terra, che consentirà di ridurre la nostra impronta di carbonio e migliorare l'esperienza dei passeggeri", ha dichiarato Kerrie Mather. "Carbridge è lieta di consegnare a Sydney Airport il primo autobus aeroportuale elettrico di questo paese e, in collaborazione con BYD siamo entusiasti di essere all'avanguardia della produzione di bus elettrico in Australia", ha detto Luke Todd.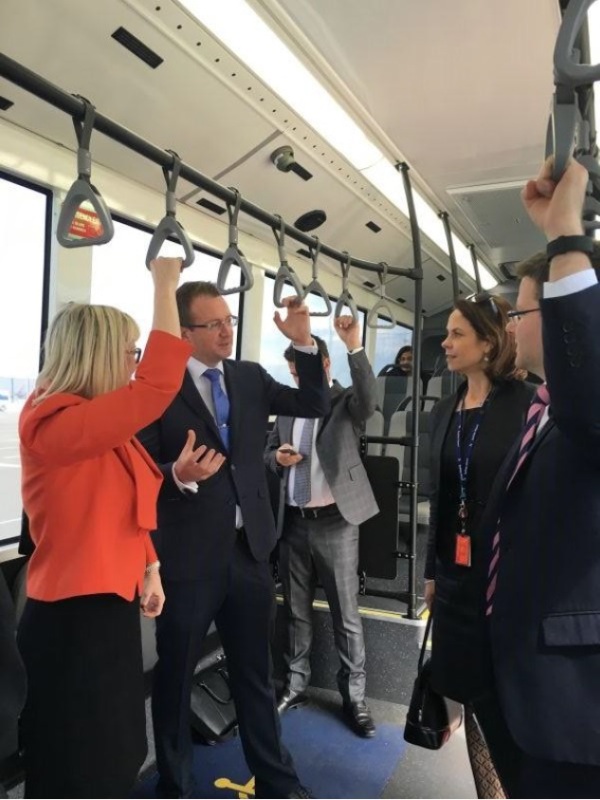 L'Aeroporto di Sydney ha investito in stazioni e altre attrezzature di ricarica per supportare la distribuzione della nuova flotta di autobus elettrici.
L'aeroporto attualmente conduce prove di auto elettriche come parte della sua flotta di trasporto a terra e indaga riguardo le stazioni di ricarica ad energia solare per ridurre ulteriormente le emissioni di carbonio, mentre la ricerca e lo sviluppo è in corso per il riciclo e il riutilizzo delle batterie e altri componenti. L'aeroporto ha anche implementato una serie di altre iniziative ambientali, tra cui: raggiungimento del Livello Due dell'Aeroporto per quanto riguarda l'accreditamento di carbonio in riconoscimento dei suoi sforzi per mappare, gestire e ridurre le emissioni di carbonio; l'istituzione di un obiettivo di riduzione di carbonio del 25% per passeggero entro il 2020 e il raggiungimento di una riduzione del 18% negli ultimi cinque anni; compensare le emissioni di carbonio attraverso il programma Greenfleet; l'installazione di illuminazione ad alta efficienza energetica; investire per supportare gli aeromobili di nuova generazione più puliti, più silenziosi e più efficienti nel consumo di carburante; e l'implementazione e supporto di altre apparecchiature elettriche e veicoli come rimorchiatori elettrici.
Australia si dimostra un mercato promettente per le soluzioni di sviluppo sostenibile di BYD. In aggiunta alla recente introduzione dei suoi autobus elettrici puri come pioniere del trasporto elettrificato nel paese, la società ha anche stabilito una rete di distribuzione di carrelli elevatori elettrici a Sydney, Melbourne e Brisbane, con oltre 20 ordini già posizionati per i suoi diversi modelli di carrelli elevatori, ed ordini stimati per altri 100 unità nei prossimi 6 a 12 mesi. Riguardo i veicoli passeggeri, una berlina crossover elettrica BYD e6 è stata recentemente consegnata ad operare nell'aeroporto di Sydney, con un ulteriore ordine per i futuri piani di altre 10 di unita. BYD per il mercato australiano continuerà a concentrarsi sul bus K9, il coach C6, la berlina crossover e6 ed i suoi numerosi modelli di carrelli elevatori da fornire agli operatori del trasporto e della logistica.
Durante il viaggio inaugurale, Kerrie Mather, Luca Todd, e Mark Coure, sono rimasti impressionati dalle prestazioni, la qualità e il silenzio del veicolo
In English
Sydney Airport and BYD Unveil Australia's First Electric Airport Bus
Source: BYD
Sydney, Australia. 31st August 2016. In a ceremony held on August 31, 2016, Sydney Airport and BYD Company Ltd. unveiled Australia's first pure electric airport bus in the first commercial operation of a pure electric bus fleet in Australia, as part of a $5 million investment in environmentally friendly ground transportation technology, delivering on Sydney Airport's and BYD's commitment to sustainability. The event was attended by Kerrie Mather, Managing Director & CEO of Sydney Airport Corporation Limited, Luke Todd, CEO of Carbridge, Mark Coure MP, Deputy Government Whip of New South Wales – and several local media representatives.
The Electric Blu bus is the first of a fleet of six electric buses – supplied by the world's leading global electric bus manufacturer BYD in a joint venture with Carbridge – to be operational by the end of this year, replacing the airport's existing diesel bus fleet servicing the 7 km shuttle route between the T2/T3 terminal precinct and the Blu Emu Car Park. These state-of-the-art electric buses have a carrying capacity of 70 passengers, feature purpose-designed luggage storage racks and have a range of 400km on a single charge, which can make up to 100 transfer journeys on a single charge, providing clean and sustainable transportation for the two million travellers, visitors and airport workers who use the Blu Emu shuttle service every year. The Blu Emu fleet will deliver carbon emission reductions of approximately 160 tons per year and improve local air quality through zero tailpipe emissions. The fleet will also lower external noise levels, reduce waste fluids to zero and decrease the amount of toxic material generated during servicing.
"We're proud to be the first Australian airport to introduce electric buses to our Parking and Ground Transport operations, which will reduce our carbon footprint and enhance the passenger experience," said Kerrie Mather. "Carbridge is delighted to deliver to Sydney Airport this country's first electric airport bus and in partnership with BYD we are excited to be at the forefront of electric bus manufacturing in Australia," said Luke Todd.
Sydney Airport has invested in charging stations and other ancillary equipment to support the deployment of the new electric bus fleet. The airport is also currently conducting electric car trials as part of its ground transport fleet and investigating solar-powered charging stations to further decrease carbon emissions, while research and development is underway for recycling and reuse of batteries and other components. The airport has also implemented a range of other environmental initiatives, including: achievement of Level Two Airport Carbon Accreditation in recognition of its efforts to map, manage and reduce carbon emissions; establishment of a 25% carbon reduction target per passenger by 2020 and achievement of an 18% reduction over the past five years; offsetting carbon emissions through the Greenfleet program; installing energy efficient lighting; investing to support cleaner, quieter and more fuel efficient next generation aircraft; and implementing and supporting other electric equipment and vehicles such as electric tugs.
Australiais proving a promising market for BYD's sustainable development solutions. Additionally to the recent introduction of its pure electric buses to pioneer electrified transportation in the country, the company has alsoestablished an electric forklift distribution network in Sydney, MelbourneandBrisbane;with over 20 orders already placed for its different forklift models, and estimatedorders for another 100 units in the next 6 to 12 months.As for passenger vehicles, a BYD e6 pure electric crossover sedan has recently been delivered to operate in the Sydney Airport, with an additional order for another 10 units.BYD's future plans for the Australian marketwill continue to focus on the K9bus, the C6coach,thee6 crossover sedan and its several forkliftmodels to supply mainlytransport and logistics operators.
Photo:
The Electric Blu Bus to operate Sydney Airport's shuttle service.
On the inaugural ride, Kerrie Mather, Luke Todd, and Mark Coure MP, were impressed by the vehicle's performance, quality and silence.
no images were found

.