Il Bus sarà in prova in diversi itinerari per uno studio di sei mesi del pacchetto propulsore
Fonte: BYD
Singapore. 8 Agosto 2016. BYD, il più grande produttore al mondo di batterie ricaricabili e veicoli elettrici (EV), ha dimostrato la volontà di provare un bus elettrico puro a Singapore.
Attualmente, il mercato degli autobus pubblici di Singapore utilizza autobus con motori a combustione interna alimentati a gasolio. Lo studio di 6 mesi vedrà il bus BYD K9 – che funziona in modo completamente elettrico – introdotto nei servizi di autobus Go Ahead di SG che operano da Loyang Depot.
Oltre Singapore, BYD aveva anche collaborato con Go Ahead nel Regno Unito, in cui uno dei loro autobus elettrici viene usato con successo da due anni e mezzo.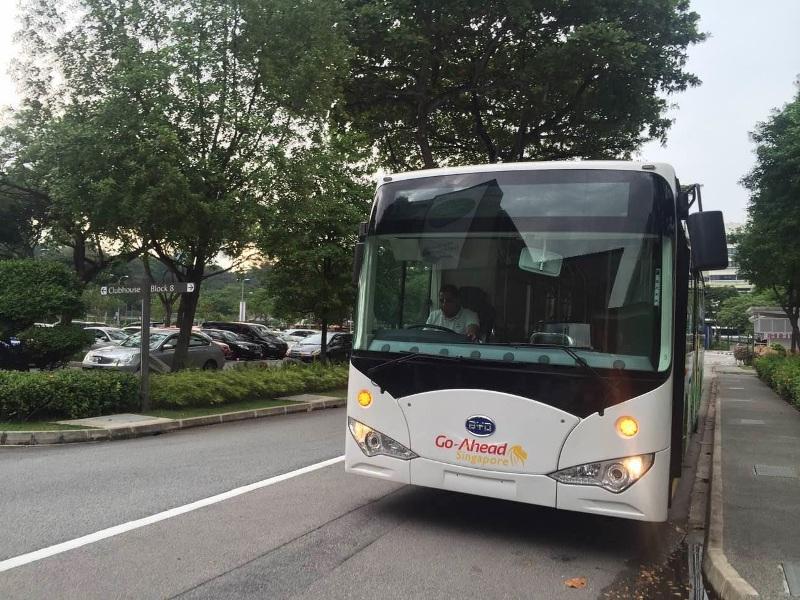 Gli autobus e taxi elettrici BYD operano in oltre 200 città, tra cui Los Angeles, Kyoto e Kuala Lumpur, per aiutare le città a ridurre le emissioni di carbonio ed offrire un servizio più silenzioso e confortevole ai residenti.
Liu Xueliang, General Manager di BYD regione Asia Pacifico ha detto:
"Lavorare con LTA, gruppo smart e Go-Ahead, è un grande onore per BYD e per portare il primo autobus elettrico puro a Singapore. Gli autobus elettrici hanno il potenziale di ridurre le emissioni di carbonio e migliorare la qualità dell'aria per un ambiente di vita migliore. BYD è impegnata a fornire il trasporto verde e sostenibile globale terra tra cui e-bus, e-taxi, e-furgoni, così come e-camion, ecc "
Ha detto il dottor Bhupendra Kumar Modi, fondatore del gruppo smart:
"Il nostro obiettivo finale è quello di fornire il trasporto a prezzi accessibili e non inquinato a Singapore. E 'quindi importante mettere a disposizione l'operatore e l'autorità con un prodotto di prima classe e la rete di supporto. "
Secondo i risultati pubblicati sulla E-Mobility Technology Roadmap di Singapore, i veicoli della flotta quali autobus e taxi offrono il maggiore potenziale per l'elettrificazione. Attualmente, ci sono circa 18.000 gli autobus pubblici e privati ​​in servizio sulle strade di Singapore, che rappresentano circa il 2 per cento della popolazione veicolo esistente. Con una media di 227 km percorsa ogni giorno sulle strade, gli autobus sono al secondo posto dei veicoli quotidiani della flotta utilizzata in funzione. Questo è particolarmente vero per i bus pubblici, che sono in servizio per circa 18 ore e viaggiano per un picco stimato di 250 chilometri ogni giorno.
Il bus di prova di 6 mesi di BYD esaminerà le sfide e se un bus elettrico è in grado di soddisfare le esigenze operative dell'intera giornata di un autobus pubblico convenzionale, senza compromettere l'affidabilità e la facilità di manutenzione, in un ambiente locale. E' anche parte della Fase 2 del test Singapore EV Test-bed co-guidato dal Land Transport Authority(LTA) e da Economic Development Board (EDB), che mira a esplorare le operazioni della flotta base quale gli EV car-sharing, bus elettrici e le flotte di taxi elettrici.
Il bus K9, che è lungo 12 metri, ha una capacità di trasporto di 80 passeggeri ed è accessibile ai disabili.
Il bus utilizza le batterie al litio ferro fosfato il cui brevetto è proprietà BYD offrendo lungo ciclo di carica scarica, sicurezza contro il fuoco, non tossica, che alimentano i quattro motori sul mozzo ruota a quattro ruote motrici e frenata rigenerativa. L'autobus impiega da cinque a dieci ore per caricare completamente da zero al cento per cento. Ha un'autonomia di 250 km, che è sufficiente per una giornata piena di servizio.
Il bus è stato costruito in base alle esigenze degli autobus locali.
BYD implementerà le infrastrutture di ricarica necessarie per sostenere la sua operazione fino al ritorno al deposito degli autobus Loyang. Il suo standard di ricarica è compatibile con la Commissione Elettrotecnica Internazionale (IEC) Tipo 2 standard, ed è allineato con lo standard di ricarica pubblica nazionale di Singapore per le nuove stazioni di ricarica EV, e consente la ricarica normale e semi-veloce dei veicoli elettrici.
In English
First BYD pure electric bus to run on Singapore roads
Bus will ply routes in Loyang Package in a 6-month trial
Source: BYD
Singapore, 8 August 2016. BYD (Build Your Dreams), the world's largest manufacturer of rechargeable batteries and electric vehicles (EVs), will trial a pure electric bus in Singapore.
Currently, Singapore's public bus market uses buses with internal combustion engines fueled by diesel. The 6-month-long trial will see BYD's k9 bus – which runs fully on electricity – introduced into Go Ahead SG's bus services operating from Loyang Depot. Other than Singapore, BYD had also partnered Go Ahead in the UK, where one of their pure electric buses successfully operated for two and a half years.
BYD pure electric buses and taxis also operate in over 200 cities, including Los Angeles, Kyoto and Kuala Lumpur to help cities reduce carbon emissions and offer quieter and more comfortable ride for residents.
Mr Liu Xueliang, General Manager of BYD Asia Pacific Region said:
"Working with LTA, Smart Group and Go-Ahead, it's a great honor for BYD to bring the first pure electric bus to Singapore. Electric buses have the potential to reduce carbon emission and improve air quality for a better living environment. BYD is committed to providing green and sustainable comprehensive ground transportation including e-buses, e-taxis, e-vans, as well as e-trucks etc."
Said Dr Bhupendra Kumar Modi, Founder of the Smart Group:
"Our ultimate aim to provide affordable and pollution-free transport to Singapore.  It is therefore important that we provide the operator and authority with a first-class product and support network."
According to findings published in the E-Mobility Technology Roadmap for Singapore, fleet vehicles such as public buses and taxis offer the biggest potential for electrification.
Presently, there are nearly 18,000 public and private buses in service on Singapore's roads, representing about 2 percent of the existing vehicle population. With an average of 227km travelled daily on roads, buses are the second highest daily utilised fleet vehicles in operation. This is especially so for public buses, which run about 18 hours and travel an estimated peak of 250km each day.
BYD's 6-month trial will look into the challenges of whether an electric bus can meet the full-day operational demands of a conventional public bus, without compromising on reliability and serviceability, in a local environment.
It is also part of Singapore's EV Phase 2 Test-bed co-led by the Land Transport Authority (LTA) and Economic Development Board (EDB), which is aimed at exploring fleet-based operations such as EV car-sharing, electric buses and electric taxi fleets.
The k9 bus, which is 12metres-long, has an 80-passenger capacity and is wheelchair accessible. The bus uses the company's proprietary long-cycle, fire-safe, non-toxic iron-phosphate battery with in-wheel hub motors and regenerative braking.
The bus takes five or ten hours to fully charge from zero to one hundred per cent.  It has a 250km range, which is sufficient for a full day of service.
The bus is built according to local buses requirements.
BYD will implement the necessary charging infrastructure to support its operation within Loyang bus depot. Its charging standard is compliant with the International Electrotechnical Commission (IEC) Type 2 standard, and is aligned with Singapore's national public charging standard for new EV charging stations, and allows for normal and semi-fast charging of EVs.
no images were found

.