Cadillac CT6 Plug-In Hybrid sarà in vendita nella primavera del 2017, con una stima di oltre 400 miglia di percorrenza complessiva di serie.
• Valutazione prevista di 65 MPGe
• Prestazioni esaltanti: 0-60 mph in 5,2 secondi
Fonte: Cadillac
New York, USA. 15 Novembre 2016. E' stata annunciata oggi da Cadillac l'anteprima della prestigiosa berlina CT6 Plug-In Hybrid Model Year 2017 che sarà in vendita nella primavera del 2017, con un driving range complessivo di oltre 400 miglia (circa 643 km).
L'avanzata tecnologia ibrida plug-in consente la berlina di lusso di premiare il conducente con guida a coscienza ambientale senza compromettere le prestazioni.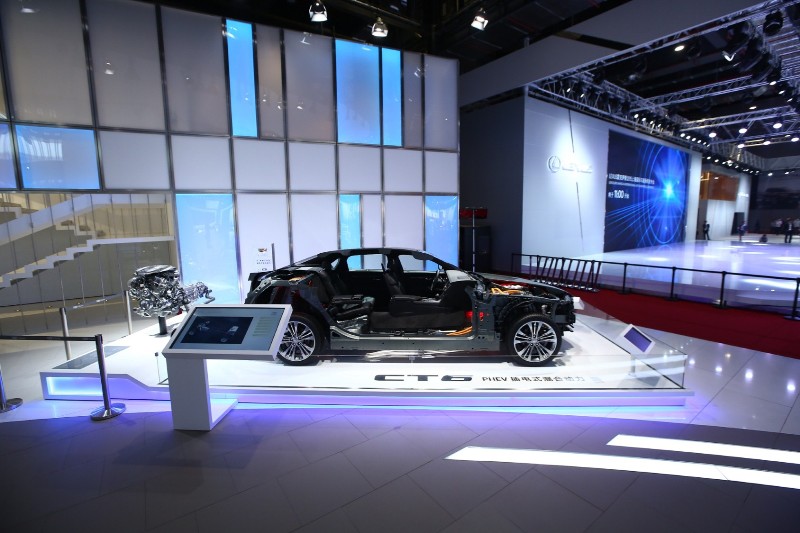 Il sistema della CT6 Plug-In Hybrid è progettato per fornire una guida reattiva in modo completamente elettrico per la maggior parte degli spostamenti quotidiani, massimizzando l'efficienza del carburante, fornendo energia sia dal motore a scoppio che dalla batteria a velocità più elevate e carichi elevati.
Il range in modo elettrico per la Hybrid CT6 plug-in è stimata di 30 miglia (48 km). Tuttavia, la combinazione della vettura del motore efficiente e la carica della batteria permette agli automobilisti la libertà di percorrere più di 400 miglia di serie (643 km), senza necessità di trovare stazioni di ricarica lungo il percorso.
Grazie al sistema di propulsione avanzata, l'ibrida plug-in CT6 rimuove ogni ansia di atuonomia per i nostri clienti.
"La CT6 è una vetrina tecnologica in tutto, e di gran lunga la vettura più leggera della sua categoria, che la rende una piattaforma ideale per l'elettrificazione", ha detto il Presidente di Cadillac Johan de Nysschen. "Nella CT6, Cadillac presenta una nuova formula per il lusso di prestigio. L'avanzato sistema plug-in Hybrid è un'aggiunta chiave, fornendo una combinazione di eccezionale risparmio di carburante, l'accelerazione croccante e una buona autonomia in modo di guida elettrico".
L'ingresso di Cadillac nel settore plug-in ibrido raggiunge le stesse prestazioni di accelerazione da zero a 60 mph dei suoi concorrenti a motore V6, oltre a raggiungere circa il doppio dell'autonomia full EV e dei valori MPGe.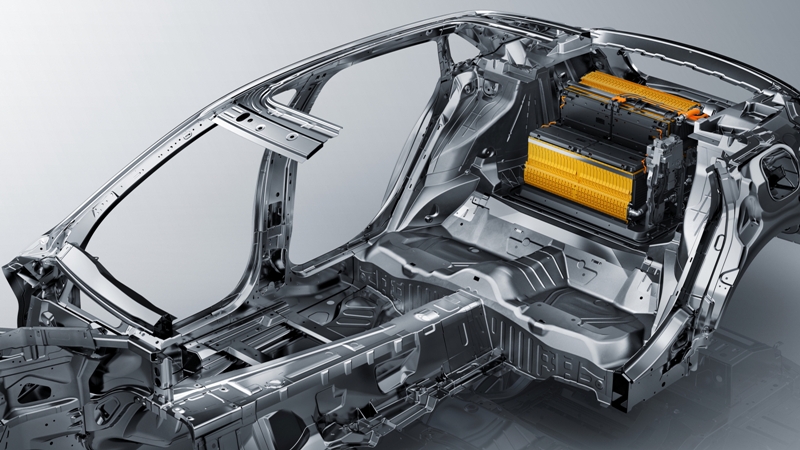 L'ibrida CT6 plug-in dovrebbe avere un consume di carburante stimato in 65 MPGe. Miglia per gallone di equivalenza – MPGe – mette a confronto il consumo di energia dei veicoli elettrici e altri veicoli ibridi plug-in a tecnologia avanzata con l'economia di carburante dei veicoli a combustione interna convenzionali in miglia per gallone americano.
L'ibrida plug-in CT6 combina una nuovissima trasmissione a trazione posteriore a variazione elettrica per fornire la morbid e potente accelerazione prevista dal ìconducente. Il sistema di EVT da due motori si combina con il motore 2.0 litri benzina a quattro cilindri turbo in grado di erogare una potenza di sistema totale stimata di 335 CV (250 kW) e 432 Nm (586 Nm) di coppia. Questo aiuta a spingere il veicolo da zero a 60 mph in circa 5,2 secondi.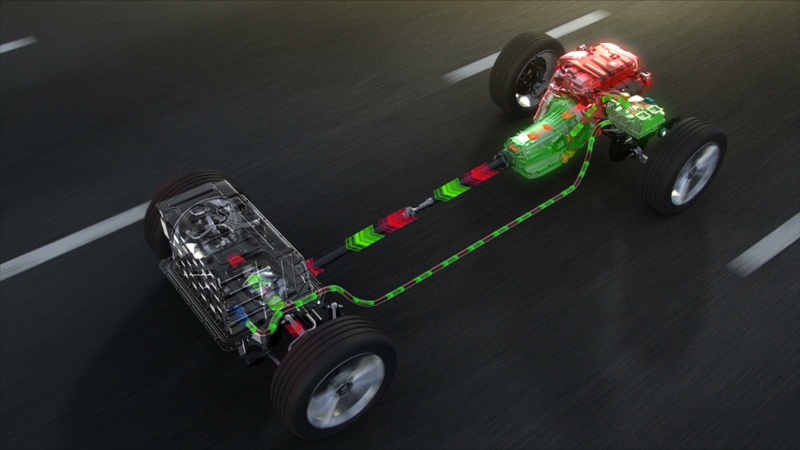 Ogni motore elettrico produce 100 CV (74,5 kW) di potenza. In modo solo a energia elettrica, la vettura è in grado di percorrere circa 30 miglia (48 km) di driving range e raggiungere una velocità massima di 78 mph, con la potenza supplementare del motore si aggiungono centinaia di miglia di autonomia complessiva ed una velocità massima di 150 mph in autostrada (oltre 240 km/h).
La Cadillac CT6 Plug-In Hybrid verrrà lanciata in Nord America nella primavera del 2017, con prezzo negli Stati Uniti a partire da $ 75,095 più una ricarica per il trasporto a destinazione di $ 995 prima di eventuali incentivi fiscali applicabili ai veicoli elettrici. Nel mercato statunitense, l'Ibrida CT6 plug-in sarà offerta come un proprio pacchetto unico all'interno della linea di prodotti CT6, con i prezzi e gli allestimenti paragonabili al modello Premium Luxury esistente (secondo più alto all'interno della gamma di modelli). Il modello plug-in include numerosi optional di serie, come ad esempio un sistema di sedili Infotainment posteriori, aumentata visione notturna e specchietto telecamera posteriore.
In English
Cadillac CT6 Plug-In Hybrid on sale in spring 2017
2017 Cadillac CT6 Plug-In Hybrid on sale in spring 2017, offering an estimated 400-plus miles of total range.
Expected rating of 65 MPGe
Exhilarating performance: 0-60 mph in 5.2 seconds
Source: Cadillac
New York, USA. 15th Novembre 2016. Cadillac today announced the first-ever 2017 CT6 Plug-In Hybrid prestige sedan will go on sale in the spring of 2017, with a total driving range of more than 400 miles.
Advanced plug-in hybrid technology enables the luxury sedan to reward drivers with environmentally conscious driving without compromising on performance. The CT6 Plug-In Hybrid system is designed to provide responsive, all-electric driving for most daily commutes, while maximizing fuel efficiency by providing blended power from the engine and battery at higher speeds and higher loads.
All-electric range for the CT6 Plug-In Hybrid is an estimated 30 miles. However, the car's combination of efficient engine and battery power enables drivers the freedom of more than 400 miles of total driving range, with no requirement to find charging stations along the way. Thanks to the advanced propulsion system, the CT6 Plug-In Hybrid removes all range anxiety for our customers.
"The CT6 is a technological showcase throughout, and by far the lightest car in its class, making it an ideal platform for electrification," said Cadillac President Johan de Nysschen. "In the CT6, Cadillac presents a new formula for prestige luxury. The advanced Plug-In Hybrid system is a key addition, providing a combination of exceptional fuel economy, crisp acceleration and strong electric-driving range."
Cadillac's prestige plug-in hybrid entry achieves the same zero to 60 mph performance as its V6-powered competitors, while achieving roughly twice the full EV range and MPGe figures.
The CT6 Plug-In Hybrid is expected to have fuel economy estimated at 65 MPGe. Miles per gallon equivalence – MPGe – compares energy consumption of plug-in electric vehicles and other advanced technology vehicles with the fuel economy of conventional internal combustion vehicles in miles per U.S. gallon.
The CT6 Plug-In Hybrid combines an all-new rear wheel drive electric variable transmission to provide the smooth, powerful acceleration expected from a driver's car. The two-motor EVT system combines with the 2.0-liter turbocharged four- cylinder gas engine to produce an estimated total system power of 335 hp (250 kW) and 432 lb-ft (586 Nm) of torque. This helps propel the vehicle from a zero to 60 mph in an estimated 5.2 seconds.
Each electric motor produces 100 hp (74.5 kW) of power. On electric power only, the car is capable of approximately 30 miles of driving range and a top speed of 78 mph, with the additional power of the engine adding hundreds of miles of total range and a top speed of 150 mph on a track.
The CT6 Plug-In Hybrid launches in North America in the spring of 2017, starting in the U.S. at $75,095 plus a $995 destination freight charge before any applicable electric vehicle tax incentives. In the U.S. market, the CT6 Plug-In Hybrid will be offered as its own unique package within the CT6 product line, with pricing and equipment comparable to the existing Premium Luxury model (second highest within in the model range). The Plug-In model includes numerous optional equipment as standard, such as a Rear Seat Infotainment system, Enhanced Night Vision and Rear Camera mirror.
no images were found

.